Soul Story: Johnathan Tamayo
September 17, 2015
"At Soul, I've found dozens of people to push me harder and longer than I can ever push myself," says BMX racer JOHNATHAN TAMAYO. In his Soul Story, he shares how tapping it back with the pack helps him prepare to compete…
What first brought you to SoulCycle?
I'm a cyclist and aspiring health nut — I love riding my bike and eat as healthy as a grad-student schedule will allow me to. BMX racing and mountain biking are my go-to for some two-wheel action, and for some time I was curious about going to an indoor cycling class. The problem was when I'd look in on a session at the gyms I've gone to, the riders just didn't seem to be having much fun. I first heard about SoulCycle through the Instagram feed of a fellow DJ, Vice. The sweat-soaked shirt and ear-to-ear smiles were enough to get me to try it out for myself.
What was your first ride like?
I knew very little about what I was getting myself into. I knew there were lots of bikes, lots of people, and loud music in a dark room with an instructor named Julia. I'm a BMX racer, I thought I could handle it, no problemo. I could not have been more wrong. I had to take three breaks and it felt like I drank more water and sweated more than everyone else combined. I'm used to 35 second all-out sprints, but this was 45 minutes of non-stop heart-pumping beats. The room was dark enough to give you the feeling that it was just you and the music, while at the same time lit just enough to make out the silhouettes of the other rides pushing themselves to the limit. It was like nothing I had never experienced; 30+ riders all moving as one, all that energy, all that focus, all that soul. Afterward I was soaked in sweat and exhausted, but most of all, I felt GREAT.
What kept you coming back?
When I walked out, I was so tired but so ready to take on the rest of my day. For 45 minutes I let go of everything… all the junk in my mind and worries about what needed to be done. It was a rejuvenating experience that I just couldn't wait to have again.
How has SOUL impacted you?
Quite frankly, I feel great. I feel refreshed and ready for whatever the day throws at me. My mind tends to be more clear, I have more energy to get through work and school, and I feel significantly less stress because I've probably sweated most of it out.
Tell us about training for your BMX race.
Track days for me happen three to four times a week and consist of hitting the weights in the morning before class (I'm a grad student at Pepperdine's School of Public Policy) and couple of hours of track time at Sycamore BMX Raceway in Simi Valley. On alternate days I hit the hills on my 29'er to work on building endurance and a faster cadence, then jump back on my 20" race bike for some sprints. I'm on my bike seven days a week in one form or another — I have to in order to be competitive, but more importantly because I just love being on two wheels.
And you just raced in the USABMX BlackJack National?
Yes, it was a 3-day national race that determines the Western Division champions for the year. Despite an injury that took me out for about three months at the beginning of the season, I had a pretty solid run into the race including a win at the Las Vegas National in July.
How did it go?
I managed to make my mains (finals) and pulled off a win, but even so didn't have enough points for the title, ending up in second. Still good, and happy to make it through the weekend without hitting the ground, but it wasn't what I went for. Because of the win, however, I did get moved up into the next and highest amateur proficiency class of Expert; now the real fun begins! The work continues and I've got my eyes set on starting the next season strong in Las Vegas in January!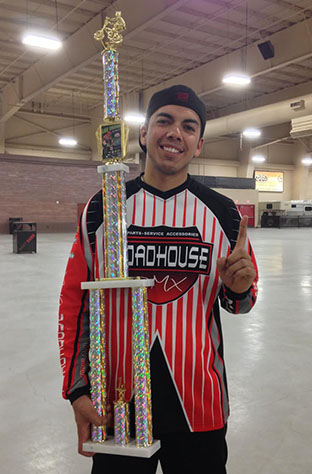 How does SoulCycle help you train?
A BMX race is an all-out sprint that lasts typically no longer than 35 seconds, but even with all the training I do I've found that I run out of gas before the finish line. At least, until I discovered SoulCycle. With the work and school schedule I have, it's tough to find people to train with consistently, but at Soul, I've found dozens of people to push me harder and longer than I can ever push myself, whether they know it or not. By pushing beyond my limits at Soul it's helped me go a little harder, a little longer each time I race. At the last national in Vegas on Day 1 I had enough left in me to make a last second pass at the finish for second place, then pulled an outright win on day 2. Even the smallest improvements are helping me in BIG ways.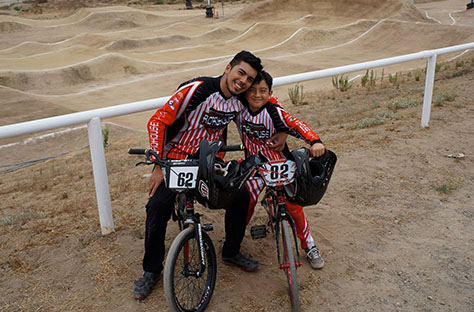 What keeps you motivated through training?
I love BMX racing because it takes so much to be the best. Not only do you need to be strong enough to get out of the gate first, but you need speed to make sure no one can catch you. That means being smooth, taking the right lines, and occasionally making gutsy moves that other racers wouldn't dare try. Sometimes it means getting up and finishing a lap after a hard crash, or getting back on the bike after an injury. All in all, it's all about working to be better physically AND mentally than the other seven racers on the gate with you. I keep going because there's no greater feeling than months of prep and battles in the turns culminating in crossing the finish line first. There are no judges scoring your style or teammates to depend on; it's just you and the bike, racing in its purest form and I love it.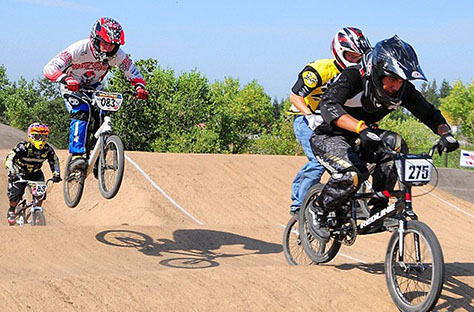 Anything you want to add?
As with most people, I love listening to some good tunes when I work out, but I've been a DJ for nearly a decade, so it's tough to put on some good music that I haven't heard over and over… At SoulCycle, I like that each instructor has their own unique flair when it comes to music. Some new, some old, some upbeat hits, and some tracks I never would have thought about working out to. It keeps me guessing every time and it's awesome. From the well-maintained facility to the friendly staff, I'm glad I discovered Soul and always look forward to going back!
Do you have a Soul Story to share? Email blog@soul-cycle.com!
Want to ride? Grab a series HERE and book a bike!
MORE FROM SOUL