Soul Story: Jeff Baynham
November 30, 2015
In the midst of a long struggle with depression, JEFF BAYNHAM finally accepted his sister's invitation to try a ride at SoulCycle. Now five months later, he's 35 pounds lighter and feeling happier and more confident than ever. This DC rockstar shares his inspiring Soul Story...
No. I will never go, I can't do it, it's not for me, and it's for athletes. Those are just some of the many things I would tell myself to get out of anything I didn't want to do. That mindset kept me from doing a lot of things over the years. I was at an all-time low.
College was not the "best four years of my life" that many people describe. I was depressed, lonely and miserable. I had gone through some tough breakups and I had only a few close friends. I struggled with poor grades, I was overweight, I had no energy and I felt like I had nothing going for me — that if I disappeared, no one would notice I had left.
Depression was commonplace for me by my senior year of college. Graduation came and went, and I felt like there was nothing going for me. There's a saying that goes: "The people who smile the most are the saddest." I was consistently putting on a show that everything was all right. There was nothing, until I went to visit my older sister who was graduating law school in New York.
Six months before that (in what seemed out of the blue) my sister's friend began her SoulCycle journey and roomed with her while she completed her instructor training at SoulCycle. That's when my sister's personal Soul Story started — she went every morning at 6:00 AM to support her friend as a new instructor.
Over the months my sister would always ask me to try SoulCycle, telling me that there were studios in DC, so why not? My response each and every time she asked was, "No way, that's not for a guy like me. I played football and I like to lift weights, not ride on a pointless bike." Never have I been more wrong in my entire life.
Fast forward to NYC this past May when I visited my sister for her graduation. She again asked me to come with her to SoulCycle, except this time it was different. It wasn't like I would be saying no to some instructor who taught the 6:00 AM class each morning. I would have to say no to Pauline, my sister's roommate, face to face. This, I could not do.
After a hellish — and I mean hellish — 5:00 AM wake-up call, I rolled off my air mattress, woofed down a granola bar, got ready and made the hike to the West 27th Street studio. Still in a daze, I think I finally woke up on the bike when Pauline walked in and started her usual intro: "Six AM, what's good? How is everybody doing this morning? Do we have any first-time riders?"
Of course, she already knew my answer from seeing me, the large football-like man sitting in the back of the class trying to hide. I slowly raised my hand and she chuckled. "You're in for a hell of a ride. Just remember that if anything doesn't feel good, sit down, but if it does feel good, do the HELL out of it!" And from there we were off.
"Take two turns to the right and come on up. It's just how your body's moving today, fall into it on your right foot." Those were the last words I remember her saying before I was swept away by the music and I finally understood what it meant to be at SoulCycle.
Forty-five minutes later and what felt like hours, completely drenched head-to-toe in sweat, I unclipped from my bike and joined the others out in the lobby. Still awe-stuck, my sister asked me what I thought. Words were a struggle at that point. Mind you that it was ONLY 6:45 in the morning on a crisp day in NYC.
"I never thought I would say this, but I loved it!" I told my sister. From then on I was hooked, to say the least, inspired by my sister and driven by the coaching and motivation from that first class.
After my first class, I decided to clip in every single day. Having just graduated from college in Washington, D.C., and still living in the area, I thought this was a great time to start. So I did, on June 27, bike 51. Pauline was teaching again, but in DC.
Class was just as intense and perfect as the first one I took with her. From there, I guess one could say it became a habit of mine, and not one of the bad habits. My goal was to turn a new page in my life, to get on a healthy track and take control of my life. Too long had I been on the sidelines, but it was time to get back in the game. Every day, every class she taught, I was there on bike 51. One foot in front of the other.
As I got into better shape, I started to move up in the rows. Soon bike 51 became bike 41, then 28, and occasionally 7 (in the front row). Minus a few misses due to travel, I went every day and loved it each and every time. However, I feel that my breakout moment was when I finally got up the courage to take one of Kathleen's classes. I had only heard good things about her class: "It will push you to your limits, and then break through them," someone told me.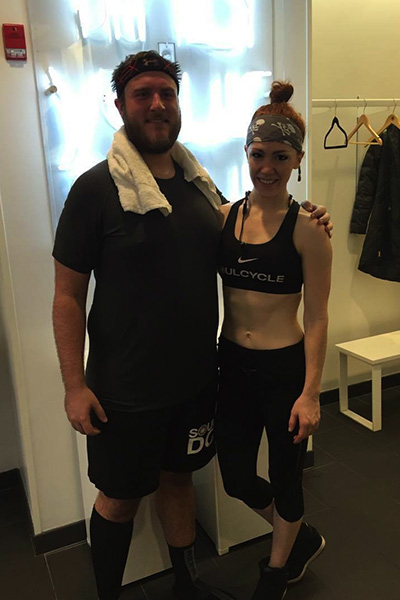 The gut-wrenching fear of walking into her first class was almost too much to bear. It was one of the few times that I had moved into the second row, which for anyone that has taken a class starting from the back row, you know it's a big deal. Kathleen (above) instantly spotted me and just started to grin, and in her usual pre-class sultry tone said, "you must be Elaine's brother, this'll be fun" and boom, we were off in a rush of music and love. Lots of sweat and maybe even a few tears later, I finally felt the thrill, the adrenaline rush, the feeling of unity, everything that SoulCycle offered, I graciously took with both arms and gave it everything I had.
From the absolute soul-crushing triceps moves to the climbs that never seemed to end, I have finally started to feel healthy, happy and motivated to continue going to SoulCycle each and every day. Going from a difficult patch of my life where just getting out of bed was a fight everyday, I now have a reason — to go, to fight, to push,and to get better, one step at a time, one class at a time. Once I moved up to the second row after weeks of riding, I started to branch out and find new instructors and meet the staff of the other studios.
Kathleen's impossibly fast and amazing classes always kicked the crap out of me but they also just made me want to keep getting better so I could master her class and finally move up to the front row. That made her seem to push me even further; during any climb in her class, she would get off her bike and walk over to me smiling and hold down my resistance knob and make me push through it.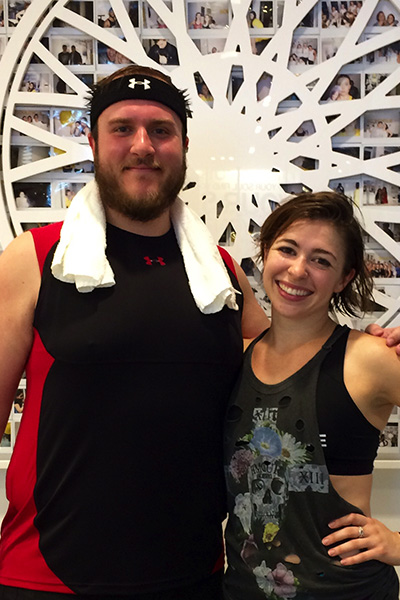 When I take the Wayne train, I always get my fill of his soul and his hip-hop battles — I even completed my first triple with him. Michelle (above) and her faithful noon classes push me during a climb, encouraging me on the faster-paced songs, motivating me to stay up and finish when my mind was saying "stop." Her classic rock theme rides make traveling an hour to the Bethesda studio worth it each and every time (even the time when my shoe clip broke mid-ride and I had to leave class to do a shoe change and make it back in time to finish the song).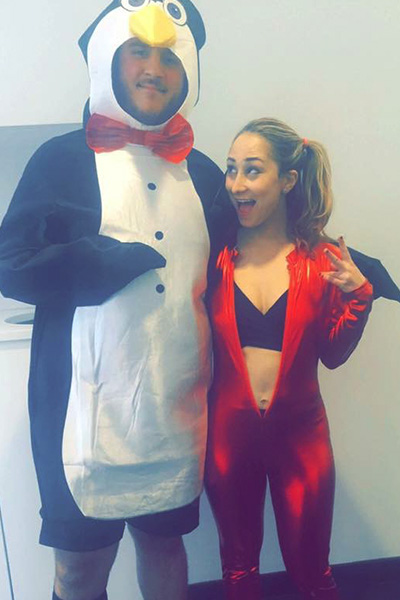 I am now a loyal front row bike 7 rider in every class. From Cat and her bicep-only weight section, Natalia and her sprinting section during the first songs, to Alex (above) and her constant reminder that when things go wrong and seem to fall apart, all of the instructors are just making room for all the good that is going to happen in your life.
Besides all the amazing and inspiring instructors, the unsung heroes are the staff at each of the four DC studios (and Bethesda). They have to deal with my morning bellyaching of it being too early and the sweaty trail I leave when I walk out. (I blame my father for that sweat gene…). Each day they continue to push me and greet me with a warm and friendly smile.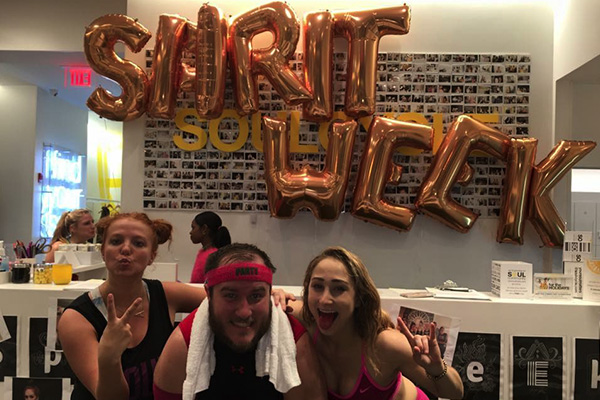 After the second month of riding every day, I decided to set a goal for myself: 100 rides in less than three months. It was a mountain, yes, but one I wanted to climb. The instructors and staff helped drive me through. Doubles and a few triples later, I finally completed 100 rides and I beat my goal, accomplishing it in two months and two weeks.
Next, I took Turn It Up 20 as the next challenge. To push myself, I set another goal to finish it in 12 days. Check. A very difficult 12 days, with countless doubles, but worth it in the end to have that satisfaction that I pushed myself and conquered it. Now I am going for gold: 200 rides in five and a half months. To get there, I set my own goal of a "Turn It Up 50," or 50 rides in five weeks. Mentally and physically, it is a challenge, but I've been doubling almost every day (with a triple with Alex in there now and then) so I am actually ahead of schedule.
Looking back, I never would have thought this was possible. But thanks to the motivation and inspiration of everyone I have ridden with and met along the way, I have forged lifelong friends, the best memories and the time of my life. I have finally turned my life around. After shedding 35 pounds in five months and consistently riding in the front row and holding pace, I have never felt better. I have more confidence and more to live for.
To anyone who is going through a hard time like I did, just remember: it's always about putting one foot in front of the other, one pedal stroke after the next. What's next? Well, 400 rides in under a year sounds like a pretty good challenge. Yes. Let's roll!
Want to ride at SOUL? To book a bike, grab a series HERE then book a bike! Questions or comments? Email blog@soul-cycle.com!
MORE FROM SOUL