Soul Story: Hallie Wilson
May 28, 2014
Eager for an adventure, loyal NYC rider HALLIE WILSON packed up her SOUL gear and headed on a month-long trip across the globe. Now she shares her snapshots and talks to us about her SOULful journey...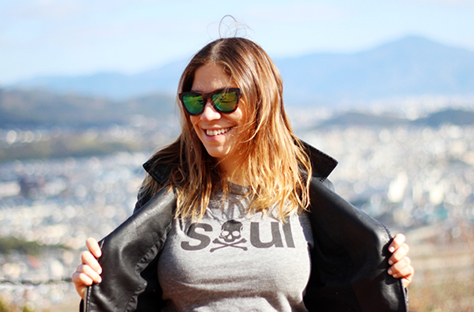 Hallie in Kyoto, Japan
Tell us about your trip!
I traveled to Japan, Hong Kong and Thailand for four weeks. It was amazing! I went over December and January with close friends from Chicago – at one point, there were nine of us living on a catamaran!
Why did you decide to go?
Outside of a full-time job (and Soul obsession), I have no "real" commitments keeping me in one place. I want to be selfish and see the world while I can.
I only packed a carry-on with the essentials – a few pairs of shoes and perfect layering pieces (including my Soul gear, of course).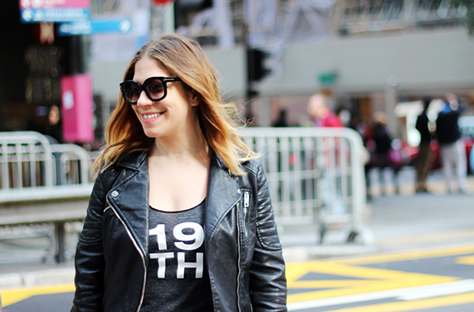 In Hong Kong
What was it like?
We were exploring a new city (country!) every few days, sleeping (or not) at odd hours, and attacking an agenda that entailed lots of local food and booze. My waistline was the least of my concerns, but I made a conscious effort to stay active. We hiked all over Japan – downtown in Tokyo and the Arashiyama Mountains in Kyoto – and we spent our days exploring on foot in Hong Kong. In Thailand, we swam, cliff-jumped, kayaked and snorkeled every day. Two of my favorites spots were the monkey park in Arashiyama (spoiler alert: ouch) and along the coast of Thailand.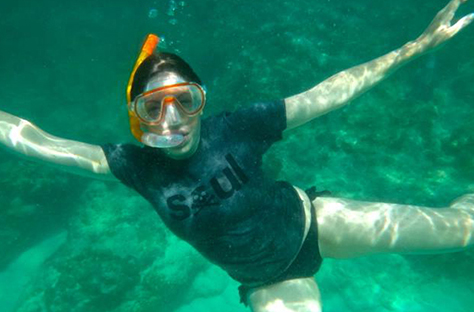 Any travel secrets?
Pack healthy snacks – apples, almonds and string cheese are my go-to. Although in Japan, tasty snacks were hard to come by, so I relied on water and green tea. A lot.
So when you came home, was it tough to get back on the bike?
Nope! Actually, the hardest part was teaching my sister how to successfully navigate Monday sign-ups on my behalf.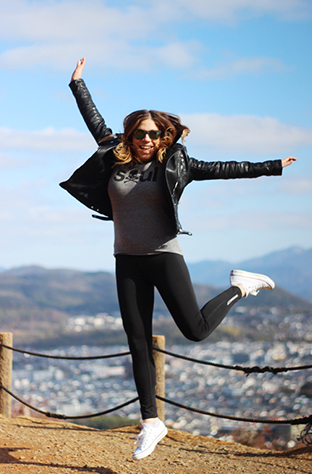 And what first brought you to SoulCycle?
I love experimenting with exercise – and I wanted to see what that yellow Kool-Aid tasted like. I left my first class sweaty, euphoric and eager to book my next one. I couldn't believe how quickly 45 minutes flew by on Bike 42 in UNSQ. SoulCycle is now both my release and escape from the everyday chaos of living in New York City. And, of course, the community. I've met some really amazing people (riders, instructors and staff).
Do you have any favorite rides?
Yes! On a Tuesday night in NOHO, recently, Parker asked me to ride the podium WITH him. Best 45 minutes of my life, I think? It was overwhelming (in a good way) to look up and see 60 riders fiercely pedaling and tapping back in tandem. I actually don't think I've stopped smiling.
Awesome. And which classes do you attend regularly?
I've ridden with nearly 20 instructors. Soul's growing roster of rockstars is constantly inspiring me (hi, Halle & Kara), but there are a few NYC instructors who hold a special place in my heart: Parker, Madison and Danny are integral to my physical and mental love for fitness and connectedness to the Soul community. I am very thankful for them. They curate the quintessential experience that makes SoulCycle what it is. And the music is always on-point! I always leave class feeling like a better version of myself: healthier and happier. It's pricey, sure; but to me, it's worth every single cent (and hey, it's cheaper than therapy).
Last question: What's your Soul mantra?
Good vibes only.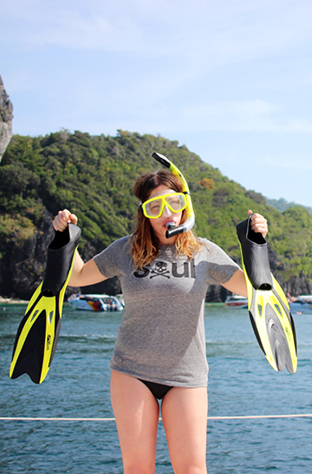 You can check out Hallie's blog at Coralsandcognacs.com. Do you have a Soul Story to share? Email blog@soul-cycle.com!