Soul Story: Gina Cavallo
March 19, 2014
Work means working out for GINA CAVALLO, who brings her business meetings to SoulCycle. She shares why sweat-working keeps her healthier and happier...
Gina with clients at Lindsay Waxer's class
I first went to SoulCycle years ago on 72nd street. I had heard buzz about a new indoor cycling studio that had just started on the Upper West Side – it was enough to pique my interest! My first class was with Lauren Bruker at West 72nd street. I took a client and we were planted in the back. I couldn't get on rhythm, and the push-ups and coordination were nearly impossible. But between being a former college athlete and having an extremely competitive nature, I kept coming back, getting better and better.
I work in advertising. Which for most people calls to mind three martini lunches, seven course meals in woody steakhouses, and other forms of excess. Entertaining like that used to be part and parcel of selling media in New York because occasions outside the office foster greater honesty and information sharing. Occasions like that also created the personal relationships that help clients understand that they can trust you. When you're sharing ideas and proposals with people, you need to recognize that spending face time with them is a critical part of developing trust.
But eating huge meals isn't how most of the people I know in the ad business want to spend their time anymore. Which is why 90 percent of my T & E goes to Fit Entertainment – spending time with people doing something healthy for ourselves while we plan something healthy for our businesses.
So every weekday morning I am out and about by 7 a.m., meeting a client or a prospect at a SoulCycle. We work out. We connect. We talk about the business and what we can do together. And at the end of the day, we've shared some really valuable things – a rigorous physical experience and the ideas and honesty that spending time working out naturally unlocks.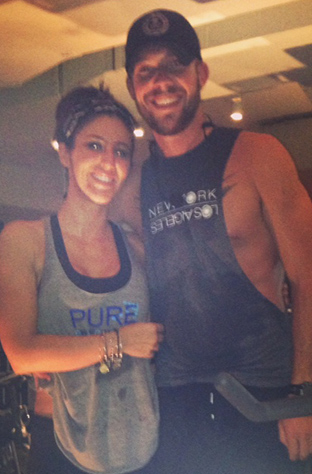 Gina with instructor Conor Kelly
A great aspect of this form of interacting with clients is that much of it is one-to-one, and inherently personal. That's what my company, Conversant, focuses on – helping brands better connect with consumers as individuals. So it's a nice way to bringing to life the concept that drives everything we do.
But I don't JUST take people one by one. I actually take entire agency and brand teams out to SoulCycle – which encourages them to think of me as part of the team. That's really important to me because it's how I serve my customers and it means that I share the same objectives with them. And my clients definitely love classes and instructors, such as Lindsay Waxer, Tomas Mikuzis, Amanda Max. But we don't just limit ourselves to those. It's a weekly adventure that makes my clients healthier AND more successful.
Soul has created the perfect platform for relationship building bridging the gap between fitness and business. The idea of riding as a community, riding as pack and tackling a difficult physical exercise together has been a lasting and bonding experience between me and my clients. We all wake up together for a 7 a.m. Monday through Friday, which is sometimes not easy. We clip in, we sweat it out together and then leave ready to take on the day in our incredibly stressful work environments.
Stress is a huge factor for me. Soul allows me to start my day with an endorphin high at Lindsay Waxer's 8 a.m. class in Noho or clip in after a long day in Amanda Max's 6:30 p.m. and zone out in the dark to the hum of a wheel. For those 45 blissful minutes, my iPhone and work emails are safely locked away. It's a real stress release and provides me with time to hit "reset" on my mind.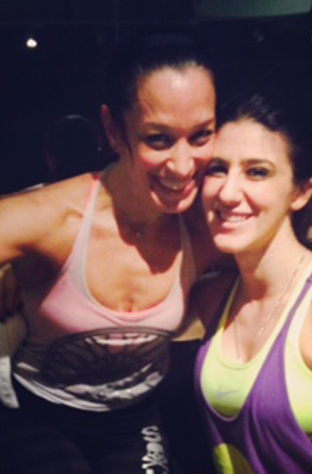 Gina (right) with instructor Amanda Max
In terms of body, I lost 30 pounds five years ago when I changed my lifestyle from taking down donuts and slices of pizza to making nutrition and exercise the center of my life. In an industry where you're constantly dodging unhealthy decisions and being personally challenged on a daily basis, being able to incorporate Soul into the entertainment aspect of my business has kept my body on track. I am staring down another birthday in my 30s and I have never felt more in shape!
Soul has personally inspired me to flip the idea of entertainment in the advertising industry on its head. Why should how I close business be reduced to a Don Draper stereotype with three martini lunches and superfluous unhealthy decisions? We are all in this together, so why shouldn't we do something healthy and positive with the "entertainment" aspect of the business. Watch for my tag #Convercise on Twitter!
Got a Soul Story to share? Email blog@soul-cycle.com!