Soul Story: Chloe Greene
May 22, 2015
Riding at SoulCycle gave CHLOE GREENE the courage to start a new chapter in her life, trading her corporate job for an initiative to empower teen girls while biking across the world. She shares her Soul Story…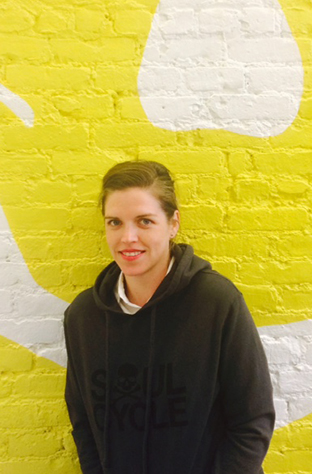 I've been riding my bike all over New York and San Francisco for 15 years. I was looking for a new activity and heard SoulCycle played good music!
My first ride was with Mantas, and I remember being blown away that I could feel so comfortable with new people so quickly. I felt lifted. I ended up jumping into a 21-day SoulCycling challenge (which also included outdoor cycling to break it up) to see how good I could feel after that kind of immersion. After that one class, you can say I was ALL IN.
I kept coming back because I got addicted to feeling sexy. And everyone around me started looking really good too! It was just a win all over the place.
I have a lot of energy, and a lot of active thoughts, which can be distracting and not always productive. Being on the bike is a magic antidote — when I'm riding hard, I'm find complete stillness. I've never walked out of a class without knowing exactly what I want, and where I'm going. And that clarity doesn't just apply to life goals; I also see, with remarkable precision, where I need to take responsibility, or need to take action, or who I need to forgive, and so on. It gets deep. SoulCycle is like really cheap therapy.
I recently left my job as a graphic designer at a major financial firm, knowing I needed to be more active and travel more. But I didn't just want to see the world; I wanted to show others the world too while I was at it. I decided to start a program called Still Life Cycling, which will do just that. We're going to host cycling tours for teenage girls in different countries, and each tour will have a creative curriculum so we have engaging photo and film projects to do along the way. I'm going to Iceland — with some friends I plucked from the creative industry here in NYC — where we'll design the curriculum and map out our first tour. We're raising funds for the trip
HERE
.
SoulCycle has been the perfect tool for me. I can honestly say that the work I did in my classes gave me the confidence to take this career leap. I now I have complete control over my schedule and over my creative contribution to the world. I'm very grateful. Oh, and I discovered that I actually like rock music after taking Noa's class. After years of being a hip-hop junkie, that really surprised me. Thanks, Noa!
Do you have a Soul Story to share? Email blog@soul-cycle.com!