Soul Story: Brandi Dean
March 26, 2015
Four years ago BRANDI DEAN received a life-changing diagnosis of Lyme disease. After a long, painful recovery, she's gained strength, mobility and incredible gratitude for her health. Now part of the Chestnut Hill pack, Brandi shares her Soul Story and how she's prepping for a very special ride…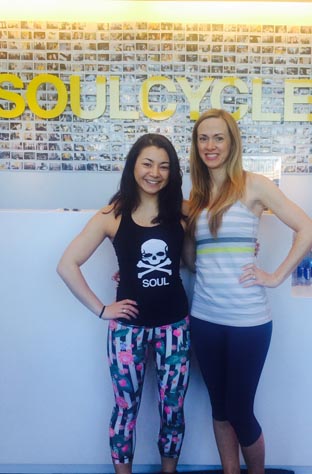 Brandi (right) before a ride with instructor Aya Muramatsu at SoulCycle Chestnut Hill
My friend Jill goes to SoulCycle Chestnut Hill twice a week and she invited me to come. She has great rhythm and never seems to slow down. She has inspired me and doesn't know this yet, but my goal is to be able to keep up with her while leading the pack!
My first ride was inspiring and honestly the best 45 minute therapy session I've ever had! The music was great and the instructor, Sal, had an amazing energy. I was hooked after the first five minutes. I loved how Sal talked about being mindful and told us to leave all of our negative energy behind us while encouraging us to challenge our bodies to do what most people are unable to do.
Before I left the house that day, my husband said that he didn't understand how anyone could possibly think that cycling was actually a workout. Well, he's in for a big surprise on May 9th when he takes his first SoulCycle class for a charity ride that I am hosting at Soul! The class was intense and very challenging but it felt so good to be doing something my body was unable to do four years ago.
I was possibly bitten by a tick in the fall of 2010. While I never developed the tell-tale sign of a bulls-eye rash, I did experience a long list of symptoms associated with Lyme Disease. The timing of the bite coincided with my second pregnancy so I associated the Lyme symptoms with the challenges of carrying a newborn.
After I delivered in February, the symptoms grew more severe and reached a climax in in July 2011. I woke up one morning with numbness (e.g. pins and needles) along the right side of my body and asked my husband to rush me to the emergency room because I believed I was having a stroke. My heart was racing and I was very disoriented. After being admitted to the ER at a major Boston hospital, the doctors conducted a battery of tests and held me for observation for the better part of the day.
Days later, I received a call from the hospital that my blood tests had come back positive for Lyme. I knew very little about the disease at the time I received the call. I was given a 21-day course of Ceftin for treatment and on day 22, my life changed. I was overcome with severe vertigo that kept me bedridden for many days. I had severe panic attacks, loss of hearing, swollen lymph nodes, shortness of breath, heart palpitations, "buzzing" sensations throughout my body, and muscle weakness that made my legs so weak that I felt like I was walking through three feet of mud. I had a hard time breathing and felt "winded" if I walked just a few steps with my children. It was very difficult to read and driving was nearly impossible.
It was hard to imagine that just months before I was extremely active, including regimens of running, exercising, and taking long walks with my children. Then suddenly, I was struggling to find the energy to make it through the day and lacked the stamina to walk just a few blocks without collapsing from exhaustion. For me, it was the most terrifying experience because no one knew what was wrong with me.
Months later, I got the help that I needed by the most compassionate doctors and nurses. I try not to think of where I would be without them or if this had happened many years ago. I don't have to. I see the results of what happens to those who were unable to get help early enough at our support group in Boston. I see the pain in the eyes of parents whose children have been affected by Lyme. Lyme disease can be such a debilitating disease when not treated in time and I have seen it ruin children's childhoods and wreak havoc on patient's lives.
Now, almost four years later, I am so much better and enjoying longer and more frequent periods of "normalcy" divided by shorter periods of relapse. I have also made it my mission to turn my suffering into help for other Lyme Disease sufferers, some of whom I have met during my four year journey with Lyme and who are still suffering from this disease, and to pave the way by which diagnosis and treatment is no longer the challenge that has been the rule of past years.
Housed at Spaulding Rehabilitation Hospital in Charlestown Massachusetts, The Dean Center for Treatment, Rehabilitation and Recovery of Tick Borne Illness will provide compassionate, long-term care and rehabilitation for our patients. The Dean Center will leverage the interdisciplinary skills and knowledge of Spaulding's leading-edge neurocognitive and musculoskeletal rehabilitation programs and provide each patient with an individualized program for recovery. The Dean Center will also collaborate with the best researchers, scientists and physicians from the best academic medical institutions to develop more accurate diagnostic tests, treatment protocols that work and, hopefully, one day find a cure.
I was inspired to host this ride because I feel like I lost a few years of my life because I was very limited as to what I could do physically and after my first SoulCycle class, I knew that I wanted to have our first charity event here. It's a great place to just let everything go while "tapping it back" to techno or dance music. There is no other place I would rather be. I'm also paying back my husband who told me that SoulCycle was easy! I'm looking forward to watching him SWEAT!
I really believe that challenges are what make life interesting and overcoming them is what makes life meaningful. The one thing that's helped me persevere through this ordeal are my children. I will never forget the day I returned home after being in the hospital for two nights and I felt so weak and defeated. My then 3-year-old son took my hand and said, "Mom, you make my heart super happy." Small gestures like that from our little boy helped me get through the most difficult days.
I am just so thankful for all the support I have received from my family and friends these past four years. They all rallied around me when I was feeling so hopeless about my recovery and having our upcoming Ride Out Lyme event at SoulCycle Chestnut Hill on May 9th has made me realize again how truly lucky I am to have all of these wonderful people in my life.
A handful of my friends have been meeting me every week at SoulCycle to help me get ready for a front row seat during our event in May and I leave those rides feeling so fulfilled. Thank you, SoulCycle and friends for helping me make all of this happen.
To learn more about Brandi's ride and the cause,
CLICK HERE!
For more info on hosting your own charity ride, email charity@soul-cycle.com. Do you have a Soul Story to share? Email blog@soul-cycle.com!