Soul Story: Beth Niernberg
September 30, 2015
"What I have because of SoulCycle is a strong body and a healthier mind and spirit," says BETH NIERNBERG, who kicked off her 50th birthday today on the bike at 6:00 AM! This inspiring Chestnut Hill rockstar opens up and shares her Soul Story…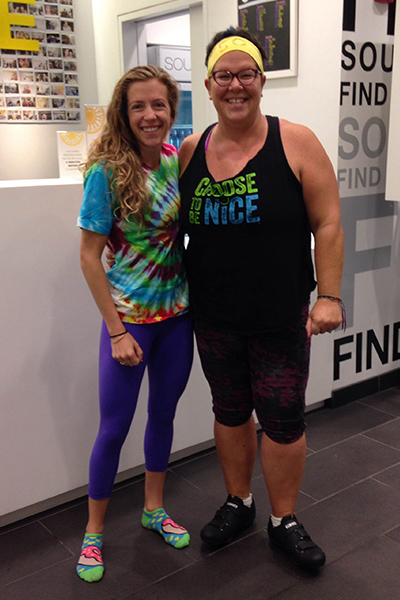 Beth (right) on her birthday with Chestnut Hill instructor Charlotte Hitch


It was a beautiful vacation day in April 2014 and I was in LA. I dragged my exercise gear on vacation much to the chagrin of my wife. I had heard of SoulCycle, read the articles, seen the press and I was more than interested but terrified. I had been taking barre classes but nothing that would test me like that. I have arthritis in both knees that I was taking lots of medication at the time to manage pain so I wasn't even sure I could ride.
Over dinner in West Hollywood, I mentioned to a friend that I would "love" to try SoulCycle. My friend Stephen said, "No problem. I go every Saturday. Come with me." I wasn't sure if I was excited or wanted to cry but the very next morning I was at the studio at 7:00 AM.
I was fairly sure I would die on a bike but when I was welcomed by a friendly face and she noticed I lived in Brookline, I immediately felt better. The woman who created my account mentioned that her roommate Molly was currently in Boston opening the studio close to me in Chestnut Hill. She said, "Go home and find Molly! You'll love her."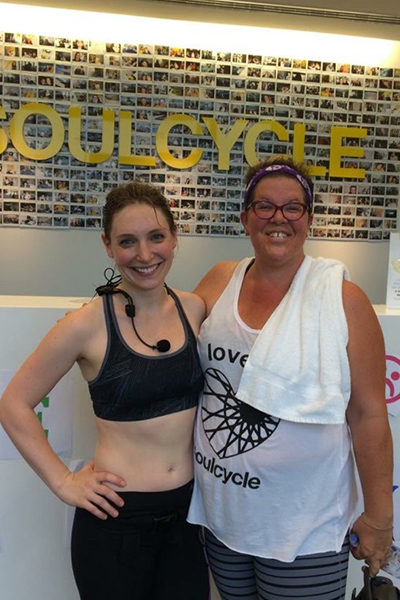 Beth with instructor Molly Schreiber
My first class was like nothing I had ever experienced in my life! It went by in a flash, really! When we got to weights I did think I might actually die but to my surprise I didn't. Not only did I not die but I was already planning my next ride… at home! Much like my Soul family here in Boston, the people were so warm and encouraging after class… I felt like a rock star.
When I returned from vacation I went straight to SoulCycle. It is so hard to describe how I felt in the beginning. I am sure many people feel the same, which is why classes get booked in seconds. I had spent many years being overweight and uncomfortable in my body, not sure I could count on it in the same ways I had when I was younger. The pain in my knees was constant and kept me from many activities with my three sons.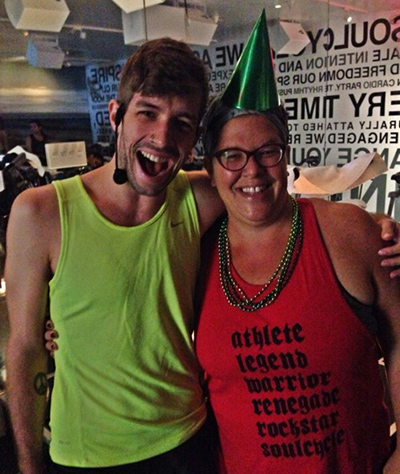 Beth with instructor Justin Ross
What I realized quickly was the more I rode the less pain I was in! Within three months, I was totally off meds for the pain in my knees. They say you drink the Kool-Aid at Soul. I drank it willingly. It totally is a cross between Church and The Gym with a retreat for your soul thrown in.
I did notice that the community at SoulCycle is unlike anything I have experienced related to health. From the greetings at the front desk to the instructors, I always feel known and cared for. It's not just that the immediate needs are met — gum, towels, shoes and help — but the heartfelt acknowledgment that makes it magical. I could not get enough and found myself working many things in my life around my class schedule, I never ever felt this way about exercise in my life.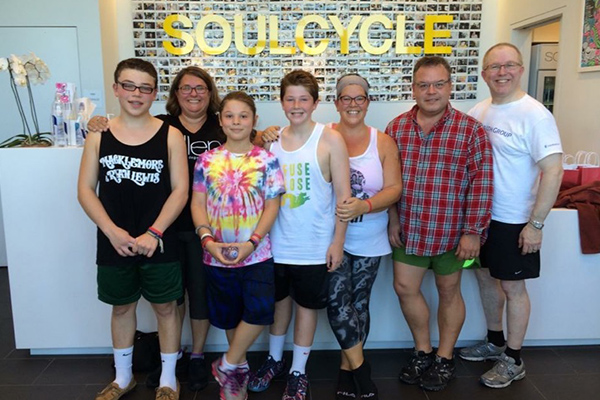 Molly was everything I had heard she was, climbing across the handle bars, turning up my tension, challenging me to move to the front row, increase my weights, then I met Charlotte! Charlotte speaks to my heart; she grounds me and makes me feel like I have superpowers all at the same time.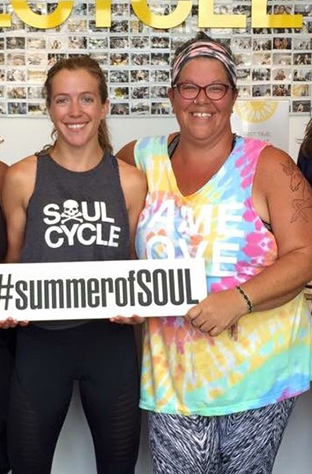 Beth with instructor Charlotte Hitch
Last year we had a huge loss in our community and in some ways I felt broken and in others I felt like I had to hold things for so many people as a mother and as a therapist. I would come to class at 6:00 AM and ride for my life and then I would sit for the song after weights and cry. Charlotte never called attention to my situation, she would just let me be and sometimes she would just touch my hand when she walked by. I will never ever forget that.
Recently we received the gift of James Lewis! I had the pleasure of doing a Pride Ride with James this year. When he said, "Talk to your 13-year-old self: What do you what them to know?" The fact that I ride in a place where they put a premium on honoring a community I am a part of is so inspiring to me. I am a Rooster and always will be and love, love, love my fellow Roosters. Crazy people riding a ungodly hour of the day together!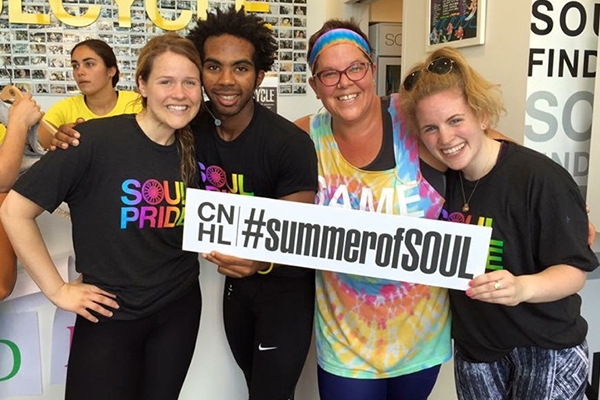 During the last year and a half, I have celebrated birthdays and 100-ride marks and charity rides and GAY PRIDE with my people at SoulCycle. There was a time in my life when I would celebrate special occasions with a special meal or dinner out, but now I celebrate with strength and joy by taking my kids to ride with me, by having my friends ride with me!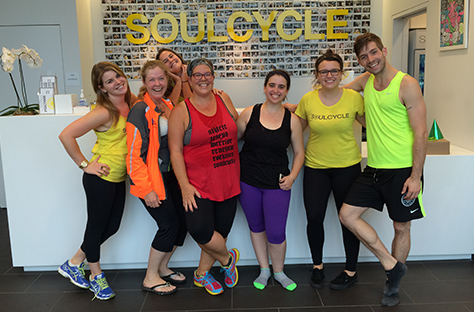 As a therapist I appreciate the opportunity to "clear my head" or hit reset in a way that not many other activities provide. The idea at SoulCycle that energy is shared, you provide what your neighbor might need and in return it is there for you as well… that's amazing and totally something that in our competitive society we could use more of.
I am a big girl. I am never going to have a bikini body or rock skinny jeans which is a topic of conversation at most other fitness centers. What I have because of SoulCycle is a strong body and a healthier mind and spirit because I ride… because I am a Rooster!
Do you have a Soul Story to share? Email blog@soul-cycle.com!
Want to ride at Soul? Grab a series HERE and book a bike!
Questions or comments? Email blog@soul-cycle.com!Questions or comments? Email blog@soul-cycle.com!
MORE FROM SOUL