Soul Story: Aleesa Daley
November 6, 2015
ALEESA DALEY set a #SOULMISSION of tapping it back in 30 rides in 30 days. After rocking that challenge, she's now tackling Turn It Up 20 — and feels stronger than ever. This L.A. rockstar shares her Soul Story…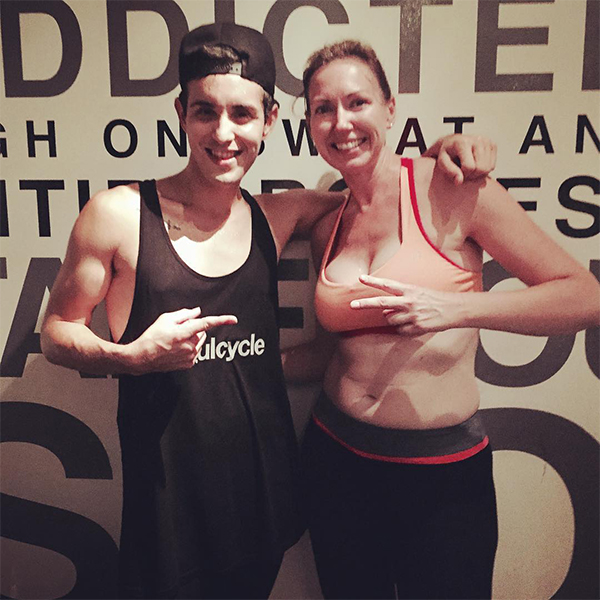 A year ago, my friend Lori Harder invited me to SoulCycle for my first ride. We had both done the same Transformational Leadership conference; it's a year-long program and I had gone back to do some volunteer assistant work and I met her. I was just moving to Santa Monica when she invited me to try a class at SoulCycle.
I am a yoga teacher so I have done tons of yoga and Pilates but not a ton of cardio. So I thought, "I'm not sure if I can do this." Lori is also a fitness model so I was definitely a little bit intimidated. But I heard that SoulCycle was in the dark so I thought I might as well try.
My first ride was incredibly challenging but it felt amazing and exhilarating to do something that I didn't think I was capable of. I thought it was for people who are much much more fit than I am, and to finish the class felt fantastic. I was a sweaty mess but so happy.
The second next time I went to ride I brought someone who was visiting from Australia. He is an umpire for the professional football league there, which means nearly running a marathon on game day. He was on holiday in the US but was so impressed with his SoulCycle experience — obviously he is incredibly fit but even he struggled!
It was the exhilarating yet mediative experience that kept me coming back to ride. I wanted to improve my level of fitness and cardio health, and SoulCycle is low impact and good for the lymphatic system. I also love the spiritual and SOULful side of class. I have done Kundalini training and I liked that this was a total juxtaposition. It helps you push through what is holding you back and let go of everything without any distractions.
It was a discussion with a business colleague, Derek, that inspired me to challenge myself to do 30 SoulCycle classes in 30 days. We were on the phone talking about goal-setting and I was lamenting some of my career challenges. And he said, "What if you took the pressure off and focused on something that is really fun for you?" I thought that was a great idea and I started to think about what that would look like. I texted him back and said, "I will do 30 SoulCycle classes in 30 days." And he immediately replied: "When are you going to start?"
I started that same night, taking the 8:30 PM class in Santa Monica with Franz. In a bold moment, I told him about my challenge and he was immediately so excited for me and encouraging. It is such a supportive family at the studio. The teachers introduce themselves to you and I even started posting on Instagram and got extra support from inspired friends and family. The riding was fun, but it definitely took some creative planning. Around the midway point, I needed to plot the rest of my course. It became clear that it was more like 30 classes in 25 or 20 days. Some days I would go in the morning, lift weights with my trainer, recover and then go back at night! I was pretty much always dressed to work out.
It felt good to know that my day was planned around my goal. I set my intention and set myself up to be successful. I think one of the most important things was sharing what I was doing with other people. Derek had put his vision board on Facebook, and so I started sharing my goals and successes too.
I found that sharing my challenge on social media kept me accountable. I knew that I had a business trip so the only way to finish would be to go to a super-early class at Manhattan Beach before going the airport, the night after riding. And I thought, if I had not shared this, I would be sleeping. It is a great lesson in terms of sharing what is important to you and getting it out there to get support and encouragement.
I definitely have more confidence and a different perspective from completing this challenge. So much of the inspiration also came from the instructors leading the class. I really enjoy riding with Chris — everything he says as a way to prepare his classes really sets the tone. I always felt so in a rhythm and in synch and totally supported. Which is saying a lot with my rhythmic challenges!
After I finished my 30th ride (below) with Tiff D., I was so proud and elated that I had done it. And Lori, who had just been on the cover of Oxygen, was actually more excited for my achievement than for her cover!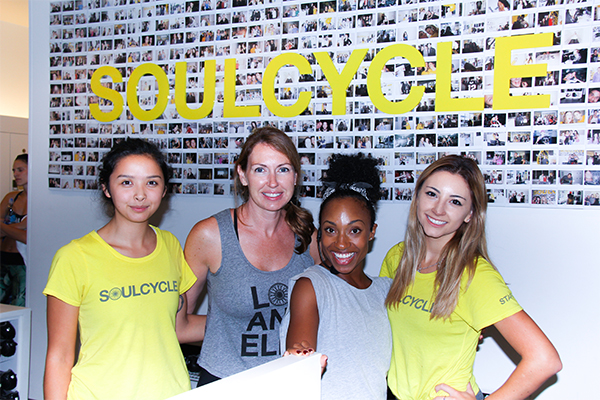 I am so grateful for the experience and all the friends, instructors and studio teams who were cheering me on to finish 30 rides in 30 days. I just went to see a nutritionist and he ran my metabolic condition. I had red blood cell and oxygen counts of an athlete! I really feel like I am in amazing condition, thanks to SoulCycle. And I'm now onto my 20 Rides in 30 days with the SoCal studios. It has definitely become a #SoulMission for me and I am grateful for SC in my life.
Do you have a Soul Story to share? Email blog@soul-cycle.com! Want to ride at SOUL? Grab a series HERE and book a bike.
MORE FROM SOUL