Soul Story: Abby Draper's Most Memorable Rides
July 16, 2015
LA rockstar ABBY DRAPER just tapped it back in her 1000th ride at SoulCycle. To celebrate this amazing milestone, she shares her top five favorite moments at SOUL — and we're feeling SOUL grateful that she's part of the community…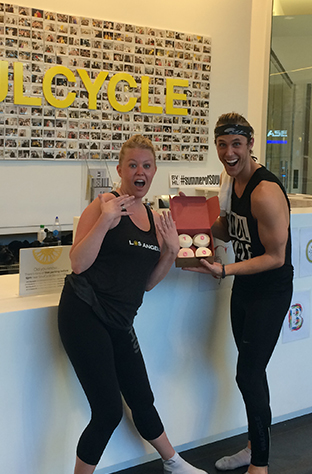 Abby after her 1000th ride with instructor Ross Ramone
I started riding at SoulCycle the day the West Hollywood studio opened, a little over three years ago. My first ride was with instructor Roarke Walker, to whom I will forever credit my love for Soul. Three years later, any time I ride with Roarke, I feel like I'm at home. I sat on bike 52, which is now bike 54, all the way in the back corner and was blown away by what he let me experience. After class, I thanked him for the class and his response was, "no, thank you for being here," which speaks volumes to who he is, and what this place is.
This past Monday, I celebrated my 1,000th ride with instructor Ross Ramone, who is one of the most considerate, charming and charismatic men I've ever known. During the class, he said to us, "sometimes it's not about the destination, sometimes it's about the ride" which resonated with me, as my 'ride' at SoulCycle has been filled with thousands of memories.
Some of these memories are tearful, some of them are funny — all of them are special. During this time, what I've come to learn and appreciate the most is that there is an instructor and a class for every mood. If I need to cry, I know whose class to take; if I need to laugh, I know whose class to take; if I need a really hard workout, I know whose class to take; if I need an amazing playlist, I know whose class to take, etc.
It was really hard to narrow down to only five, but in no particular order, here are five of my favorite Soul memories:
My 30th birthday ride.
My parents, with whom I am extraordinarily close, were in town and the three of us walked into the SAMO studio to be greeted by my SOULFam all wearing custom shirts that read "1985" with two Soul wheels as the "8" and a life-size cut out of Tim Riggins. For three years, I've wished to ride with him at SoulCycle, and they made it happen. The studio was decorated with photos of me, and my bike with added flare. I rode podium with senior instructor David Zint, who quite literally changed my life (more to come) while he surprised me with my favorite songs, and by reading letters that had been written by my friends and family who don't live in LA. He also read aloud a letter that he had written to me:
"Abby, It was well over two years ago when you first happened upon my class. Reluctantly, you took the side bar bike, which upset you at first because we know how much you love to ride it front and center. I had heard you were a tough critic, that you like it hard and challenging, and needed a class that took your breath away and after that class, I knew I had met your standards.
The humor, the honesty, the passion, the crying, the sweating, the joking, all of it along the years has made me value who you are and what you bring into that room. I will never forget the Monday night that changed everything for your life, career and spirit. You always say that you will never be able to repay me for what I have done for you in that room, but the truth is, you have done so much for me in that room. You woke up a thing called purpose. You illuminated me and gave me a Soul courage to be authentically present and powerful in that room, knowing that I have a reason for being there. I truly believe there are no accidents in this world, that our paths have crossed and our lives have synced up in that room for a higher calling, and on this day of celebrating you turning 30, I want to leave you with this: You are valued, you are loved, you are gifted, you are talented and, above all, you are family. Soul family. Continue to write. Continue to follow your bliss. And remember YOLO! All my love."
During the second to last song, which is always where I "find my soul," David invited my dad into the room while he read a note from my dad:
"I'm gonna watch you shine. Gonna watch you grow. Gonna paint a sign. So you'll always know. As long as one and one is two, there could never be a father who loved his daughter more than I love you."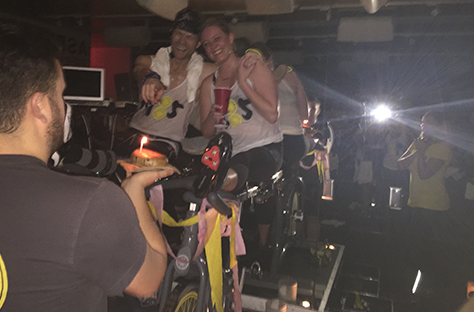 Needless to say, I cried through the rest of class, while holding onto David's hand and riding to one of my favorite songs. Everything about that morning was so special to me, and to my family. Both blood and SOUL family.
Jaime Gleicher.
I am very active on Twitter, and many of my tweets have been about SoulCycle. Because of that, I've "met" some riders in other cities and exchanged tweets with them. One in particular, Jaime Gleicher, and I discovered through Twitter that we were very similar, not only in our experiences with SoulCycle but also outside of Soul and became fast friends. Since she is in New York and I am in LA, we weren't able to meet in person right away, but we maintained our friendship the best we could on the Internet and phone. When I read that she was having a bad day, I sent her a SoulCycle e-gift card and when she learned it was my 500th ride, she had cupcakes sent to the studio. We were finally able to meet when I was in New York for work and we met at West 77th Street to take a Lori A. class together before grabbing dinner. Since then, she's also made her way to LA and we've ridden in several classes together. She even made the trip for my 30th birthday ride! (I told you that was a special one!)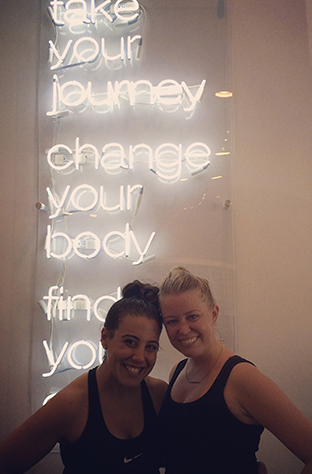 My first Pasadena ride.
I love Pasadena, the studio is beautiful and in an amazing location, but it's a very far drive for me, so I'd not been until recently. A friend of mine was hosting a ride and I'd agreed to go. When I woke up that morning, I was tired, cranky and not at all in the mood to work out, especially with an instructor I hadn't yet met. However, I believe it says a lot about someone who doesn't stick to their commitments, so I made the hour long trek. As class started, instructor Chris Chandler shared with us through tears that it was a special day for him, as it was the anniversary of his father's death. He also introduced us to his mother who was riding for the first time. The dedication of the ride to dad, and the words he spoke had me in tears from the second the lights went off all the way home. He played silly songs that he remembered his dad singing in the shower, and celebratory songs his dad sang at karaoke, and songs about loss, and most importantly love. He spoke of the stages of grief and how important family, like the one at SoulCycle, is to be kind to. For the first time, the words that are spoken often at Soul, "you're exactly where you need to be" made complete sense to me. That ride was an hour of reflection and a reset for me that I didn't know I needed.
Surprises from the front desks.
The front desk staffs at SoulCycle are really the best. They go out of their way to make sure every rider is happy and taken care of. Like, above and beyond what is expected. I could give a million examples, but I'll stick with the most recent, from this week. I rode my 1,000th ride in Beverly Hills, whose entire front desk staff is incredible. When I got there, they had decorated the studio with congratulatory signage, cheered as I walked in, and embraced me with tight squeezes. Kenny, a studio manager, took the time to ride in the room with me and when class was finished, Janine, another studio manager, ran to me with a box of cupcakes with "1,000" on them. We then talked about what SoulCycle means, as we took a bunch of silly photos. Like I said, there are so many other examples, but the Soul LA front desk staffs are amazing.
The ride that changed everything.
2013 was a really tough year for me, specifically at my now former job. After a particularly challenging day at work, I felt defeated. I cried all the way to the studio and because I was feeling so down, I wanted to avoid talking to anyone. I just needed to ride. I walked into the studio still wearing sunglasses, quickly signed in and snuck to my bike. Before I strapped in, I briefly looked up and made eye contact with instructor David Zint. As I got on the bike, David and I briefly made eye contact, and when he saw me, his face changed noticeably from happy to concerned before he started his class. (David and I have become very close friends, so he was aware of the struggles I'd been facing at work all year). The lights went down, the music started and the first thing he said was "when you're in this room, no one can hurt you." Through the entirety of that night's ride, he continued sharing powerful mantras. I know his words are always a genuine dedication to his riders, but that night, they spoke so loudly to what was going on in my life. He went on to say, "your mood is only a state of mind" and "the people in this room love you more than you will ever know" and "no matter what you're going through, SoulCycle is here for you", etc. I didn't look up once through the class, and I cried from the second the music started until I walked out the door.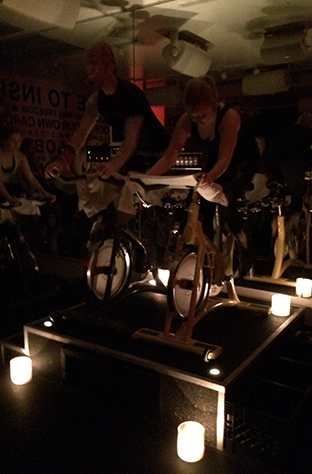 As we were stretching, I had my head down and David came over to me, put his hands on my shoulders and kept them there until we got off the bike. Again, no words were spoken, but I knew what he was "saying." I left the studio very quickly and quietly, and when I got in my car, I was a completely different person. I felt like everything would be okay. I felt like even when life was hard, SoulCycle was there and would do whatever they could to help fix it. When I got home that night, I had a text message from David simply saying, "I got you."
From celebrating 100 rides with Ben Bruker to 700 with Lindsay Buckley to 1,000 with Ross Ramone to a 100-minute class with Pixie Acia to a Good Morning America-filmed ride with Cole Williams to a ride on a rooftop in DTLA with Jenny Canales and so many more in between, each of these 1,000 rides has meant something special to me. I am so grateful for every one of them, and every person I've met along the way. Cheers to the next 1,000.
Do you have a Soul Story to share? Email blog@soul-cycle.com!