Soul Q&A with Atomic Moms' Bianca Kajlich and Ellie Knaus
September 28, 2015
BIANCA KAJLICH and ELLIE KNAUS are two Soul moms on a mission: To celebrate all kinds of parenting through fresh, frank, fun conversations on their podcast ATOMIC MOMS: The Mother of All Podcasts. They chatted with us about tapping it back through pregnancy, interviewing Soul instructor David Zint, and finding inspiration from their kids…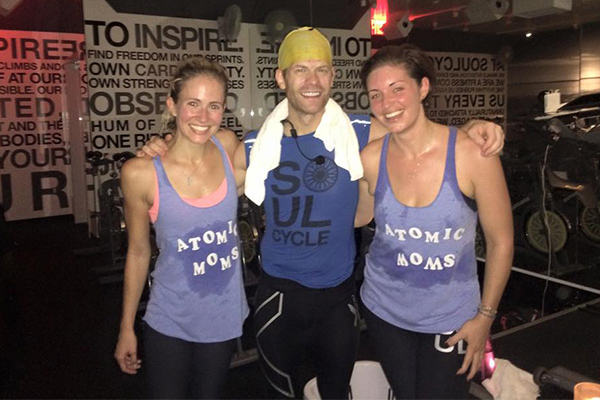 Ellie (left) and Bianca (right) with senior instructor David Zint at SoulCycle Hollywood
Tell us About ATOMIC MOMS podcast!
Bianca: ATOMIC MOMS podcast celebrates all the choices that we parents have to (get to!) make as we navigate through conceiving, birthing, and raising our children. We aim to bring moms and dads information in a way that allows them the space to find their own authentic parenting voice. We know that raising a child can feel very isolating at times, and we believe the best medicine to be hearing others share their perfectly imperfect parenting journeys!
Why did you interview senior instructor David Zint?
Ellie: Los Angeles SoulCycle senior instructor David Zint and I were blessed with daughters the same month. As they grow, so do we as their parents. In class, David asks us to visualize what we want in life and go after it. And these goals always align with who we are, not who we think we should be in this crazy, superficial town. David exhibits both a warrior strength and a gentle spirit. And I'm a better parent for tapping into both aspects myself. (Listen to his interview
HERE
.)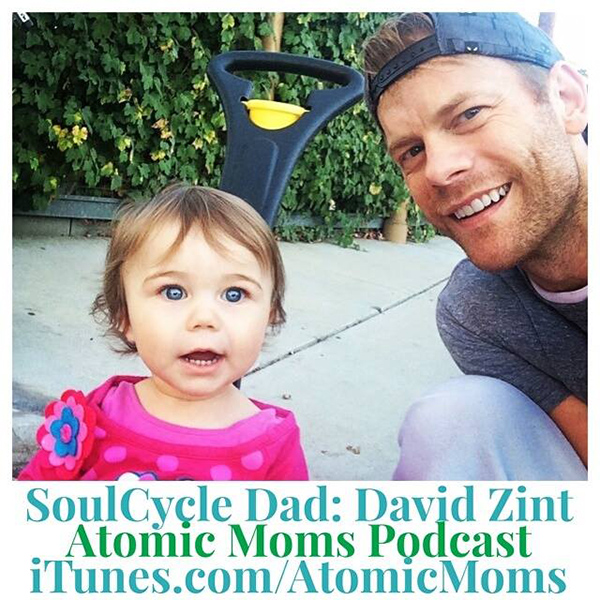 What inspired you to start the podcast?
Bianca: Ellie and I were new to motherhood and searched high and low for a place where we could find parenting information that was shared in a non-judgmental manner. We wanted to provide a format for parents to come and learn about all the different options they have, without feeling scorned if they chose to do it differently. Ellie and I have very different viewpoints ourselves and still support and love each other, so we knew if anyone was meant to do an open minded parenting podcast it was us!
What first brought you to SoulCycle?

Ellie: In 2013 I was setting up my bike in David Zint's class for the first time, and I was afraid I was going to puke. Not from the cardio, but from morning sickness! And I'm so glad I went because the relentless nausea and fatigue were no match for SoulCycle. Over the next several months I noticed my belly drop closer to my thighs until I couldn't do the handle bar crunches anymore. My baby and I were on this ride together. And I was getting stronger for her.
Where do you find daily inspiration?
Bianca: I am pretty sure that Ellie will agree with me when I say that these days, the lion's share of my inspiration comes from my child. First and foremost, because she is simply the most fascinating person I have ever met. Every minute of every day is an opportunity for wonder and awe, even if it's the screaming and crying kind (hey! Tantrums can be inspirational too! When was the last time YOU let yourself feel an emotion so completely?!). And secondly, because every day I wake up and I want to be someone who she can observe living honestly and with love. It's really hard to do sometimes, but if you can even just be honest with yourself about when you are not living with love, that's half the battle ;)
Do you have any favorite rides?
Ellie: This summer we had an ATOMIC MOMS SoulCycle event. We packed the house with sweaty mamas who bravely set aside an hour to take care of themselves and try something new (which is no small feat!). Bianca and I rode across from each other, and we were grinning and yelling and dancing on our bikes like idiots. My heart almost exploded from the cardio and the excitement. It was the first time I really felt the magnitude of what we're doing with this podcast. Each week we talk into a microphone in a quiet studio, so it was so powerful to be in the physical presence of our listeners. One mom came up to us afterwards and said this was the first time in two years that she's done something physical for herself. She shared how much listening to ATOMIC MOMS every week has inspired her and has made her feel like she was a part of our tribe. She started crying. We started crying. There were sweaty hugs. It was awesome.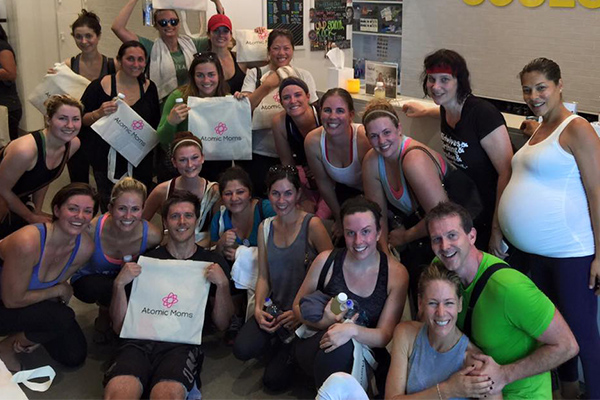 What do you have coming up? Anything we should not miss?
Yes! Join Atomic Moms podcast in a 3-Day Intensive Parenting Workshop on conscious parenting led by best-selling author and parenting expert
Dr. Shefali
on December 4th through 6th in Los Angeles! It will be an intensive weekend of transformation with speakers
Neale Donald Walsch
,
Mallika Chopra
,
Susan Stiffelman
, Suzi Kesler,
Atomic Moms'
own Ellie Knaus and Bianca Kajlich, and more. You can register
HERE
.
ATOMIC MOMS
is a weekly podcast that celebrates the beauty and diversity of modern parenting hosted by Bianca Kajlich (NBC's
Undateable
) and Ellie Knaus (The Huffington Post). We explore the many different options parents have when it comes to conception, birth, and child-rearing. This summer the podcast was featured in the "19 Notable Podcasts About Parenting" on Mental Floss. Expert guests include Janet Lansbury (
No Bad Kids: Toddler Discipline Without Shame
), Dr. Robin Berman (
Permission to Parent
) Jennifer Waldburger (
Calm Mama, Happy Baby
), Dr. Drew, and Dr. Shefali (
The Conscious Parent
). Listen to
ATOMIC MOMS
podcast on
iTunes
or your podcast app of choice, and follow on Facebook,
Twitter
and
Instagram
(
@atomicmoms
).
Want to ride at SOUL? Grab a series HERE and book a bike!
Questions or comments? Email blog@soul-cycle.com!Questions or comments? Email blog@soul-cycle.com!
MORE FROM SOUL