Soul Q&A: Mixologist Kyle Ford
December 30, 2015
In the spirit of the holiday season, mixologist KYLE FORD chatted with us about pursuing his passion, creating the perfect cocktail, finding inspiration on the bike and losing 20 pounds at SoulCycle….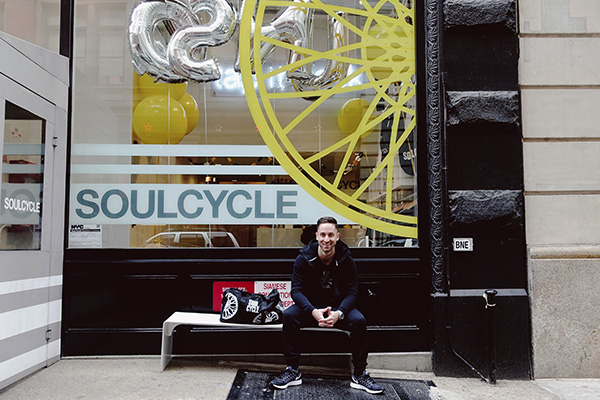 Okay, so... what exactly is a mixologist?
Believe it or not, the term dates back to the 1800s and was used by the first celebrity bartenders for self-aggrandizement. Today, it applies similarly to any bartender that takes a keen interest in their craft, commands a vast knowledge of spirits and is thoughtful in the composition of cocktails.
What inspired your interest in spirits?
A well-made cocktail in San Francisco. After college, I worked in finance for four years in my hometown of Sacramento. After obtaining my CFP certification, and while studying for the CFA exam, I became haunted by creative energy. I felt like a painter without paint and a canvas. My wife, Rachel, and I would often escape to SF, where we found a bar called Bourbon & Branch. Enamored with the bow-tied bartenders and their mixing of mysterious potations, I knew this would be my canvas and spirits my paint. In a bold decision to pursue a more creative life, we both quit our jobs and moved to SF to join the craft cocktail scene. I talked my way behind my first bar three weeks later and have never looked back.
What's your role at Rémy?
I'm their resident Cocktail & Spirits Expert. A year after Rachel and I moved to New York to consult on some bar projects through our company Ford Mixology Lab, I was approached by Rémy Cointreau to serve as an ambassador of their fine spirits. For 4 years, I've had the great fortune to travel the world visiting the best bars, leading educational spirits seminars and hosting some incredible cocktail events. I now manage six other ambassadors like myself and a bartender community called Collectif 1806.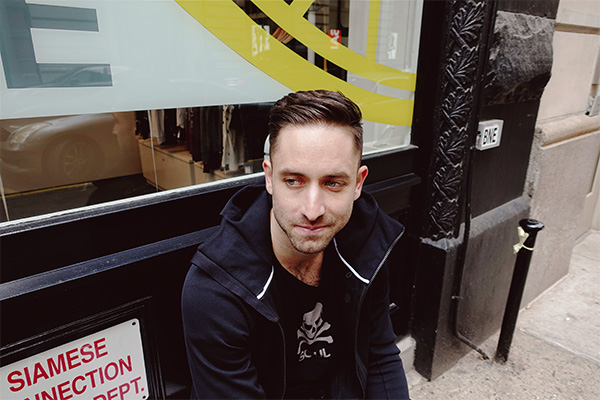 What first brought you to SoulCycle?
Balance. Admittedly, I was in a personal rut. My line of work, while glamorous, can be exhausting and a recipe for burnout. The late nights, nonstop travel, and unbridled access to rich food and strong drink, is enough to derail even the most resolute. I needed a strong counterpoint. I decided to try SoulCycle, as I had heard whisperings of its high-intensity beat-matched choreography making exercise fun.
Tell us about your first ride?
I remember it vividly. Hampered by the previous night's bibulous indiscretions, angry beads of sweat poured down my face. My thoughts drifted to my once robust aspiration toward fitness, now drowning below the last several booze soaked years. After class, however, I found that my will was still there and serendipitously more flammable. Something sparked and I was on fire. Not long after, I challenged myself to Warrior Week, completing 5 rides in 7 days. It was actually more motivating than difficult. Waving a flag emblazoned with December Is The New January, I had resurrected my inner athlete.
How has SoulCycle impacted you?
Pushing the limits in class has bled into my life and work. I've come to realize that most limits are self-imposed and that where the mind goes life follows. I'm forever thankful for that. Also, I've reclaimed my h
ealth. Before tapping it back, I topped out at 193 pounds. Over the last year, I've lost 20 pounds! Back at my fighting weight, SoulCycle has also recently inspired me to dust off my two black belts and get back into martial arts training, something I've been away from for six years.
Do you have any favorite rides?
My wife jokes that my favorite class is Paige's Taylor Swift Tuesday. I mean, who doesn't love T. Swift? Truthfully, it's Paige's balance of high intensity and flawless choreography that brings me back to her class more than any other. To date, though, I would have to say that my most memorable class was a 90-minute Soul Challenge with Erin T. I experienced a moment where everything came into a sharp 20/20 focus. You know, when exhaustion breaks your mind, seemingly altering time and space, and for one sublime moment you are nothing more than your will to keep on moving. Pure energy.
What inspires you?
Bruce Lee. Rocky movies. Bill Murray. Music, coffee, and quotes. Riding my bicycle around NYC. Photography. Kale salads and acai bowls. Martinis and French fries. All of the awesome people in my life: my wife, my family, and my friends. I actually organized a "balanced bartender" SoulCycle ride at UNSQ back in October. We called it Shake, Cycle, & Soul. Around 30 of my industry friends showed up, we tapped it back together, I shook up strawberry-thyme lemonades with SmartWater after class and then we refueled at Porchlight. It was incredibly inspiring to see a community come together in the pursuit of health and wellness. And, that is exactly what SoulCycle is to me.
Anything you want to add?
Let's ride! You can find me most often at UNSQ, 19th, SOHO and 54th. Also, follow my adventures on
INSTAGRAM
: @kyle4d. Cheers!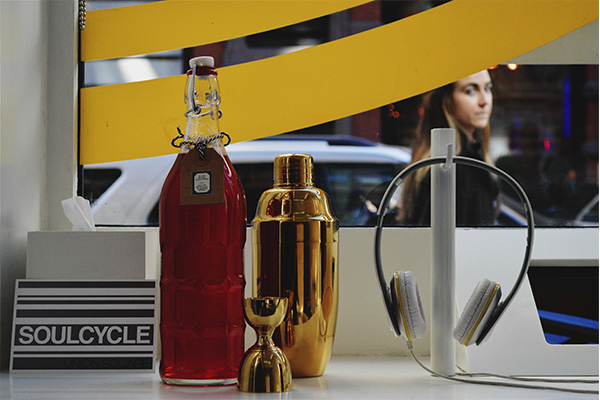 Do you have a Soul Story to share? Email blog@soul-cycle.com! Want to ride at SOUL? Click HERE and book a bike!
MORE FROM SOUL