Soul Love Story: Aaron and Teresa
August 20, 2015
Engaged at SoulCycle! Rockstar AARON HO opens up about how he knew TERESA YUE was his SOULmate — and why he proposed during a ride at 19th Street!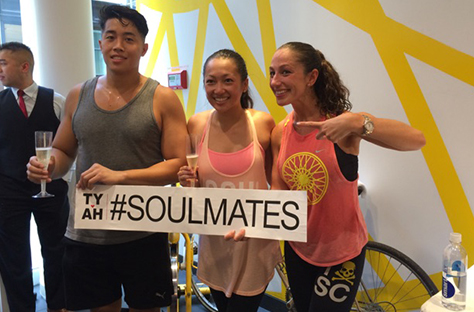 Congratulations! Tell us about the big proposal at Soul.
Teresa and her friends are avid SoulCycle riders who never miss signups on Mondays at noon on the dot. It wasn't hard at all to get her to take Sydney's 5:30 PM class on August 11th, 2015 at the 19th Street studio. The hardest part was making sure that she was not suspicious of the proposal since 20 of her friends would be there.
How did you keep it under wraps?
I had Teresa's best friend Cheny, tell Teresa that a celebrity was going to be in that class, so that it would be a good reason for all of us to be there. Except instead of the Chainsmokers, the celebrity would be me! Teresa booked a bike in the back row, and it took some convincing, but her friend Winnie was able to convince her to switch with her so Teresa would be front and center.
What happened when she arrived?
When Teresa showed up, she asked me what I was doing there but class was about to start so we didn't get a chance to talk thankfully. At that point, I only hoped that she wouldn't notice how much I was already sweating before class even started!
How was the ride?
The class turned out to be everything I had hoped for. It was nothing short of amazing, filled with some of Teresa's favorite people and music. The best part was that Teresa didn't have a clue about what was in store for her until the very end!
How did Teresa react when you proposed? And Sydney?
Teresa was completely astonished by the proposal. Sydney, on the other hand, was super excited about the proposal since it was a SoulCycle's love story that led to marriage! She's already talked to Teresa about future bachelorette and wedding rides.
What did the class do?
The surprise proposal actually took the whole class by surprise. The element of surprise was very important to me, so we had to make sure we were exercising care (no pun intended!). The weeks of planning and coordination were well worth the audible gasp that could be heard at the end of class.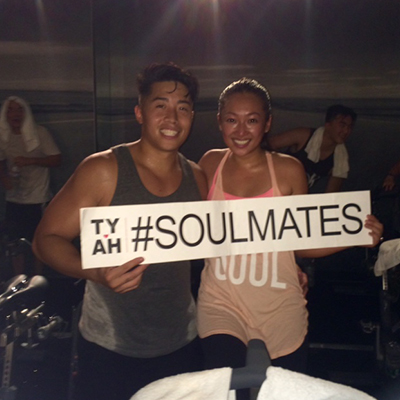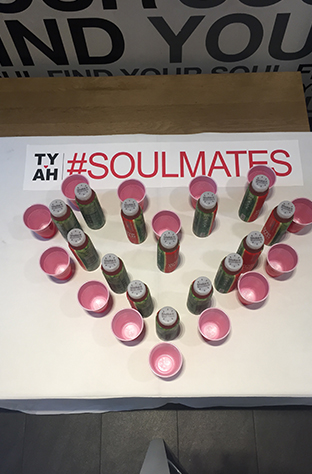 Amazing.
I am so grateful for the whole SoulCycle team for their accommodation and assistance with this proposal. The timing of every detail was timed to perfection. At the end of the class, Sydney asked all the warriors in her class to stay for the stretch and to close their eyes. That was my cue to come before the love of my life on one knee and ask her to spend the rest of her life with me. She's made me the happiest man alive when she said yes!
Awww… let's back up: How did you two first meet?
Teresa and I officially met almost 10 years ago at a college party. Teresa and I are in the same circle of friends and hang out at the same New York City spots but we reconnected this year. Even though it was nearly a decade ago that we first met, I knew that there was something very special about this girl.
When did you know you were SOULmates?
The spark of that small connection never left me, and I am so glad that we linked up at this stage of our life when we are both ready to start the next chapter of our lives. Timing is so important. It's been a wonderful five months together and you know what they say — you just know when you know.
Do you like to ride together?
Yes, we do ride together. We both love to eat, so the only way we can continue to keep up with our insatiable appetites is to work out together. The idea for my proposal was actually born during our first SoulCycle ride together.
What was your first ride like?
Teresa is very passionate about SoulCycle and she's always talking about how their concept of exercise was a game-changer. I was a little skeptical about riding on a stationary bike at first, particularly because I've never taken a indoor cycling class before. I didn't think it would hurt to check out what the hype was about, so I decided to take her up on her offer to join her.
And?
Our first SoulCycle session was, of course, with Sydney. A mere five minutes into the class, I realized why Teresa was such a big fan. From the environment of the pack to the blend of music complimenting the riding rhythm, there was no other way to understand her addiction without experiencing the adrenaline rush yourself.
How did you like riding together?
While every rider was gazed intently at Sydney, I couldn't help but steal glances at my fiancé to be. She was razor sharp focused on riding to the beat of the music. You could tell she was having the time of her life singing (probably at the top of her lungs), all the while racing to the finish line. I knew right then and there, that this would be the right place for the proposal. There is no other place she would rather be.
Any wedding plans?
We are planning get married next year either in June or September. To be honest, the wedding is going to have some big shoes to fill to live up to excitement of the proposal. I couldn't have done it without Sydney, the SoulCycle staff, and all our family and friend who were all so supportive of the proposal. Many of our friends and family have already thrown out ideas of doing SoulCycle grey and yellow color themes, and some have even joked about having the wedding inside a studio!
Now that would be one SOULful ceremony!
I'd like to express a tremendous heartfelt thank you to SoulCycle for being such an integral part of this amazing proposal story. This is one day my #SOULmate and I will never forget because it'll be a joyous memory we will always cherish and eventually share with our children one day.
Do you have a Soul Story to share? Email blog@soul-cycle.com!
Want to come ride? Click HERE to get a series and book a bike!
MORE FROM SOUL