Remembering Clare
December 24, 2012
Today our thoughts turn to Clare Veronica Walsh: mentor, teacher, and above all, friend. Having skipped college to work at SoulCycle, Clare always said that SC was her education; when she became an instructor, the mirror read "graduation day." But Clare never realized how much she taught us. With her fearlessness, exuberance and passion for life, Clare lived every moment to the fullest. Through death, Clare taught us how to live. SoulCycle co-founder Julie Rice remembers Clare and how she changed SoulCycle.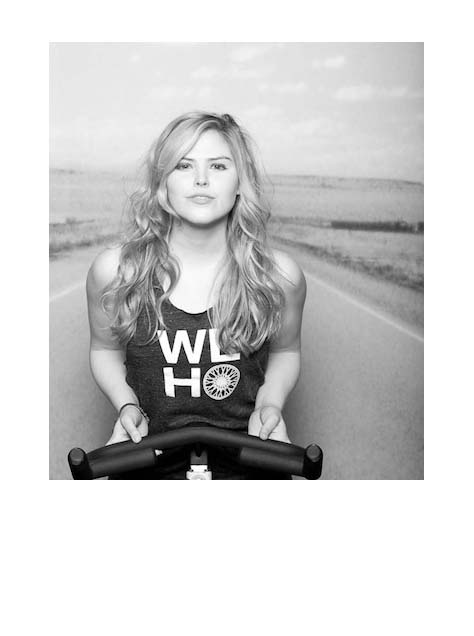 Clare Veronica Walsh reached out to me by email in November 2007. I could tell right away this girl was both unique and fearless. She wrote that she was 17 and considering college, but after taking a few SOUL classes, she decided that she wanted to work at SoulCycle instead.
At the time, Elizabeth and I were just getting started. My maternal instincts took over. Not knowing Clare, I now felt responsible to set this girl on what I considered to be the right path.
I wrote back:
Dear Clare,
Thanks for the email. I think you should go to college.
I appreciate your inquiry,
Julie.
Over the next couple of weeks, Clare emailed us repeatedly. In true Clare form, she knew what she wanted and she was going for it. After four emails, I just stopped replying.
And so, I was only moderately surprised to find a beautiful young woman propped up against the 72nd Street studio door at 7am on a Monday.
"Hi, I'm Clare," she announced with her sparkly eyes and her raspy voice. "I sent you some emails...You didn't write back so I figured I would come and meet you."
The rest is history. Looking back it's as if the universe literally threw Clare in our path. Fearless and passionate in every way, she always followed her dreams. Whether choosing a start up business over college or dancing in the front of a packed classroom, Clare was a born leader.
Over the years, Clare would often call me for an "emergency life advice session." We would sit down, she would deliver a monologue about life's latest dilemma and by the time she finished talking she had already figured out the answers. Then she would thank me for the advice and give me a big hug.
Clare was part of the foundation of SoulCycle: a student to some, a teacher to many. Me, I was insanely proud of her. She had passion and a vision for what she would help create and she stuck it out during the early days.
She knew what it was like to work hard and she was a person who kept her word. It was a personal thrill to watch her flourish and one of the greatest joys I had was watching her join the ranks of "master instructor."
It is hard to believe a year has gone by since the SOUL community lost our beloved Clare. Every time the room goes dark and the music begins I always find my thoughts drifting toward my teacher, my colleague ... my friend.
I continue to hold a little piece of Clare in my heart and mind. When I'm questioning my own choices or I'm too shy to get out on the dance floor, I remember the way Clare lived each moment.
I think of my own daughters growing up and making decisions; thanks to Clare I know I will encourage them to march into the world bravely with a shake of their hair and follow their dreams.