Parker's Soul Tropic Nites
September 21, 2015
Want to take your SOULful time on the bike to a new level? NYC instructor PARKER RADCLIFFE has just the thing! He shares his inspiration for the four-part Soul Tropic Nites series, just in time for the final installment this Friday in the West Village!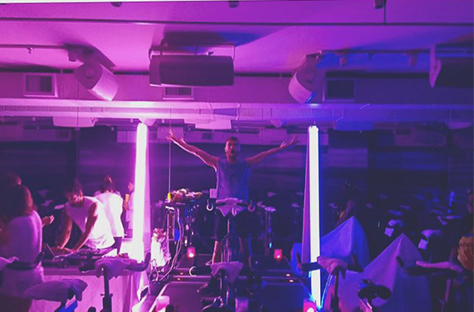 What is Soul Tropic Nites?
Soul Tropic Nites (STN) is a four-part art and meditation-inspired SoulCycle class series. Each ride has revealed its own theme through my practice of personal meditation and manifestation.
How did you come up with the idea for STN?
The idea came about because as an instructor, teaching 11 classes a week, I was ready to feel MORE. I now needed to allow my message and class to develop into what the universe needed of me - be the messenger of hope and expansive thinking - become the instrument.
I've always been inspired by art, crystals, and nature - to me those are the purest energy sources to pull from. So I decided to root all of the "tropic nites" themes in something natural and untouched in order to suck out the purest and most powerful energy.
Tell us about the first three STN rides.
The first STN ride was very green. It was nature and life-inspired. I wanted to capture the tropical feeling on a more obvious level — mostly because we were SO ready for winter to be over this year and needed to feel light and ground our emotions.
The second developed into something a little darker. It was all based underwater and inspired by both the dark and the light. I went to Puerto Rico that month and all my pictures incorporated water and heat. I wanted to share that experience with the riders, so that is where I was pulling from.
And the third was us [the pack] coming out of the water and onto land, finding our legs and blooming into who we really are. We titled the last one "bloom."
So September 25th's STN ride is the last in this series?
Yes, the upcoming installment will be the finale of this series. However, this has only inspired me to continue on, and to continue combining the elements, tapping into the one universal mind and delivering the SoulCycle experience that is most personal and real to me as a human.
What have you learned through this experience and leading the Soul Tropic Nites rides you've done so far?
Through this experience, I have learned who I am. I've learned hat I am powerful in a cosmic way. I have attracted new energy into my life, new people to my classes and have a new love and understanding of life.
I believe that what we do in that room is just the catalyst to produce our outside dreams. It is a haven for the sensitive and accessible to anyone that is ready for more.
So what can we expect from part four?
I can't really give much away, but I'd love for those interested to come reach enlightenment with us in the final installment.
Join Parker for the final SOUL TROPIC NITES RIDE on Friday 9/25 at 7:00 PM at SoulCycle West Village! Questions or comments? Email blog@soul-cycle.com! Want to ride? Grab a series HERE and book a bike!
MORE FROM SOUL