On Tour with Oprah
November 24, 2014
This fall, Oprah Winfrey invited SoulCycle to be part of The Life You Want Weekend, a motivational 8-city tour that criss-crossed the country, from Atlanta to Seattle. Our challenge was to create a program that would get 15,000 people of all shapes, sizes and fitness levels out of their seats and moving.
So we created SOUL15, an energizing and inspiring 15-minute cardio session inspired by SoulCycle classes and designed to help audiences find joy in movement — soul without the cycle. Instructors STACEY GRIFFITH and ANGELA DAVIS — who together led these tour sessions reaching more than 100,000 people — talked to us about the one-of-a-kind experience…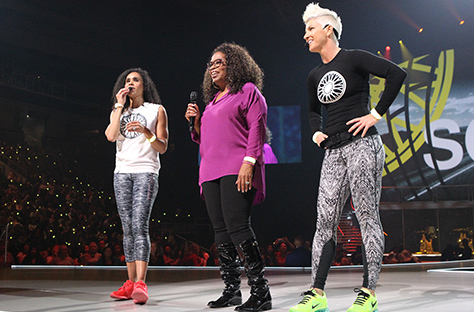 In San Jose
You went to Atlanta, Miami, Detroit, DC, Newark, Houston, Seattle and San Jose on The Life You Want Weekend Tour. One word to describe the experience?
STACEY: ELECTRIFYING.
ANGELA: Transformative
What inspired you during these sessions?
STACEY: Seeing the joy on people's faces and speaking to them after the event was the most rewarding part of this journey.. A woman in San Jose described her experience as life changing… She hadn't screamed in eight years. Another woman in Atlanta got out of her wheelchair and danced with me during the first song. By the time the third song came around, I had made my way on the floor back over to her (Angela was leading the soul15 that city) and she was STILL dancing… Truly incredible.
ANGELA: To look at the audience as opportunity to deliver hope. To pass on the message that they are worthy of their best life. That the rest of their life is the blessed of their life and that it's not too late. Through fitness and faith freedom is possible. Freedom to be all they were intended to be.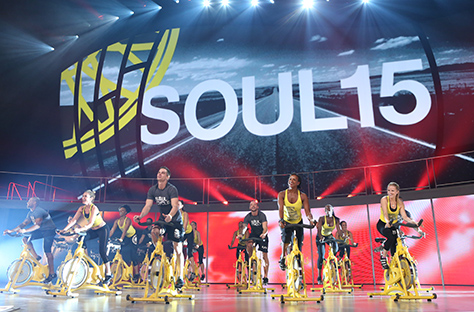 Our instructors riding along in Newark
Favorite moment?
STACEY: My 96 year-old Gramma in Seattle coming to the arena and doing the SOUL15 from her seat! But then I remember dancing between Oprah and Elizabeth Gilbert while my whole family and friends watched on the jumbotron in San Jose! So I guess I have two!
ANGELA: Atlanta. Experiencing an open heart moment with 15,000 people for the first time. All on one accord, reaching up and pulling in the change they showed up for. I will never forget that.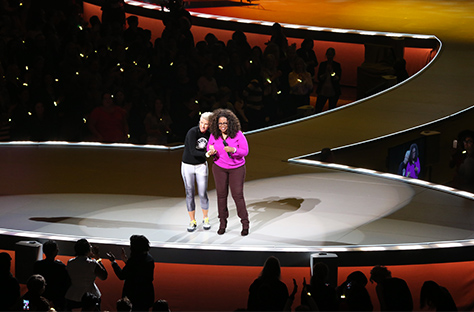 In Seattle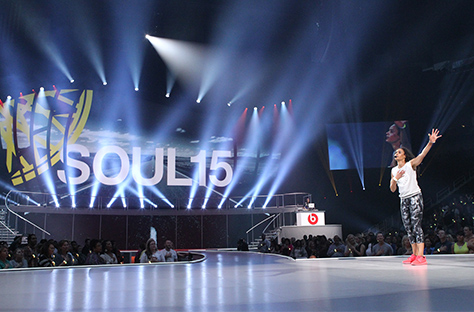 In Houston
Biggest surprise?
STACEY: My biggest surprise was people's participation in it… To see 15,000 people moving in unison, repeating the SoulCycle "ATHLETE, LEGEND, WARRIOR, RENEGADE, ROCKSTAR" mantra… was seriously a lump in the throat moment. It was tough to compose myself the first time because O was on her way up to interview me and I was like "Pull it together, SG… You can't cry right now!"
ANGELA: The response, reaction, true acceptance by Oprah's community.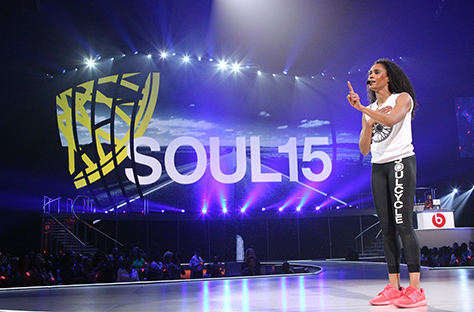 In DC
How is it different to lead thousands of people in an arena compared with a roomful of 58 riders?
STACEY: I have to say… It is hard to connect with every person in a venue that big. But I tried to section off the energy into side/middle/side very similar to our rooms of sidebar/mezzanine players/front row! The cool thing was though that I could see many, many faces smiling all the way up to the third tier of people. And being at the "performer perspective" of an arena, it made me realize lead singers could possibly be singing to YOU.
ANGELA: For me, there is no difference. There was an immediate connection and I felt like we were all one. One unified community, a tribe. In the arena, we are all marching to the same heartbeat to pursue the best versions of ourselves and it's the same heartbeat that we ride to within the SoulCycle walls. I felt complete unity and togetherness.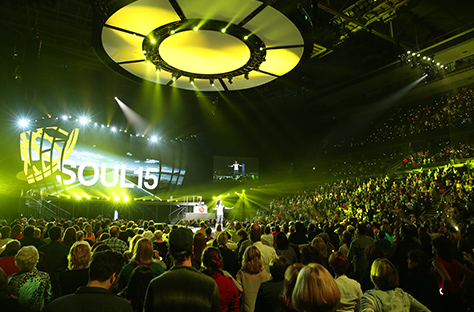 In Detroit
How did it make you feel?
STACEY: It made me feel an overwhelming sense of wow… This is what I've been talking about, this is how many people I want to motivate at once! It is like being given the opportunity to instantly inject physical hope into people that have lost it… A chance to be the flint to someone's spark, to light the fire inside of them!
ANGELA: It made me feel like I was in a space doing what I was supposed to be doing. Like I was walking with purpose. I was being used as an instrument to inspire.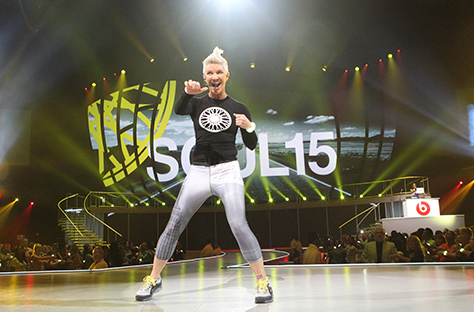 In Miami
What did you learn along the way that will influence your SOUL classes?
STACEY: It has given me a whole new perspective on how incredible our
opportunity is as a community to help each other stay healthy. We are all so blessed to have each other in the SoulCycle room. It is our sanctuary, our vortex, or transformation hub, our wellness center, our networking panel board, our fitness motivating quadrant! So lucky… Every day so thankful for SOULCYCLE!
ANGELA: Three things:
* To jump and trust that the net is big enough to catch me.
* That team work makes the dream work.
* To have an extravagant dream. If you can put your head around your dream it's not big enough.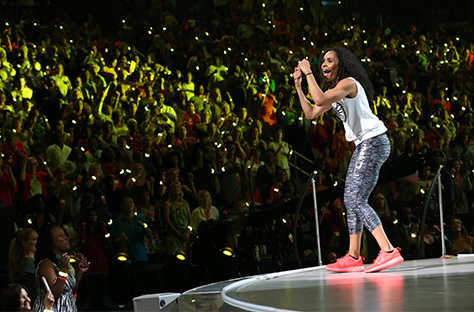 In Atlanta
Questions or comments? Email blog@soul-cycle.com!