Noah and Taylor Talk Music, Festivals and Friendship
October 23, 2015
Instructors TAYLOR SHANK and NOAH GOULDSMITH — who met during SoulCycle training — instantly bonded over a shared taste in music and became fast friends. Even though Taylor leads the Coral Gables pack and Noah rocks the NYC podium, they stay connected through concerts, playlists and festivals...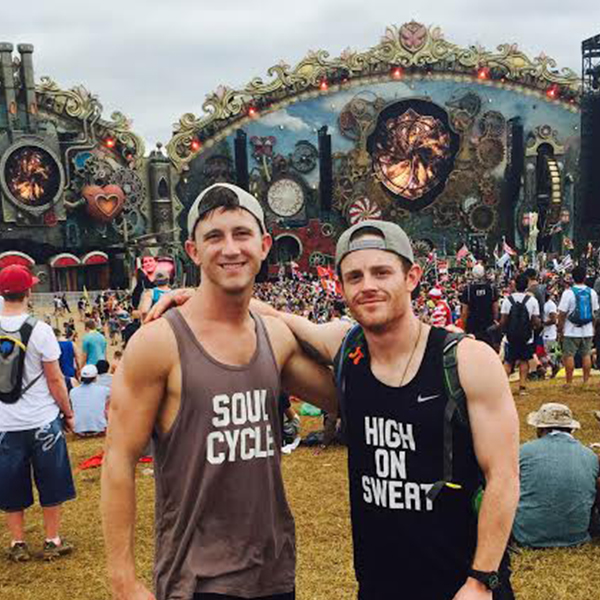 Tell us how you guys met and became friends?
Taylor Shank: We rode beside each other in Danny's UNSQ class the second day of training, and realized we both like the same styles of music and share a pretty similar outlook on life. Plus, we're both raised in small towns but live big city life, so we connected that way as well.
Noah Gouldsmith: I don't meet a ton of genuine, big-hearted people too often — especially in NYC — so getting to know Taylor was great. One of the best memories of Taylor's time in NYC was when we went to Governors Ball to see Big Gigantic and then to the after-party that Big Gigantic was playing in Brooklyn. We had a killer time, and we knew that wouldn't be the last time we would see a show together.
You recently went to the TomorrowWorld festival. How did you decide to attend?
Noah: TomorrowWorld is three-day electric music festival held in Chattahoochee Hills, Georgia. It brings together people from more than 75 countries and all 50 states. I decided to attend after one of my best friends got me into EDM and festivals a couple years ago. I talked to Taylor, so we got the ball rolling and started making plans.
Taylor: Instructor Megan S. from SOUL San Francisco knew about our affinity for music festivals and originally alerted us of this festival back in July, so we had been planning since then! I'm making her come with us next year.
How does TomorrowWorld differ from other music festivals?
Taylor: TomorrowWorld is also an immersive experience, from camping in Dreamville — where you can begin your day with a cycling class led by a DJ on stage (I want to lead that next year!) — to grilling out by a cabana. Everything from the atmosphere to the music leads to a really dynamic experience.
Noah: I think what makes TomorrowWorld different from other music festivals is probably the amount of people that attend and amount of production that goes into it. Also, the sense of community with your fellow campers and festival attendees is amazing; everyone is nice, everyone is spreading love. It's three days of good vibes.
The theme is of this year's TomorrowWorld was The Key to Happiness. Will you find yourself integrating this chapter into your rides?
Noah: Yes, for sure. In my classes, I've always talked about happiness being a choice you make. No matter how hard the road gets or how down you may be, you always have the opportunity to find happiness from within; it's all about staying positive and staying on your path. TomorrowWorld definitely opened my eyes to new music, new views on life and a new sense of happiness.
Taylor: The Key to Happiness is all about the people you spend your time and energy on — those you love and truly love you, those who keep you grounded while lifting you up. I love the community at SoulCycle, and I definitely am incorporating this at COGA. As I say in class, "When you go hard, you enable others around you to go harder. Let's push each other to exceed any expectations we have and give it all we've got!"
Who was the artist or DJ you were most looking forward to seeing at TomorrowWorld?
Taylor: I knew Bassnectar always delivers one of the best shows in the world, no matter the venue. I definitely wanted to see Big Gigantic a third time with Noah (we love their saxophone and enthusiastic energy!) We also got to see Klingande on a pirate ship, which completely exceeded all expectations. So yes. TomorrowWorld exceeded all hype.
Noah: Klingande and they exceeded expectations. Probably the most memorable moment of my trip was watching them on the boat stage, dancing and hugging Taylor and our friends, and saying over and over "This is it, this is what we were most excited for!" (There may or may not have been a few tears, too…)
Favorite part of the festival?
Taylor: The happy, loving, giving, celebrating, joyful community of thousands of people dancing in the mud, all brought together by some of the best music ever played. It was probably the closest thing to Woodstock our generation has seen.
Noah: My favorite part of TomorrowWorld was getting to spend time with my friends, making new connections, and the music. It was a paradise. Everyone was nice; everyone was spreading love and good vibes. It really makes you wish that more people in real life vibe-d like people at music festivals
Will you guys be heading back next year?
Noah: Without a doubt (and I'm packing a poncho and boots this time).
Taylor: Only 48 more weeks until the next TomorrowWorld!
What music do you love to play in class?
Noah: I have pretty eclectic taste in music. From a young age, my mom had me singing anything from Billy Joel to Blackstreet in the car seat. My dad was a rock 'n' roll type of guy though, so he had me listening to the other spectrum — a lot of Journey, Styx, Van Halen, Metallica, etc. In my class, I like to mix it up and throw in a little something for everyone. I feel like there is a track or genre for every mood and every emotion we feel, and it has the ability to lift our spirits and make us remember.
Taylor: I love to dance to heavy beats, and I always center my playlists around one song with a driving beat, and build from there. COGA riders know when the beat drops in my class, we are going HARD. Some songs I play have so much energy I don't even have to speak, — the riders just unite and dance together. I can't believe how lucky I am to have this job.
What artists or DJs inspire you?
Taylor: I'm all about energy and vibes, so anyone who performs and dances WITH the crowd — they make it about the music and coming together in a joyful and powerful way. Artists who influence me include Red Hot Chili Peppers, Diplo, Bassnectar, Zedd and Armin Van Buuren. The artists that make it just about themselves turn me off.
Noah: Eminem, Michael Jackson, Billy Joel, Skrillex, Dillon Francis and Diplo, just to name a few. They all stay true to themselves and keep pushing (or pushed) the bar that made music what it is today.
What is the song of the moment for you?
Noah: "RIVA (Restart The Game)" — Klingande featuring Broken Back
Taylor: When I began instructor training, "Lean On" by Major Lazer was literally everywhere I turned in NYC. When Noah and I heard DJ Snake's remix at TomorrowWorld, we looked at each other, gave the biggest hug, then danced as hard as we could. Training was such a transformative experience and that song will always remind us of our growth.
Any advice you want to share?
Noah: It doesn't matter how much money you have, what kind of degree you have, what kind of car you drive or how big your house is. In the end, all that matters is that you are happy, you are making others happy, you are showing love, and that you are loved in return. I think a lot of people tend to forget that.
Taylor: Your life is spectacular. Make every second count.
Questions or comments? Email blog@soul-cycle.com!
Want to ride? Grab a series
HERE
and book a bike!
MORE FROM SOUL