Meet the Rockstar: Kate Hayford
December 15, 2015
Swing by CNHL and chances are you'll see assistant manager KATE HAYFORD spreading SOUL throughout the studio. Learn more about this dedicated rockstar and her role at SoulCycle…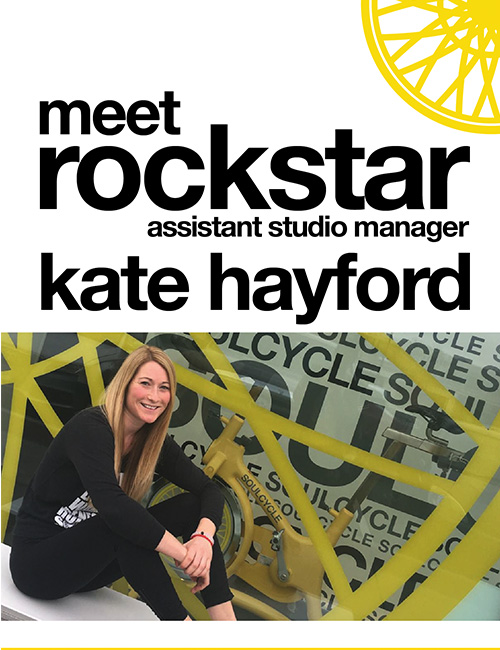 Name: KATE HAYFORD
Hometown: Wilmington, Vermont. "It was very small, a tight-knit community. Both my parents worked in the schools there. My dad was a teacher and my mom was a drug and alcohol prevention coordinator. Now my dad is an athletic director and my mom runs the healthy living programs, which is how I got interested in fitness.
Role at Soul: I'm the dual-ops Assistant Studio Manager at SoulCycle Chestnut Hill, so I handle everything from retail operations to bikes, sound and facilities.
Best part of the job: Interacting with riders and building relationships with everyone in the community. CHNL is a super special place —everyone here knows each other from riders to instructors. Shannon, Bri and I have been here since Day 1, so it's been so special to be able to build it from the ground up… from the pod in the parking lot!
Most surprising thing: Before joining SoulCycle, I didn't know that I could really love my job and meet some great friends.
On-the-job eats: I love to get the Red Thai Salad at sweetgreen right next door.
Before-class fuel: Banana with a packet of Justin's almond butter
Working warrior: I ride three to four times a week. I think my favorite ride was the day I got promoted to ASM. I took Erin L.'s class and it was a great feeling. I felt like I had worked so hard and it was awesome to be recognized.
Community counts: It is such an amazing community. Working here and being a part of it is really special. It is really hard to find a job that encourages you to learn about yourself while teaching you to operate a business. The company is really invested in your growth, which is invaluable and I feel so fortunate to be a part of it.
Interested in joining SoulCycle as an assistant studio manager? Email your resume to career@soul-cycle.com! You can check out all our job listings HERE! Questions or comments? Email blog@soul-cycle.com!