Jason's Stay-Positive Strategies
April 18, 2014
Staying happy with a hectic schedule isn't always easy, but somehow instructor JASON HARO, also Soul's East Coast Instructor Programming Coordinator, always seems to be smiling. We asked him to share some of his secrets...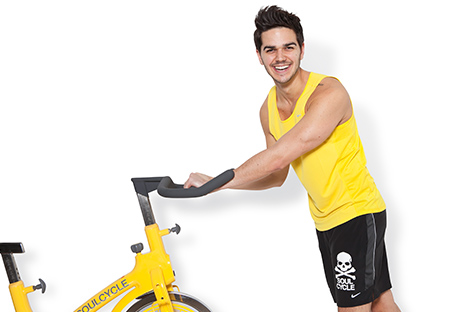 How I stay positive in the face of negativity...
To be honest, I usually get pretty worked up so, it's important for me to take a few deep breaths and really take a second to put whatever I'm feeling into perspective. Then I usually call up one of my best friends to talk about it. Sometimes having someone to listen is just as important as letting it out.
When I want to laugh...
I will text SoulCycle instructor Lindsay Waxer. She always has something looney or outlandish to say. I literally don't know what I would do without her in my life.
Fill in the blank: Reading ________ always cheers me up.
Tween novels like The Hunger Games, Twilight, Fifty Shades of Grey, Divergent — I know, I know...
My must-see TV is...
Broad City on Comedy Central. It's about two best friends navigating their way through everyday life in New York City. The two lead actors remind me so much of me and my best friend Mel. We literally quote this show 7 days a week. #JuliannaMargulies
The best advice I've ever received is...
Know when to give up and have a margarita.
My biggest inspiration is...
My younger brother, Joey. He is all about making dreams a reality. It's not everyday you get the chance to have someone like that in your life. He is a constant reminder that hard work always pays off.
______ never fails to bring me joy.
Old reruns of Full House. I mean, what ever happened to predictability?
My go-to celebratory food is...
Momofuku birthday cake truffles. They are outrageous! If you don't know what I'm talking about, then you've obviously never tried one.
To stay positive, I rely on...
My friends and family. I surround myself by positive people in order to feel positive. I believe that every interaction in this life is a dynamic exchange of energy.
My stay-positive mantra is...
MASTER YOUR HEART.
My favorite color is...
It used to be chartreuse, but the older I get the more I love white. Although, chartreuse is more fun to say.
My secret talent is…
I'm an artist. I can also rap Lil' Wayne lyrics on command. Tunechi!
My computer screensaver is…
A drawing by Gustav Klimt called The Blood of Fish. It's an idea for a tattoo I've been wanting to get for ages and I'm making sure that I don't get tired of it — a full sleeve is one hell of a commitment.
The app I use most on my phone is…
Songify. It will turn anything you say into an original auto-tuned song. My best friends and I can't get enough of this app. It's the T-Pain of iPhone apps.
On my bedside table is...
A large air plant and my MINI JAMBOX — nature and music, that pretty much sums it up.
My spirit animal is...
Miley Cyrus.
Catch Jason's classes at Soul 19TH Street and Union Square. Questions or comments? Email blog@soul-cycle.com!