Instructors Share Their Favorite Memories of SoulCycle Union Square!
February 5, 2016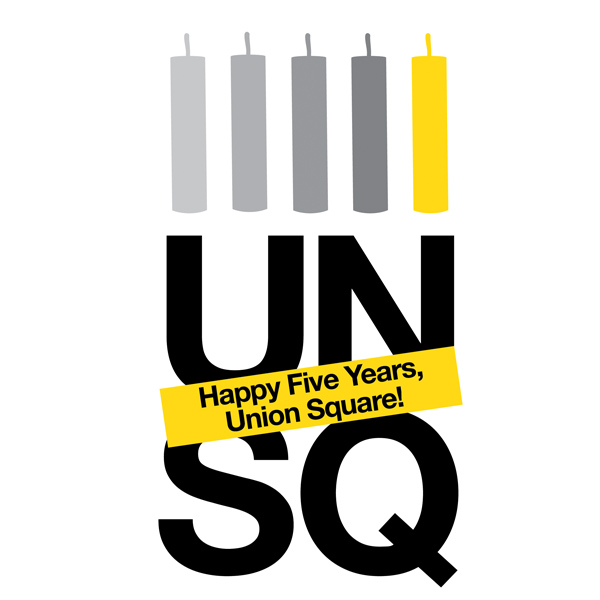 MELANIE GRIFFITH
What can I say about Union Square? I love everything about the studio. I remember so clearly how excited we all were when the studio opened. For me, it was an amazing opportunity to help anchor evening classes. Union Square has been my home on Tuesday and Thursday nights for the past five years. I really do have so many memories from that studio.... The first year anniversary ride Team Teach was one of the most fun rides of my career here at Soul. I taught with Laurie Cole, LB, Danny, Jenny Gaither and Clare. The energy was extreme, with the night ending with champagne — toasts and dousing. It was the most insane and fired-up class. I now have an incredibly tight an loyal crew/family of riders who still come together every week. Together we celebrate life — highs and lows and everything in between.
One memory from Union Square remains poignant and vivid years later: I was still a relatively new instructor when I first was diagnosed with chronic lymphoma and had to begin chemotherapy treatment. I continued teaching while undergoing treatment, riding at least one song in every class... with an incredible lineup of riders who would get on the instructor bike for me. (Several of those podium riders are now instructors, including Olivia Ward and Isabel Yerkes.)
It was on a Tuesday night in the bathroom in Union Square right before teaching class that I first noticed that my hair was beginning to fall out. I looked at myself in the mirror of that studio and breathed in the energy and love of the community we had built on 18th Street. In that moment, I decided that regardless of what crossed my path, regardless of the terrain, I was only going to make decisions that felt powerful and grounded.
Class that night was full of celebration and connection and I was filled with a feeling that I was limitless. I had been asked months before that day to participate in a photo shoot for More magazine: "This is What 42 Looks Like." As it turned out, the photo shoot was scheduled for the following morning. I stood there in the Union Square bathroom and resolved to do the photo shoot the following morning and then shave my hair.
Union Square and the amazing riders in that studio were such a source of strength and joy in my life. And I knew that I didn't want to feel the anxiety of gradually losing my hair. The next day when I did shave my head was the single most liberating and powerful days of my life. I am profoundly grateful for the lessons I learned at that time in my life — teaching with my bald head in my combat boots. I am forever connected to that studio, to the riders and staff and phenomenal instructors who have taught there.
LAUREN BRUKER
The best memory I have of UNSQ was the 1st year anniversary Team Teach. I was in charge of teaching the weight series. I started teaching from the podium and was making my way down to the floor when I slipped and fell into the weight bin. Most instructors would stand up right away, but I decided to play it cool and continued to sink farther and farther into the weight bin until I was all the way in there. There was so much chaos going on with five teachers leading one class! We were all goofing around and dancing like CRAZY!
DANNY KOPEL
Too many good times have been had at UNSQ to name them all. Off the top of my head, Clare's Britney ride, the Robyn Ride with LB, and the truly epic 1st anniversary co-taught by at least 10 UNSQ OGs. That night was pure energy and pure madness. And that's just in the studio...
I remember brainstorming a reality show centered around back office shenanigans alone. "Meanwhile, back at The Treehouse..." Some of us used to camp out there all day, killing time between classes. Many snacks and many laughs have been had upstairs.
The receiving line of the lobby is another one of my favorite things about UNSQ. I know who is arriving based on screams and cheers from the front desk staff. I shouldn't play favorites, but this spot is really special. UNSQ has had my heart from the beginning. I remember my friend Clare said to me once after she taught: "These are our people!" Totally. Happy birthday, UNSQ!
LAURIE COLE
This is my favorite memory! At the second anniversary celebration.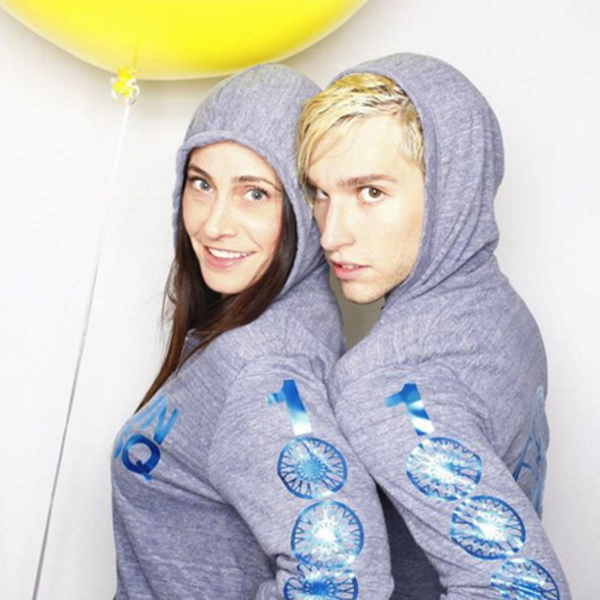 MADISON LARI
I honestly don't have just one favorite memory… every time I walk through the doors at UNSQ, I am overwhelmed with joy. I remember waiting for the doors to open and going to the very first ride at the Union Square studio. It's where I fell so deeply in love with SoulCycle and the SoulCycle community. I have met so many amazing people over the years and developed such wonderful friendships I will cherish forever. So… it's all kind of a blur and it's all my favorite. UNSQ is my home away from home.
SUE MOLNAR
The thing I remember most about UNSQ was how much fun we had in the final push to get it open. We all pitched in to do whatever it took to get it ready for business. Here's a pic of me doing the soundcheck, the day before it opened, I believe.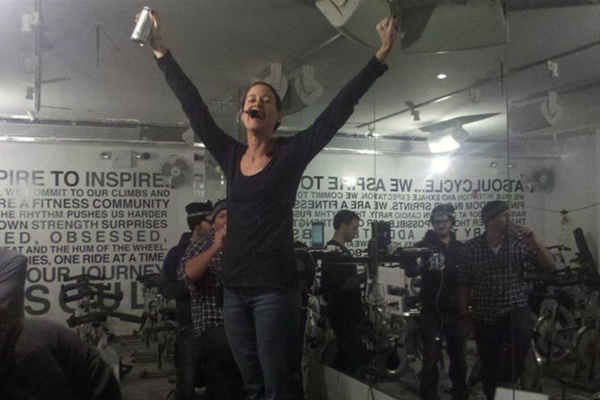 RIQUE URESTI
My favorite memories of Union Square are summed up in the following two images: the first t-shirt made by the awesome riders and the many crossovers and historical crazy moments I had with the late and amazing Clare Walsh; we opened that studio together — miss her.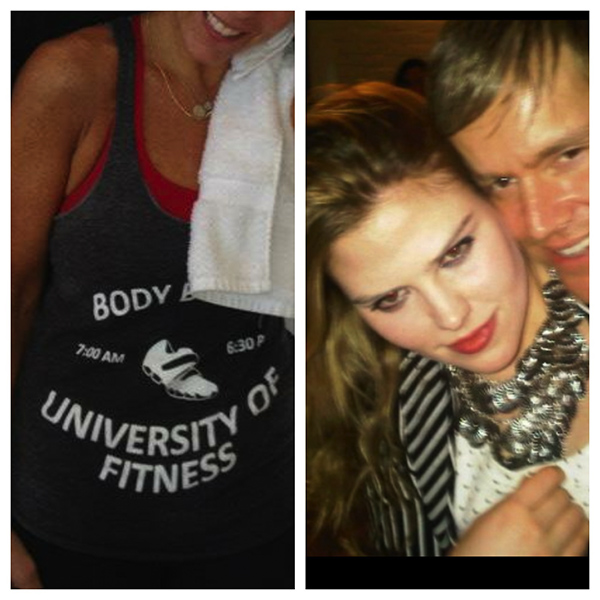 MB REGAN
One of my favorite UNSQ moments was when I played a Crazy Bhangra beat song and two of my shyest riders leapt off the bikes and lead a Bhangra dance. The whole class went wild and many jumped off to join in. This broke the ice for one of the first UNSQ 9:30 AM sold out mornings.
This is a picture from one of My "Breakfast Club" rides in UNSQ. I loved the Breakfast Club! It created a community with riders from all neighborhoods to come the UNSQ. We'd have breakfast or some special event after class. I miss it!!
SYDNEY MILLER
I took my first class ever at Union Square on a Sunday with Danny. I remember walking out drenched, high on life and into whatever just happened in that room! I immediately booked my second class for a couple of days later and UNSQ quickly became my second home. I have so many amazing memories of UNSQ as a rider and an instructor but I think my favorite was my first-ever birthday ride as an instructor. It was 5:30 PM on a Monday and all my friends showed up in handmade shirts (coordinated by my friend Lisa). It was really special that everyone took the time to get together and make these shirts weeks ahead of time and then showed up to the class in them.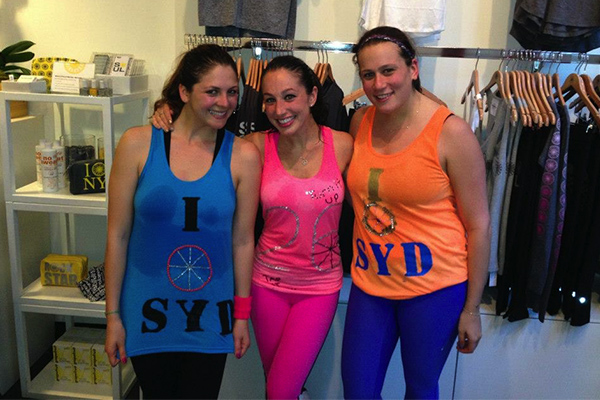 OLIVIA WARD
Union Square will always hold such a special place in my heart… it is TRULY where I found my tribe. There are so many wonderful memories I created in that special space: Being a part of the very first sports bra challenge with Jenny Gaither, the most amazing double ever week after week with Melanie and Danny, and one of the most incredible Team Teach rides ever with Parker and Lindsay! Of all the memories I have, I think one of my favorites was my 37th birthday ride 3 1/2 years ago. It was in Melanie's class and I rode the podium with Conor (below). He was in training at the time and I had just found out I was accepted into the training program. I can remember during that ride knowing so much was going to change, but being so thankful that I began my Soul journey right there with my tribe and pack in that dark room in Union Square. Happy Birthday, Union Square...here's to the next five amazing years!
PARKER RADCLIFFE
​UNSQ is where it all started for me and my favorite memories are of doubling with Danny and Lauren.​
CHARLEE ATKINS
UNSQ was my first SoulCycle-boyfriend (if you will). It was the first studio I ever taught at. I was fresh off the boat from a 2-day training with SpinPimpLadyJanet, and I was scheduled to SUB FOR RIQUE AT 6:30 PM on a Monday. The first class I ever taught at SoulCycle was a sold-out Rique class. (I still laugh when I think about it.)
My first classes were 6:00 AMs on Tuesdays and Thursdays in UNSQ and the first time I ever sold out a class, I slept through my alarm and missed it.
But above all, almost all — if not ALL — of my memories from USNQ include my ride-or-die Kathleen Toth. Below is a picture of me and Toth. I have a lot, a lot, a lot of memories from that studio with fellow instructors Danny Kopel, Parker, LB, and Marvin but Kathleen and I started around the same time (I was the first class she ever took at SOUL) and throughout our four years together, we went through broken A/C, no running water, no music/mic, Hurricane Sandy and bicoastal moves and she has always remained one of my best friends. We have watched each other grow in this company - now she's SoulCycle's Senior Manager of Instructor Programming - and while we do butt heads sometimes, she has always been and will continue to be my number one. Toth — you're my dawg, I love you! And my UNSQ days were so memorable because of YOU!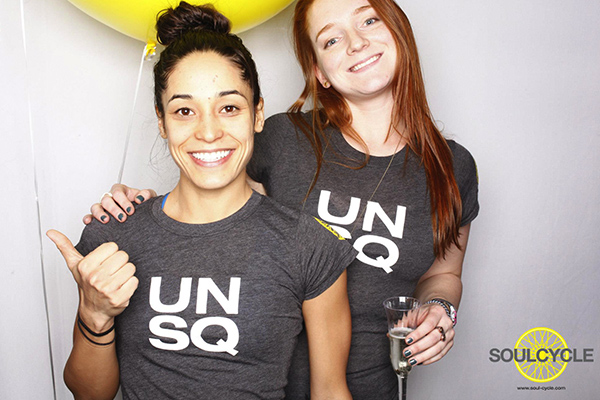 IAN MCANDREW
5 years?! WOW. I have so many memories at that studio. My first sold-out class as an instructor was there when I subbed for Ben T. on a Friday evening. I remember once seeing the studio staff change out a bike in Kym's Turkey Burn in less than a minute. My first ride on the podium was there with Melanie G. Kathleen Toth (now part of Instructor Programming Team) was amazing to me when I was in instructor training there and I remember one day I showed up to the studio super early for a class and she came out from behind the desk to just sit and talk to me and get to know me while there was some downtime. We clearly bonded over our love for good wine! Honestly though, I think my favorite memory was that my second class that I ever took at SoulCycle was there. A 10:30 AM with Marvin during the week. And after that class he asked me if I'd ever consider becoming a Soul instructor. I guess you could say I owe my career to that studio.
ABBY EFFRON
I have so many wonderful memories of UNSQ! I took my very first SoulCycle class there and the studio holds such a special place in my heart. My favorite would have to be a Friday night class with Ben T. back in December 2012. I had just been accepted into the SoulCycle instructor training program (woo-hoo!) and we celebrated my last day of working in public relations with an amazing ride. That was such a life-changing moment and I'll never forget sharing it with my SoulFam!
ERIN THOMAS
Some of my most memorable UNSQ studios circulate around my experience as a rider in the pack. Union Square is where I would ride with Clare on Friday nights to kick off the weekend, where I rode the podium for the first time in Rique's class and decided if I could survive that I could do just about anything, where Sue's tequila ride(s) went down, where I swear I can still hear Jolie counting down in Spanish, and where Jenny and LB's support encouraged me to audition to be an instructor!
ALEJANDRA SERRET
I have so many incredible memories from that studio. My most poignant memory is from early 2012. It was one of the first classes I'd ever taken with Mel. She told us to imagine that we had light within us and to picture it emanating from us. LP's "Into the Wild" was playing. It was electric. I felt energy spilling out of me and like my head was going to explode. It was so overwhelming. I pictured the room filling with everyone's light, the room was that electric. I felt invincible and insanely happy. It was awesome!
ROSS DAYS
My favorite memory was taking my second-ever class with Parker at 9:30 PM and regularly attending that late class because I was zero to addicted.
EVE KESSNER
It's no secret that I was a UNSQ rider before I became an instructor (I tell my class ALL THE TIME). And it's no secret that I didn't want to come to my first class, but was dragged (I published that information in my SoulCycle bio, ha!). But something about that first ride got me and stuck with me. I couldn't get through the class, not even close! I sat most of the time and if I remember correctly, I spent much of it laughing at how crazy it was. But nonetheless, I came back. And I came back and I came back! And eventually it was part of my life, part of my week, part of what kept me sane.
Soon (like very soon after I started) I was addicted. And fully loyal to Jolie (#OG). I went religiously to her 10:30 AMs (ironically one of the first time-slots I taught when I first started teaching at UNSQ!). I sat in the back with my sister-in-law (bikes 48 and 49) and eventually we recruited my best friend to tag along with us.
It was the perfect break to my insane days and I coveted that time. Each class Jolie would call us out, let us know she knew we were back there, and soon started cajoling me to move closer, engage deeper, challenge myself further. Little did she know (or did I for that matter) one day I'd creep my way to the podium. If it weren't for her push, her support, her energy, I would not be where or who I am today.
#SoulCycleUNSQftw
JULIA BAGGISH
I think my favorite UNSQ memory is Danny's birthday, where Charlee and Lauren team taught. I can't remember why but I wore like a 90s dark maroon lipstick.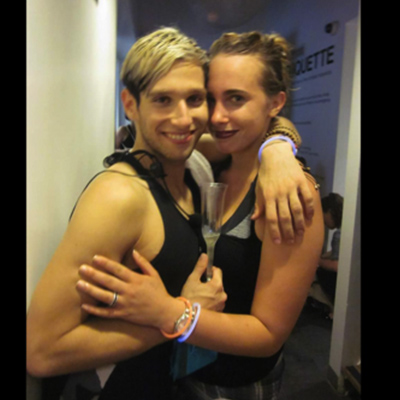 NICHOLAS WAGNER
Union Square was my home studio for quite a while. It was one of the first studios I started teaching at, then I also worked behind the desk there while teaching full-time. Whoa. Many naps have been taken in the crawl space, many songs have been rocked out to. But some of my favorite memories are of working with some of the amazing people who are still with the company today. From putting together shoe/towel bins with Handy Randy, to spraying shoes and doing check-ins with Laura Mozur and Kathleen Toth behind the desk, owling with Lauren Cecere on a light summer afternoon, riding the podium for Jenny G's Survivor, seeing Isabel go from rider to instructor, seeing Gabby join the company and then build her family, building the studios community with Danny, LB, Melanie G. Meeting the training groups that had future rockstars Charlee, Marvin, Angela, Pixie. Listening to so many playlists, riding to so many songs, sweating with so much feeling. Many, many awesome memories that will always hold a special place in my heart. Congrats, UNSQ!
MATT MILLER
The Square is such an amazing place and holds a very special place in my heart that I can't pick just one memory. What I will say though is that my favorite thing about UNSQ is the community: It is HOME. I've had the opportunity to travel to many of our studios across the country but walking into Soul UNSQ really feels like coming home, and to have a spot that special in such a huge, crazy city is just...magical.
BEA DEL ROSARIO
I love this studio so much. One of my best memories actually was my first class I ever taught was at UNSQ — I was just about finished with training; I probably had one community ride left. I just so happened to be at the studio for the 6:00 AM, and they needed a last-minute instructor! I was ready — I had a playlist and it was AMAZING! I taught roosters from then on after that. Another great memory was the 1st anniversary ride. There were all of our amazing instructors team teaching, dance bombs, balloons and bubbles. So much love! The UNSQ community is one-of-a-kind.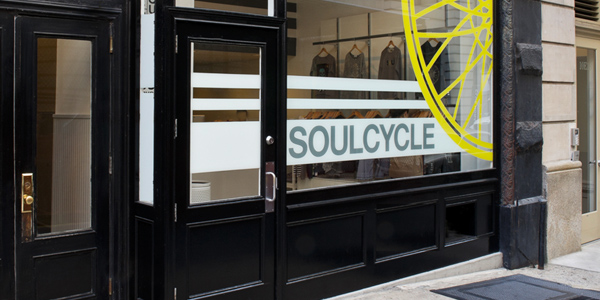 ROARKE WALKER
I remember teaching the 7:00 AMs in UNSQ and there was no hot water in the dead of winter for quite a few months. Regardless, the classes began to build and eventually started selling out. I always thought that was an awesome testament to the community and relentlessness of UNSQ and its riders. Yeah, people were definitely showering in ice cold water.
KALEY SKOGLUND
Oh, UNSQ! My fondest memories as a rider are in that studio. Mel's 6:30 PM class on Thursday nights is forever imprinted in my mind. It was there that I fell in love with Soul. It was there that I took refuge every week, breaking down my often tough corporate exterior and finding clarity around who I was in that moment and who I genuinely thought I could be. One Thursday Mel played "It's not right for you" by The Script and my whole world shifted. I finally went from dreaming about Soul to actually believing that I could do it. UNSQ has such a soft place in my heart. It's where I stopped thinking and started believing.
JACLYN MITGANG
Some of my favorite rides happened in UNSQ. Being away from New York, one of the things I miss the most is the 5:30/6:30 PM Melanie Griffith double.
JOEY COPPEDGE
UNSQ is where I worked after I didn't make it through my first round of auditions and where I was unintentionally (or intentionally) forced to stop and breathe before actually becoming an instructor almost a year later. Even now, on the rare occasion that I get to ride in someone else's class at UNSQ, there is a certain well-seasoned energy that feels like home. I was in love with SoulCycle and spent almost every day there (even days off!) so I was intimately exposed to exactly what it was we were doing here at SoulCycle for and with the riders, growing physically, emotionally, and connecting spiritually. I wouldn't trade the "time I did" at UNSQ for any other learning experience!
Questions or comments? Email blog@soul-cycle.com! Want to ride? To book a bike, grab a series HERE then book a bike!
MORE FROM SOUL