Inspiralized at SOUL
February 28, 2014
Here at SoulCycle, we are completely obsessed with inspiralized.com, a gorgeous site where blogger (and Soul rider!) ALI MAFFUCCI creates the most amazingly tasty and healthy recipes using a spiral vegetable slicer. So imagine our excitement when Ali agreed to whip up a delish dish especially for SoulCycle. After a recent class with instructor Krista Bonura in Short Hills, she shared her creation...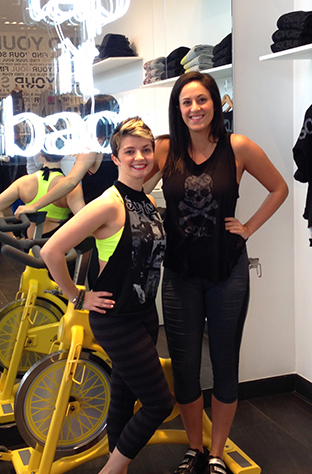 Roasted Pepper Zucchini Pasta with Balsamic Roasted Tomatoes, Baby Arugula and Toasted Pine Nuts
Time to Prepare: 5 minutes
Time to Cook: 30 minutes
Total Time: 35
Yields: 1 serving
Ingredients
1 medium yellow bell pepper
6 cherry tomatoes
1 tbsp olive oil + more to drizzle
2 tbsp balsamic vinegar
salt and pepper, to taste
1 tbsp pine nuts
1 garlic clove, minced
1 pinch red pepper flakes
1 medium zucchini (or 2 small), spiralized using Blade C 1 cup fresh baby arugula
1/2 whole lemon
pepper, to taste
Directions
Preheat oven to 375 degrees.
Take your bell pepper and chop off the top and bottom. Remove the inside seeds and white skin and set aside.
Place your cherry tomatoes in a bowl and drizzle with olive oil very lightly. Then, pour in balsamic vinegar. Season very lightly with salt and pepper. Toss to combine and set aside.
Lightly coat a baking tray with cooking spray and place your peppers on one side and your tomatoes on the other. Roast for 30 minutes. When done, slice pepper lengthwise into strips and set everything aside.
While peppers are roasting, place a small skillet over medium heat and add in your pine nuts. Cook for 2 to 3 minutes, tossing frequently, until toasted. When they begin to brown, transfer to a bowl and set aside.
Five minutes before the tomatoes and peppers are done roasting, place a large skillet over medium heat and add in the tablespoon of olive oil. Once the oil heats, add in the garlic and red pepper flakes. Cook for 30 seconds and then add in the zucchini noodles and arugula.
Cook the zucchini noodles, tossing frequently, for 2 to 3 minutes and season with pepper. When done, squeeze the juice from the lemon over the skillet. Toss and then transfer to your bowl.
Top the zucchini noodles with the bell pepper, tomatoes and toasted pine nuts. Enjoy!
For more of Ali's awesome recipes, check out her blog, inspiralized.com and follow her on Twitter @inspiralized. Questions or comments? Email blog@soul-cycle.com!