Inside Sean's Soul Journey
August 1, 2014
Everyone has a first ride! NYC instructor SEAN LINEHAN talks about his journey from struggling in the third row to rocking the podium — and what inspired him to push his limits.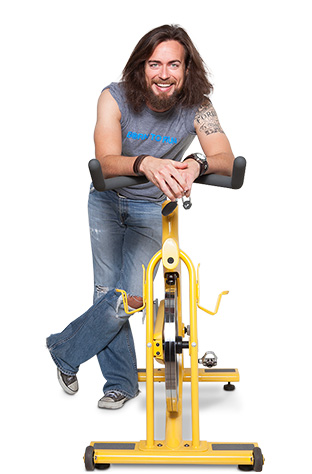 I found SoulCycle on a cold and snowy February morning in East Hampton. I was out there for President's Day weekend in 2013 and my sister suggested I come to a class with her. We arrived and to be honest, part of me had begun to write it off before I even stepped into the studio. It was a new experience, and I was intimidated. I couldn't even figure out how to walk in the shoes — let alone clip in, and everybody coming out of the previous class was sweaty. Really really sweaty. (What goes on in that room?!?!) But, I'd paid for the ticket; I may as well take the ride.
To my own amazement, I was completely into it from the very first song. In retrospect, it's a bit shockingly fortuitous that my first class just happened to be Sue Molnar's. The music was perfect, the vibe and energy of the room was perfect, I absolutely loved it. I felt alive! I felt like I'd never worked so hard in my life! I wanted to go back the next day!
Keep in mind: I didn't ride it very well at all. I'd thought I was in good shape walking in that door. I'd thought in my mind "how hard can it be? You go fast on a bike, you go slow on a bike. Big deal." But wow. Two songs in and I was toast. I spent the majority of the class just sucking wind and sitting straight up in the saddle. When we got to the arms series and she asked the room "does anybody need weights?" I actually thought it was an optional question. I mean, who in their right mind could ride that hard and then want to work with some weights?
I slowly began to take more classes. I slowly began to get stronger, and I slowly began to understand how the pack worked. (Oh! So we ride TO the rhythm! Oh! So we ride on the same foot!) Things began to click. I started regularly attending Sue's 10:45 AM Sunday class at West 77th. I liked bike 48 because I thought it completely hid me from the room behind that mirrored column in the studio. I still wanted to remain unseen — even in the dark.
I was lucky enough to find some other fabulous instructors in those first few months of riding. Laurie Cole's Zep class was out of sight. I didn't realize that was possible – to ride along to pure, un-diluted, un-remixed music of an artist I loved so dearly. The first time I rode in Emily Fawcett's SoulBands class I was sold. I began riding with Emily regularly. Through Emily, I found Janet's class and started riding with her regularly. And again through Emily's introduction, I started riding with Mel regularly.
Soon, I had quit my gym membership, bought my own cycling shoes, and Mondays at noon were a weekly stressor as I tried my best to get into all of my favorite classes. Sue led a birthday ride for me that, organized by my sister, was a total surprise. It was something I'll never forget. The whole room, friends, family, and her riders carried by her incredible energy. About a month later, Janet let me ride the podium bike for one song – "New Pony" by The Dead Weather. Again, an experience I'll never forget.
It began to dawn on me that SoulCycle was not just a place I liked to be to work out, it was just a place I liked to be, period. From the staff, to the instructors, to the riders, everybody associated with the place just seemed to exude an overall friendliness and positivity that was infectious. I began to wonder if there was a place in the company for me as an instructor. I gave it a few months, made a commitment to ride as often as I could, and to push myself to nail every single pedal stroke, every single song, every single class.
I was terrified at the prospect of having to audition, but it was like a fire burning within me. Once I'd made my mind up to do it, there was no turning back. So in September, I bit the bullet.
I barely remember my audition. I remember being so nervous going into it. I also remember at the time thinking to myself that if I ran away from everything I'd ever been nervous about in my life, that I would have missed out on a lot of wonderful experiences. Sometimes you just have to take that leap, you know? Thankfully I hadn't run away from the audition. I was accepted and training began in late September.
Training was one of the best experiences of my life. They tell you when you enter that you will all become fast friends. I didn't believe it, but it could not have been any more true. (Hi Luckies! I miss you all!) And you work hard — really hard — harder than I'd imagined. But, at the end of three months, you're suddenly teaching community rides. And from there you're out into the world of SoulCycle.
Having the opportunity to teach at SoulCycle is a blessing. I would not trade it for anything. It is at times seriously unfathomable to think that I get paid to do this.
That said, it is not without its own unique challenges. I rode quite a good deal when I was taking classes. I felt like I'd come to understand the special dynamics and flow of a SoulCycle class. But, leading one of your own is a completely different animal.
I'll be honest — it took me a bit to sink into it. It took me a couple of months of finding my voice out there to feel even as close to as strong and confident as I'd felt as a rider. It's one thing to ride in the pack and add to the energy of the room, it's another to ride up front and command that energy.
But, little by little it comes. And, just like when I began as a rider, little by little things start to click. In its own odd way, the experience of transitioning from a rider to an instructor has been like one giant SoulCycle class. It's hard! But, no matter how hard it gets, you rely on the support of those around you, you tell yourself that you can do it if you put your mind to it, and you dig in.
As a rider I'd wondered if becoming an instructor would take me out of that communal vibe created in SoulCycle classes. If I'd be too immersed in the workings of it all to experience that collective release. Conversely, I would say it's actually made me more in tune with it. As a rider, I felt connected to the energy of the riders in my direct proximity and a few notable stand outs in the room. As an instructor, I feel directly connected to everybody's energy.
Feeling connected to everybody in the room is no small responsibility, and one I do not take lightly by any means.
When we were in training, Soul instructor training officer Marvin led us in a dance class. Despite my complete lack of dance experience, I found it was one of my favorite days in the training course. As we went through dance routines on that day, surrounded by the many either current or former professional dancers in my training group, I felt totally out of place. Marvin said to us at the end of class, that for those of us that hadn't danced before to remember the feeling of what it was like to step into the room – because that is what it feels like for new riders stepping into SoulCycle. That was a powerful teaching moment.
So whenever I'm leading a class I try to take the responsibility of feeling connected to everybody in the room seriously. I want everybody to feel challenged. I want everybody to feel motivated. I want everybody to feel energized. But, I also want everybody to feel welcomed. Whether you've been doing this for years, or it's your very first time — and you're just wandering into class, trying to figure out how to walk in these damn shoes, wondering why everybody in the hallway was so sweaty, and trying to hide on bike 48 — I want you to feel at home and to have fun.
Catch Sean's classes at West 77th. Questions or comments? Email blog@soul-cycle.com!