Inside Charlee's Surprise Ride!
December 2, 2014
When instructor CHARLEE ATKINS led the Santa Monica pack last week, there were some surprise guests: Diplo and Skrillex! Yup, Jack Ü dropped the beat in a one-of-a-kind class. What was it like? DIPLO and nine riders who tapped it back shared their thoughts on the experience…
DIPLO
SoulCycle was fun! I wish I could have ridden more but I could barely keep up... the teacher was on fire! She was a rockstar more than I am."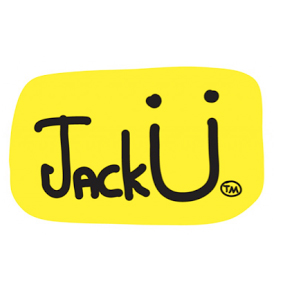 ASHLEY MODELL
Two of my favorite things are Skrillex and SoulCycle and I try to combine these two in any way that I can. I love going to Charlee's classes so much because usually you'll hear at least one Skrillex song. Last week Skrillex had tweeted something about SoulCycle, and then there was a Skrillex theme ride the following Friday, so I started to get super excited thinking maybe he would come and do something with us. Then when I showed up for Charlee's class on Sunday and there was DJ equipment set up in the room, I started getting really anxious, but didn't want to get my hopes up for anything. I was so beyond surprised when Skrillex and Diplo walked in! I was pretty much on the verge of tears I was so excited. Even days later, I'm still convinced that the entire ride was a dream; it was definitely one of the best experiences of my life. The energy in that room was unlike anything I've experienced before. There were times where I was so exhausted I didn't think I could go for much longer, but then they would just play another insane song and I had to keep going. Their music alone is the best motivation for me to work out to and the fact that they were standing in front of me actually playing the music live was honestly just a dream come true. I'm so grateful I got to be part of such an amazing ride so thank you, SoulCycle, for putting this together; thank you, Charlee, for being the most amazing, and motivating instructor, and thank you, Skrillex and Diplo, for just being you and making the best music out there!
NATALIE HASCHEK
Honestly my jaw literally dropped when the studio door opened and I saw Skrillex and Diplo standing inside a SoulCycle studio of all places...I died and went to SoulCycle heaven. I was totally fan-girling the entire class. I was just shocked that such famous DJs and producers even had the time or the interest in DJing an indoor cycling class. I was also very impressed with SoulCycle for being so invested in providing its riders with a unique exercise experience. It was my two favorite things, electronic music and SoulCycle, coming together in a way that I never thought was possible. And judging by the 85 likes and many surprised comments I received on my Facebook post after the ride, I think it's safe to say nothing like this has ever been done before! The energy was absolutely INSANE. Think front row of the main stage at a huge music festival except you're on a bike and your favorite DJs can actually see your face as you tap it back and groove to their music.
NORMAN PASION
I am very grateful to have been a part of that night because it was really the best SoulCycle experience I've ever had - amazing! The energy in the studio, too, was unlike anything I've ever experienced at SoulCycle! It was an event, and everyone was just so involved! The pack was riding super hard and on beat — harder than usual! The music was incredibly hard driving! And Charlee did such a great job maintaining all of this: having Jack Ü active in the class — at the DJ table and at the podium, chatting with riders, and still keeping the pack's athleticism and engagement high. I was impressed with everything because the energy was high for the entire duration of the class — a little over an hour. I actually forgot for a moment that we were exercising. It seemed like we were dancing and just dropping to the beats! The music was incredible! It was an all-out party on a bike, and Charlee was the perfect instructor to host Jack Ü. She just pulled everyone into a different world! I've spoken to a few riders since then, and we're still on a high!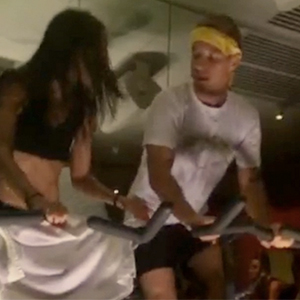 JAYME DEL ROSARIO
When Jack Ü arrived, I was stunned! It was definitely a "pinch me" moment. Since I was in the back row, I thought that maybe my vision was blurry and there were these two really, really good Skrillex and Diplo look-a-likes walking in and approaching Charlee and the podium after our warm-up song. At the same time, I was suddenly aware that my jaw had dropped to the handlebars. (My subconscious was waaaay ahead of me.) Disbelief, denial, bargaining, acceptance and exhilaration — I went through all the stages within the first several seconds. Surprised is an understatement. It was unbelievable. The energy was absolutely electric. Being in the back row, I could see that everyone dug a little deeper with each pedal stroke and beat of the music. There was just pure giddiness after the awe.
ABHAY PATIL
When I walked in and saw the DJ set up, I thought, "something is different about this class" but I had no idea Skrillex and Diplo would walk in 10 minutes later. I was completely shocked and once they jumped on the bike, I was at loss for words. I have been to a few theme rides but this was something completely different than what I ever experienced at Soul. Think about the best SoulCycle class you have ever had with your favorite instructor and take it up three to four notches — that's how I would describe this one. I was probably pedaling faster than I ever have and I probably had 6 to 7 turns of resistance on the wheel. I definitely felt it the next day. It was impeccable!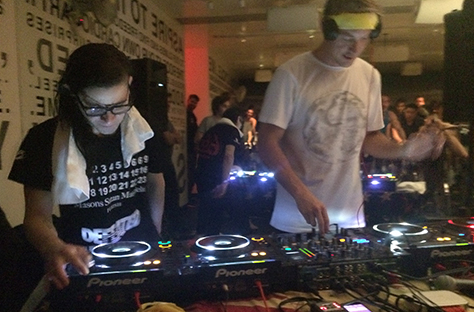 JASON KIM
When I walked into class, I saw the four turntables set up so I knew something special was going to happen. To have Jack Ü walk in after our warm-up song was mind-blowing! Skrillex and Diplo are two of the biggest producers and DJs in the world and to have them partake in our passion of riding by riding themselves then getting behind the decks was an unbelievable experience. The energy at most SoulCycle classes is very high, but the shock and surprise factor of Jack Ü really elevated the group riding experience to another level. The energy was out of this world! Walking into a Charlee class, you never know what level of amazing you're going to get. Each class is different yet maintains a thoughtful and methodical program that brings you on an inspiring and sweat-filled journey. To have the combination of the Charlee journey with Jack Ü will be difficult to replicate and will be a memory that will last a lifetime.
CHUCK GANCHORRE
This ride had me surprised to the max. I was pretty much in shock. HUGE fan of both of them. It's one thing for a public figure to pop into a Soul class or even when there's an announced live DJ ride. But this was a full-on surprise takeover. Like one of those live, intimate shows​​​ for the fans plus their favorite workout. That combo, while massively unexpected, worked extremely well. I've been riding at Soul for just over a year and am approaching my 100th ride. While each class is unique and upbeat, the energy during the Jack Ü ride was through the roof. ​Everyone was so excited and ecstatic even with the overwhelming sensory overload. There were so many amazing and constant moments that that they almost blur together. I can't pinpoint exactly when it happened, but there was a moment when Charlee was was leading and hyping from the floor, instructor Kara Christofferson was crushing it on the podium, and Skrillex and Diplo were knocking the doors down with drops. I scanned the studio and I saw 55 electric smiles. It was surreal and still hard to believe that I was lucky enough to be there.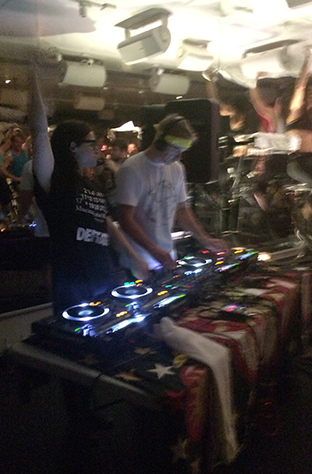 CARA CRAFT
I was totally stoked to have booked a bike while Charlee was in LA. She has some of the best energy and is such a fitspiration for us gals — strength wit and beauty! That being said, she topped herself with herself by leading a class with those two! When I saw Diplo and Skrillex walk in, I was like NO way! In a matter of moments, the class was amped with a whole new wave of profound energy. To see both of them get on the bikes, I almost dropped off my own bike and died. The room just went wild. It was like our own little private Dj jam session, with all of us SOULing our little hearts out. The energy was insane. The only thing missing... My cell phone so I could've captured it!
DAYNA MAURICIA
A few days prior to the class, I happened to come across an Instagram post on Charlee's page sharing that she was teaching for one night only in Santa Monica. I loved riding in Charlee's classes in L.A. before she moved to New York so was excited to ride with her again. The energy is always high at SoulCycle but it was palpably higher that night as I walked into the studio and noticed DJ equipment set up. I think I pretty much almost fell off my bike when I first saw Skrillex and THEN Diplo walk in. I had no idea that I was about to ride with and to the sounds of two of my favorite DJs. The energy was indescribable. We rode for over an hour but I had no concept of time; it felt like were tearing it up at a house party… just on bikes. Skrillex and Diplo were able to recreate the same magic for riders as if we were watching them live in concert or at a music festival. They definitely set it off! It was pretty surreal to see them get on the bikes, especially because we ride so often to their music at SoulCycle. It was awesome to be part of their initiation into the SoulCycle fam!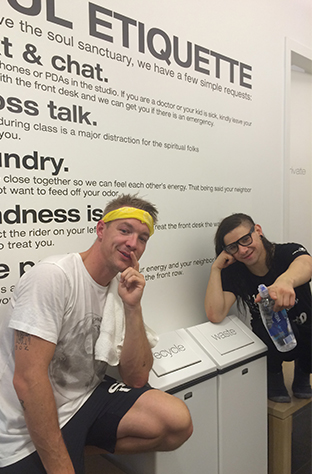 Questions or comments? Email blog@soul-cycle.com!