Inside Charlee and Wyclef Jean's Live DJ Ride
March 3, 2016
Each time we clip in and dance it out on the bike, we're reminded how important a role music plays in shaping our SOUL journey. Last night, instructor CHARLEE ATKINS, joined on the podium with fellow rockstar SUNNY WALTERS, led the pack for a LIVE DJ RIDE with the one and only WYCLEF JEAN. We caught up with Charlee after the ride to see how the collaboration came about, which moment in the class was her favorite and more!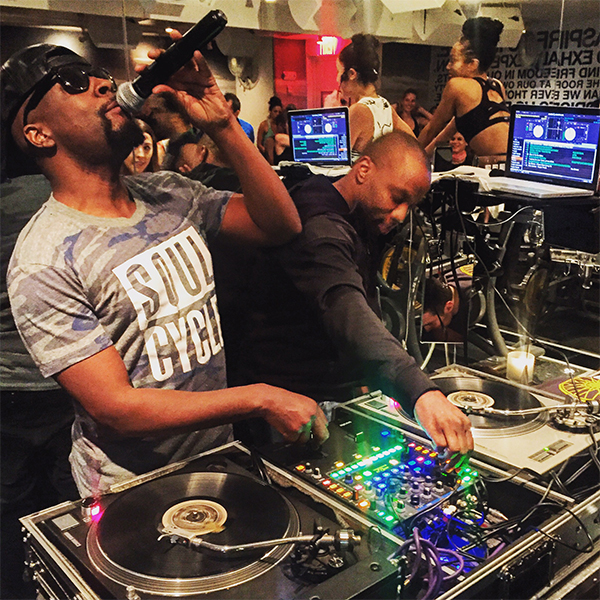 How did you connect with Wyclef — and decide to team up for this ride?
In January, The Knocks dropped "Kiss The Sky" ft. Wyclef, which is a single off
their new album 55
. I heard it once and knew that it was one of those songs that you instantly love and have to put on repeat. I listened to it on the way to class that day and by the time I got there, I knew I wanted to clog-the-social-media-feed with that song. So I posted it to Instagram.
Nice!
A friend of mine tagged a friend of hers in the photo, who turned out to be the head of Wyclef's label Heads Music. They immediately reached out to me and said they'd love to do some sort of collaboration. This all happened within four hours of the Instagram going live! The end result was a LIVE DJ RIDE at my home SoulCycle studio in TriBeCa.
That's amazing! Did you collaborate on the playlist at all?
I let Wyclef have creative freedom for HIS ride! Music is SoulCycle's biggest form of expression for instructors, and I thought it would be awesome for us as riders to let him run the show and take us on a musical journey together.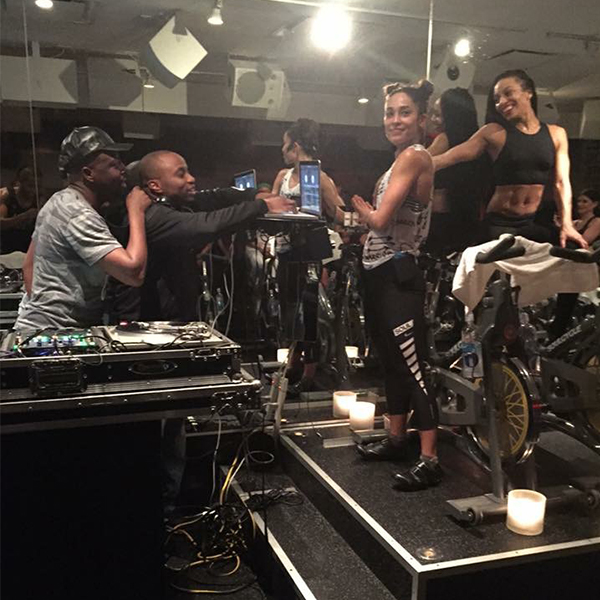 That ended up being an incredible class too. What was your favorite song that he played?
Wyclef serenaded the entire class live with "Call 911."
What a great song! So what was your favorite overall moment?
At the end of class, I asked Wyclef for some final questions, which ended with, "What is your favorite go-to song that makes you feel really good?" and he said, "I'm going to show you." That statement commenced in a 45-minute dance party after the actual ride. We had the true essence of a CARDIO DANCE PARTY on and off the bike!
We love that the cardio party just kept going! You've done a few live DJ rides. How does the energy change in these as opposed to classes with your amazing regularly-scheduled playlists?
In its truest form, it's an "in-the-moment-every-moment" experience. We as instructors curate the playlist, so we always know what's going to come next, but at our SoulClef ride, nobody knew what was coming next and it was the most amazing thrill.
Tell us the truth — do you think Wyclef could rock the podium as the next SoulCycle instructor?
YES! All I see is WAIT LISTS on WAIT LISTS!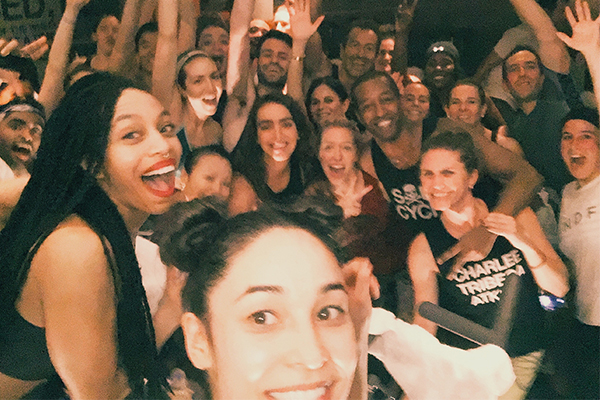 What's emotion did the class leave you with?
I feel overwhelmingly grateful to be part of such a supportive community. One rider after class said that he felt like he didn't know anybody before class and afterward he felt like he had 62 new best friends. The fact that we can bring people together in a small room, create one-of-a-kind experiences with legends like WYCLEF JEAN, all while wearing spandex and sweating... that's special.
Anything else to add?
Shout out to the SoulCycle TriBeCa staff, who had to stay super-late because our 45-minute indoor cycling adventure turned into dance party. And THANK YOU TO WYCLEF JEAN for showing up and giving us this one-of-a-kind ride of our LIVES!
Questions or comments? Email blog@soul-cycle.com! Want to ride? Grab a series HERE and book a bike!
MORE FROM SOUL