"I have transformed myself physically and mentally": Peter Kammerer's Soul Story
December 28, 2015
As a fisherman PETER KAMMERER spends five to six days at sea. But riding at SoulCycle has helped him feel more grounded — and kept him stronger physically and mentally as he healed from a devastating injury. Now he shares his Soul Story…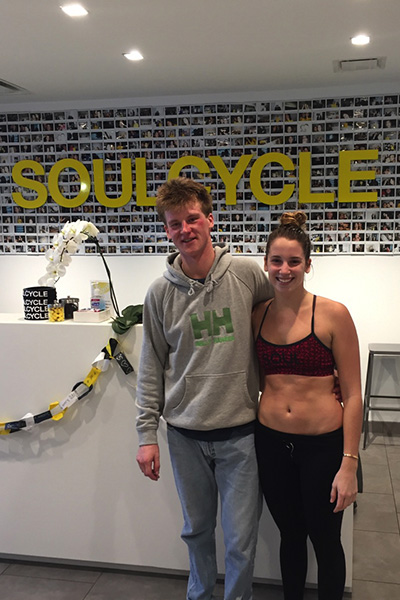 I'm 22 years old and I grew up just north of Boston in a small town named Marblehead, which is known for being a coastal fishing community. Growing up I lived, breathed, slept and did everything around the water. I had the chance to jump into the fishing business from an early age and right after graduating from high school I went to fish offshore for a couple years. I was working so hard, but I was also battling family problems at home. I got caught up in the depths of despair and, for a time, I ended up being homeless.
Up until a few years ago, life was a little hard to say the least. But eventually I went back to work and got back on my feet. I fished offshore five to six days at a time and only had a day or two home when we came back to shore. That was all good at the time… but I always felt when I was home that there was something more to the life I was living. After each fishing trip, I'd come home, run errands and then go back to the boat. I felt out of touch and lost in the monotony of it all.
I come from an athletic background and I had wanted to get back into an exercise routine but with my line of work, the schedule that goes with it and a hurting body day to day, it made things difficult. My two younger sisters are in college and when they are home, they go running. But when I run my right knee is in pain because my body is off balance. Still, I knew I had to do something so I tried going to the gym. I would go all out for a little then would fall off because I lacked motivation.
A few months ago, I was home from a trip and due to some bad weather I had a few more days off than planned. I had no idea what to do. I knew I would probably end up doing the same thing I always did — which was a lot of nothing — and then be back on the boat regretting that I hadn't done anything with my time off. I was talking to my mom and she said, "Why don't you take a SoulCycle class?" We went back and forth and I was filled with excuses about why I couldn't go. But I finally said, why not? I thought, I'll try it and if I hate it, I can leave.
It was October 1st at 10:30 AM when I clipped in for my first class with Sal in Chestnut Hill. I went in with the intention of giving my best shot. I sat in the back, kept to myself, tried to keep up with the rhythm while listening to what Sal was saying. Being in a dark room with loud music made me realize that whatever I was going though outside the studio walls did not matter for 45 minutes. That really gave me perspective. The biggest thing I noticed was that I could take a breath and step back from it all. And I finally found what I was missing for so many years: Exercise. With it came the social environment and I felt connected to a community again.
Afterward my mom asked me, "So did you hate it?" and I simply said that I was going back. I went on all my days off from the boat and started to get the hang of it. Let's face it: It's like riding a bike — it comes back somewhat quickly, and riding at SoulCycle helped my body feel better at work, too.
On October 27, I was 17 hours and about 75 miles off the shores of Nantucket when my work coat got caught on the hauler of the boat while we were pulling in the lobster gear. I dislocated my elbow, tore my tendons and broke two bones. When we got back to shore, I was rushed to the E.R. in Plymouth. The doctors confirmed that I had done a number on my arm and I had surgery. I knew I would be out of work for a while.
After my surgery, the first four to six weeks of recovery were a struggle. Slowly but surely I healed and my doctor told me I could ease back into exercise. The day my doctor cleared me to ride, I ran back to SoulCycle. In the beginning it was tricky to ride with a bionic arm brace but every one of the SoulCycle studios welcomed me with open arms. I took things at my own pace and then after two weeks the brace came off. Within those two weeks I went from the second row to the corner of the front row, and now I ride front and center. Riding every day now helped me make that move!
Having more time on my hands has allowed me to ride more often and I have transformed myself physically and mentally. I am getting stronger every day. They say that fishermen often suffer from a lack of dreams, but since I started riding at SoulCycle the possibilities for me seem endless. Today I live whichever way the wind blows and I am so grateful.
Do you have a Soul Story to share? Email blog@soul-cycle.com! Want to ride at SOUL? Click HERE and book a bike!
MORE FROM SOUL