"I Feel Like I Can Accomplish Anything": Jennifer Dixon's SOUL Story
March 24, 2016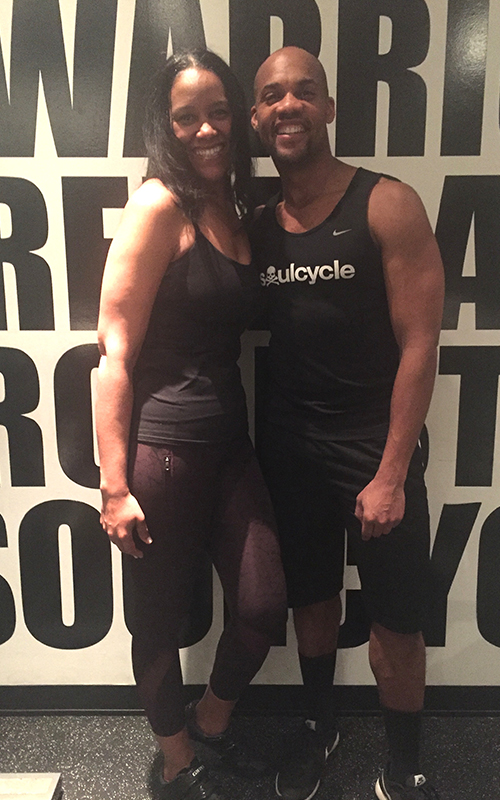 Weight has always been a struggle for me. All of my life I have always been the biggest out of my siblings, cousins and classmates. I never noticed because people would still say "you're so smart" or "you're so pretty."
It was not until one evening, four years ago, that my niece, a soon-to-be med school student, cried to me saying she did not want to be a doctor that was out of shape. My parents and brother-in-law recently started losing weight and working out, so I told my niece we should get on board with them.
After a lengthy conversation and a plan, fours years later I am down from a size 16/18 to a 6 (sometimes 8 depending on the designer). I started walking and joined Weight Watchers; after three months and down 25 pounds, I went to group training. I realized Weight Watchers was not for me and neither was group training so I started running on my own and continued to eat sensibly.
One day a colleague told me about SoulCycle. I took my first class with Jenny. I made sure to sit in the back row just in case I passed out. I loved her class but her schedule did not work for me, so I took instructors whose class times worked. As I waited for my classes to begin I would see people come out of this guy's class dripping wet; people would line up to talk to him and to me he was a celebrity. I heard from SC people at work about this instructor named String; either you love or hate him but he is good and he always has a wait list. I then realized this celebrity instructor was String.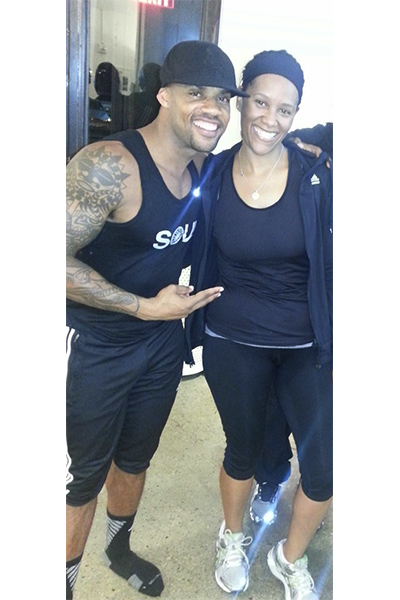 After a few months I finally had the courage to take his class. I always rode in the back row; I would observe him and watch how people flocked to him, and I would say to myself "I want to talk to him, I want him to talk to me." I loved his attitude, spirit, the motivation he gave his riders and his concern for our proper form. He would get off the bike to help someone, stay behind to talk to people, even when the staff came into clean he would take his conversations outside the room.
One day he said to me "you are good… you need to move up." Well, you would have thought God himself was talking to me. String actually said I was good and that I should move up. I told everyone: my family, friends and colleagues. From that day forward, I put everything into riding; focusing on him, the riders in the front row to looking up any and everything about indoor cycling. I felt like he was the parent and I did not want to let him down. I went from the fourth row, to the third, to second, then first row on the side. Then one day String called me out in class, saying "Jen come up front." I looked around… and people that knew me said "he's talking to you."
In my head there was no way he was talking to me, until he said it again. I had to no choice but to move up. He even moved me on his own once before class. I arrived at the studio and my bike changed; the front desk said "Oh, String wants you up front." I told them I was not going up front; needless to say I rode front row.
String has helped me gain so much confidence; he has made me feel good about my appearance. I recall the day he shouted me out to the class, "Jen, you look snatched! Look at her!" I couldn't wait to get out of class to call my family to tell them what String said. It is a joke in my family; every time I quote something healthy or exercise related they say "did String say that?"
String has made me feel good about myself inside and out, even on a bad day. He has told me, "It is okay to have bad days; we are human, just keep moving" and that is exactly what I do. I cannot thank God enough for putting him in my life (he is sometimes also my therapist). Because of String, I feel like I can accomplish anything. I always tell him how I want to help people when they ride (form, set-up, beat) because he has helped me so much and I want to pass on that knowledge.
I have finally found something I LOVE and an instructor who is honest, caring and generous. Thank you so much for SC and for String!
Do you have a Soul Story to share? Email blog@soul-cycle.com! Want to ride? To book a bike, grab a series HERE then book a bike!
MORE FROM SOUL