How Turn It Up 20 Helped Alexa Jordan Push Past Her Comfort Zone
April 13, 2016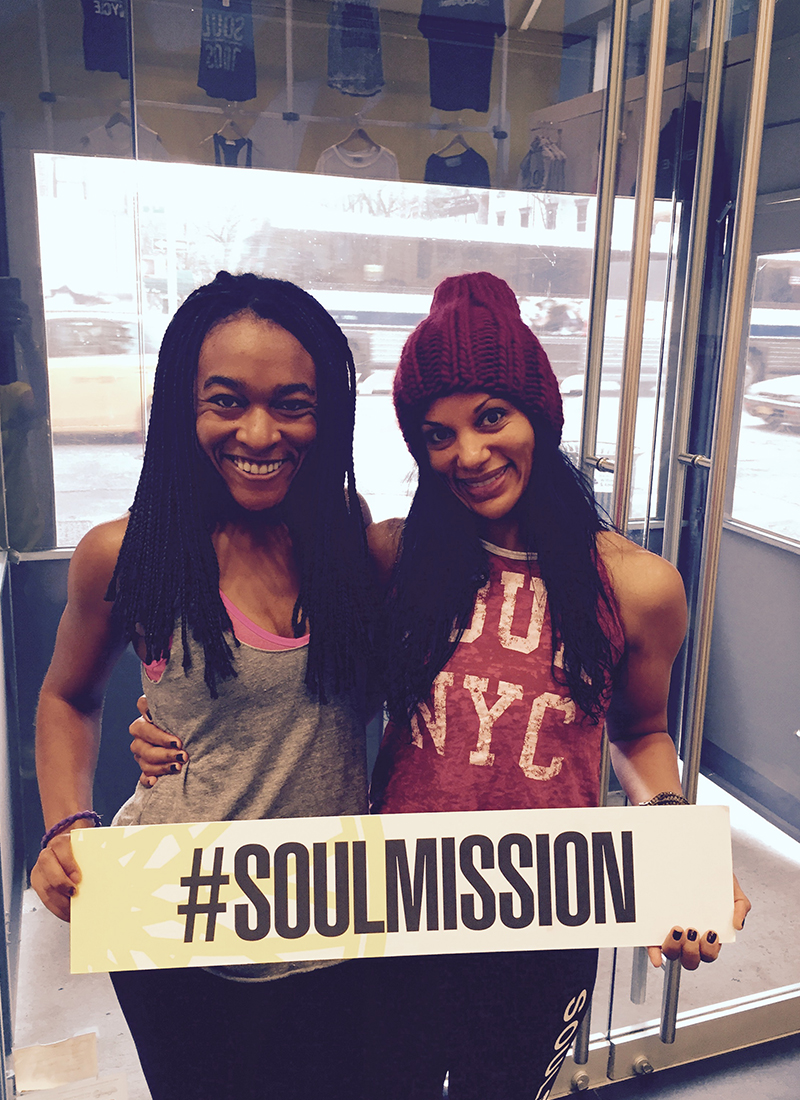 Last fall, I started
Turn It Up 20
the same way that I start a lot of new adventures in my life — by jumping in headfirst before I could scare myself out of it. (As one of my favorite quotes goes, "she took the leap and built her wings on the way down.")
My friend Anja had done it earlier that year — so I figured I'd give it a shot, too. I also just thought it would be a great excuse to take more classes with
Anandah
. I've been riding with Anandah Carter since my third ride at SoulCycle in July 2014 and I could already tell how amazing she was during my first class with her. I've been hooked ever since.
Anandah leads her rides with the same energy, intensity and enthusiasm regardless of whether it's a sold-out class or a smaller group. She knows every rider's name by the middle of the class. So even though I leapt into Turn It Up 20 somewhat blindly, I didn't do it alone. I signed up knowing I'd have Anandah's support the whole way through and that meant everything to me. I'm genuinely not exaggerating at all when I say that I couldn't have done without her.
The week I began the challenge, I was just getting over a cold. I took it easy, let the music wash over me and tried to be as nice to myself as possible. Weeks like those are when I really let one of my favorite inspirational phrases that Anandah says sink in: "Ride as you are. You will get what you need from this room." As amazing as it feels to be strong and powerful (and healthy!), it can be equally beneficial to have a reminder that showing up and giving all you have in the moment is enough. It felt really great to practice self-acceptance at the beginning of this journey. But the second I was feeling healthy and rested, I turned up the resistance (metaphorically and literally!) and kicked myself into gear.
I completed my first-ever Soul Survivor with
Elianna
(whom I love and would ride with more often if I lived closer to the studio!). I then decided to keep the challenges coming and go to Anandah's 6:00 AM rides too when she was at
West 92nd Street
. And because that wasn't enough, I started doing morning doubles with Anandah as well (6:00 AM and 8:00 AM.) I would take her 6:00 AM at
West 92nd Street
and run all the way over to
East 83rd Street
right after I took the 6:00 AM to take her 8:00 AM. Now just to be clear, I'm usually asleep at 6:00 AM and just thinking about exercising for 60 minutes straight makes me want a nap. (I've never really been a fitness enthusiast — I spent a large portion of high school gym classes in the nurse's office.) In the moment, I thought that the adrenaline was carrying me through. I distinctly remember being amazed with myself for getting through the arms series during my first morning double without crying and thinking "we're in beast mode!" But looking back, I think it was just strength I didn't know I had because I hadn't quite tapped into it yet.
And then there's the undeniable power of positivity and encouragement. When someone — in my case, Anandah —- tells you that "You are capable, strong and worthy every day," you start to believe it… as I do with her.
Aside from Anandah's never-ending inspirational words of encouragement and wisdom ("rise into who you are" is my personal favorite), the music was also a huge part of my TIU20 journey. Riding to songs I'd never heard before like "Rise Up" by Andra Day as well as favorites like "Fight Song" by Rachel Platten, each climb really meant something because of the amazing lyrics and strong beats. The playlist in any ride can really make all the difference. If it's not a "cry through the climb and scream though the sprints" kind of ride, you can just rock out and have a good time. But if it is the kind of day where you're really looking to push yourself, the right remix can get you through the steepest hills. I always find that the more fun I'm having, the less I remember that I'm working out and the deeper I go. This is ALWAYS the case in Anandah's class. And even if I am aware that I'm burning calories — it's really hard not to turn up the wheel when Rihanna comes on.
My favorite part of a ride is when you feel like throwing in the towel, but then the perfect song comes on and you just find it in you to keep going. Or, a rarer moment, when you realize what you needed from the ride that day. On a particularly dreary Wednesday at 9:00 AM when I was really in my head, anxious, exhausted and overall just not feeling it, a cover of one of my favorite songs, "I Won't Give Up" by Jason Mraz came on during OUR stretch and something inside of me just cracked wide open. I didn't give up. I stayed the course. It really comes back around full circle to my first week of Turn It Up 20 when I was sick and had to remind myself that showing up was enough.
Even on the days that I'm not sure if I'm giving my best or succeeding in the ways I'd like to, I'm trying. And sometimes, I will "fail" because I'm human. And as another favorite song I first heard in Anandah's class says, "I can do it. I'll get through it. But I'm only human, and I bleed when I fall down."
As a recovering perfectionist, it was really hard for me to accept that trying is an act in itself, and that that act is enough. That knowledge has kind of changed my life. It's surprisingly easier to do things when you're nicer to yourself and just accept where you are.
So long story short, what I'm trying to say is that a large part of getting through Turn It Up 20 was just accepting how hard it was instead of telling myself that it was a piece of cake and that I was killing it. The journey became less about success and more about resilience and consistency. THAT lesson FROM Anandah's class has seeped into my life: Showing up isn't just enough, it's everything. By the end of Turn It Up 20, I was used to the day-to-day grind (muscle memory perhaps?) but what's more, I used those final rides to really recommit and lean on all the strength, energy and positivity that I had cultivated to push myself to a new level.
I've been away for the last three months in London on a semester abroad at the London Academy of Music and Dramatic Arts, and I've missed SoulCycle and Anandah Carter more than words can describe. Less than 12 hours after arriving back in the States, I went to Anandah's 7:30 AM ride. A really special connection is formed when you ride that often between you and your Instructor and fellow riders. I stayed in touch with the whole SOUL crew while I was gone and their support just meant the world to me. Here I am, five months later, encouraging YOU to clip in and challenge yourself.
And I am signing up for
Turn It Up 20
again! It is really the perfect way to celebrate being back on the bike and I really hope that you'll join me! I never ever would have thought that Turn It Up 20 would teach me so much about who I am, what I've got, and where I'm going. We all deserve that kind of inspiration and affirmation in our lives.
Do you have a SOUL Story to share? Email blog@soul-cycle.com! Want to ride? To book a bike, grab a series HERE then book a bike!
MORE FROM SOUL