How to Make a Vita SoulCycle Smoothie
March 3, 2014
When we saw rider and Certified Nutritional Health Coach JEN MEISTER sipping something after class at Soul Short Hills, we just had to know what it was. As the co-founder of Vita Organic Foods, a local go-to spot for post-Soul fueling, Jen is a pro at knowing how to fuel up before and after class. She chatted with us...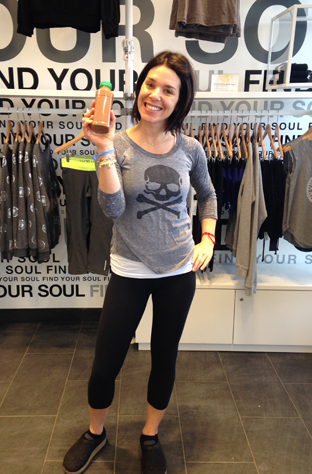 What brought you to Soul?
What brought me to SoulCycle is professionalism of the SoulCycle staff and instructors and their ability to make you feel part of the Soul Cycle tribe.
What was your first class like?
I thought I was in pretty good shape until my first SoulCycle class. Holy moly, I was winded. I got off my number 6 bike and knew this was an incredible way for me let loose and distress each week. I LOVE each and every instructor and their diverse play lists. You never know what to expect.
How has Soul impacted you?
I LOVE music, I LOVE to dance, I LOVE to take care of myself in every way, I LOVE the way the beat of the music moves my body, and as a Certified Nutritional Health Coach, I LOVE to work on the expansion and contraction of a lifestyle filled with Health and Wellness.
What do you eat before class?
My go to breakfast an hour or two before class is a bowl of steel cut oatmeal sprinkled with flax, chia seeds, shaved almonds and berries. YUM!
And we have to know… what's in that bottle?
Our Vita SoulCycle smoothie aka Cacao Warrior Shake! Here's the recipe:
* 2 tablespoons of raw cacao powder
* 1 banana (frozen is best)
* 6 ounces of unsweetened coconut milk
* 4 Tablespoons of organic almond butter
* Raw Honey to taste
Blend until smooth.
Excuse us, while we go make that right now… but first, anything you want to add?

SoulCycle is my movement and meditation, bringing me deep within by creating a beautiful sense of inner peace mixed with strength!
Learn more about Jen and Vita Organic Foods at vitaorganicfoods.com. Questions or comments? Email blog@soul-cycle.com!