How SoulCycle Influences Noah Gouldsmith's Dual Dance Career
April 29, 2016
How long have you been dancing?
I've been dancing as long as I can remember. My grandmother owns a dance studio in Blue Springs, Missouri, near where I grew up. As soon as I was old enough take the preschool classes, I started training in ballet, tap, jazz and acrobatics.
What styles of dance do you generally perform?
I've performed a bunch of styles — ballet, hip-hop, jazz, musical theatre, breakdancing, tap and contemporary. Usually when I teach, I teach contemporary jazz, theatre jazz or hip-hop.
How did you get into teaching?
When I was still in high school, I'd help out by assisting my grandmother at the studio. After I moved to NYC and had done a handful of projects, I started teaching nationally and internationally for conventions and founded my own company for in-studio dance workshop classes.
You instruct and choreograph for kids, too. How do they inspire you?
They inspire me in so many different ways. I guess the main thing that inspires me is the fact that they aren't jaded by life's trials and tribulations. Their imaginations run wild and they tend to see the good in everything. I think everyone can learn a lot from kids.
How does leading the pack influence your dance?
Teaching SoulCycle and teaching dance impact each the other in huge ways. The messaging, motivation, stamina and all-around positive vibes that I've gained from SoulCycle have aided my dance classes and taken them to the next level. My hope is that students leave class with more than just dance steps and technique, but with life lessons, inspiration and (of course) good vibes. On top of that, having an eclectic taste in music from all my years dancing has definitely aided my SoulCycle classes and helped me in putting together playlists and mixes. Dancing has also been hugely impactful for choreography on the bike — cues to tap back, etc.
What motivates you on and off the bike?
My biggest inspiration is definitely my dad. He is the hardest working, most caring and giving person I know. Without him and my mom, I wouldn't be anywhere. I'm also constantly inspired by my friends — especially the ones who are out there grinding every day working towards their goals. I'm fortunate to have some of the most talented and hardworking friends in both the dance and fitness industries.
What's been the biggest life-changing moment for you in dance?
That is a tough one; there have been so many great moments! I would have to say probably training and performing with Rasta Thomas's Bad Boys of Dance in "Romeo and Juliet." The training I received while in that company definitely polished the dancer I am today and gave me the opportunity to tour Europe. It was a huge turning point in my career.
What projects are coming up on the horizon?
This summer I'll be dancing in Radio City Music Hall's "New York Spectacular" (Mia Michaels's choreography) and then in the fall, I will be teaching and setting choreography in dance schools all over the place… all while getting the opportunity to teach at SOUL!
Song of the moment?
"Tabernacle" by Royce da 5'9" or "F*ckwithmeyouknowigotit" by Jay-Z
Favorite style to teach or perform?
My favorite style to teach is contemporary jazz or theatre jazz, and my favorite style to perform is theatre jazz.
What genres of music do you gravitate toward in class?
I like to play a little bit of everything — mainly EDM, but always mix in a few throwbacks. I have also been bumping quite a bit of hip-hop lately.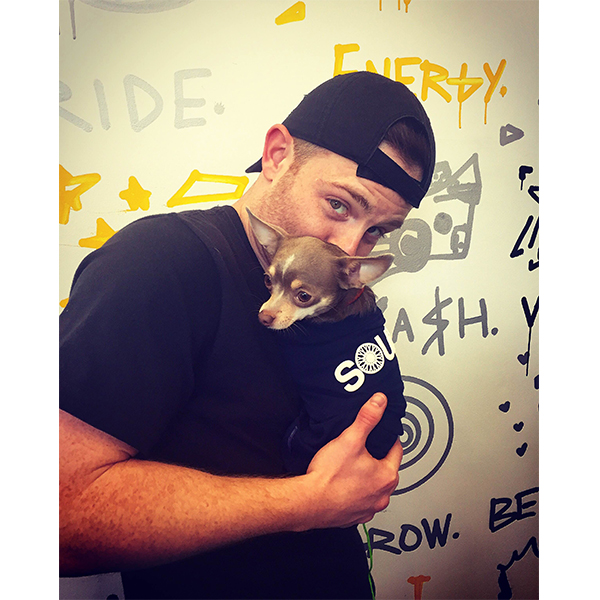 When you aren't rocking out on the podium or dancing, what can we find you doing?
You could definitely find me walking my dog Daisy around Astoria, out with friends or at Broadway or EDM shows. I like music festivals and snowboarding too.
Motto or mantra that motivates you?
DEVELOP PERSPECTIVE. RADIATE GRATITUDE.
Anything else to add?
Spread love.
Catch classes with NOAH G. at SoulCycle West Village! Questions or comments? Email blog@soul-cycle.com! Want to ride? Grab a series HERE and book a bike!
MORE FROM SOUL