How SoulCycle Helped Me Train for My First Triathlon at Age 50
December 10, 2015
RISTIN POULSEN celebrated her 50th birthday by taking her first SoulCycle class with her kids in Pasadena. One year later, she's a dedicated part of the pack and trains for triathlons by tapping it back. She shares her Soul Story…
I turned 50 in a dark and crowded room in the second row of SoulCycle in Pasadena. Ross was the instructor, the music was pumping, and it was my first ride. I was definitely nervous, but excited at the same time. My two older children, Will and Paige, love SoulCycle and thought it would be the perfect way to start off my day. I had heard what an incredible workout it was and how it was different than your typical indoor cycling class. I kept repeating to myself 'just do the best you can.'

During class I had all sorts of feelings… challenged for sure, but also encouraged. When it was over, I realized as hard as it was, I loved every heart-pounding minute of it! I was on an adrenaline high the rest of the day. My family gave me a series for Christmas and I started my journey. I was hooked! The way I felt after class was amazing — inside and out!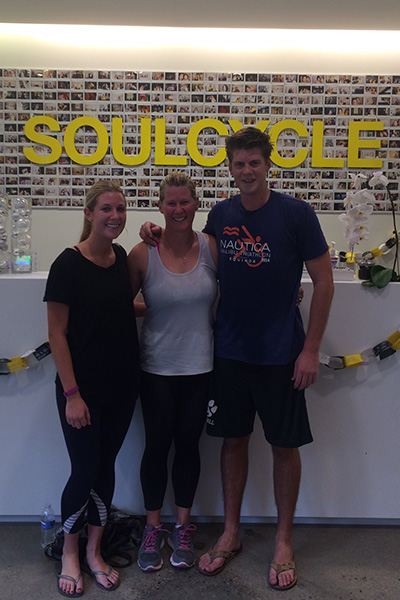 It might sound silly, but since dropping my youngest off at college I had been experiencing "the blues." I had no idea the impact of that dreaded "empty nest syndrome" would have on me. Despite having a great husband, happy and healthy kids, playing on a volleyball team and working out several days a week with a dynamic group of friends, I had been struggling! SoulCycle came at the right place and right time. It spoke to me each and every class, and every time I climbed on that bike I was digging deeper and deeper to get back to my old self.
After a few months, I was feeling a lot stronger and I decided it was time to push myself to do something that I never thought I would do. I signed up for a triathlon. It was after watching my son Will complete several triathlons, that I moved from cheerleader to "why not me?" I grabbed my friend Julie to do this with me and off we went (always nice to have a buddy!)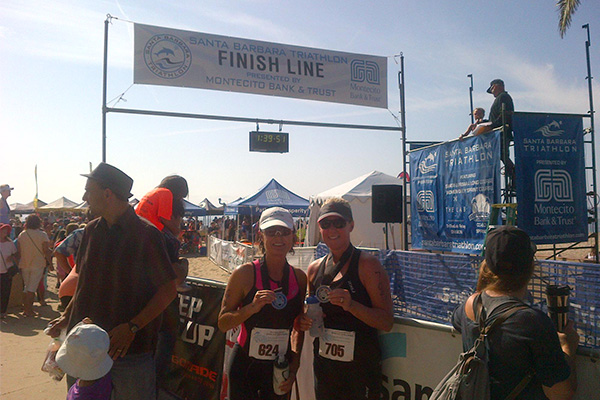 I used SoulCycle for the majority of my bike training as well as for mental toughness, which I now know is a huge part of the process. Instructor Lisa Moloshok has pushed me to a level I thought I could never reach. She has helped me become stronger with every class. She calls your name out and encourages all of us to push and stay honest during the ride; I even ride in the front row now, right in front of her to make sure I stay accountable. I completed the Santa Barbara Triathlon in August, with the bike portion being my best time! I felt so great afterward that I did another one in September. I am on a roll now, continuing to train and plan for more triathlons next summer.
I continue to go to SoulCycle not only for the workout, but for my wellbeing. I will never stop. My son Jack has promised to come with me over Christmas break… now I just need to get my husband Bill there and it will be a full family affair!
Do you have a Soul Story to share? Email blog@soul-cycle.com! Want to ride at SOUL? Grab a series HERE and book a bike.
MORE FROM SOUL