How Annie Standfest Found Herself at SOUL
March 18, 2016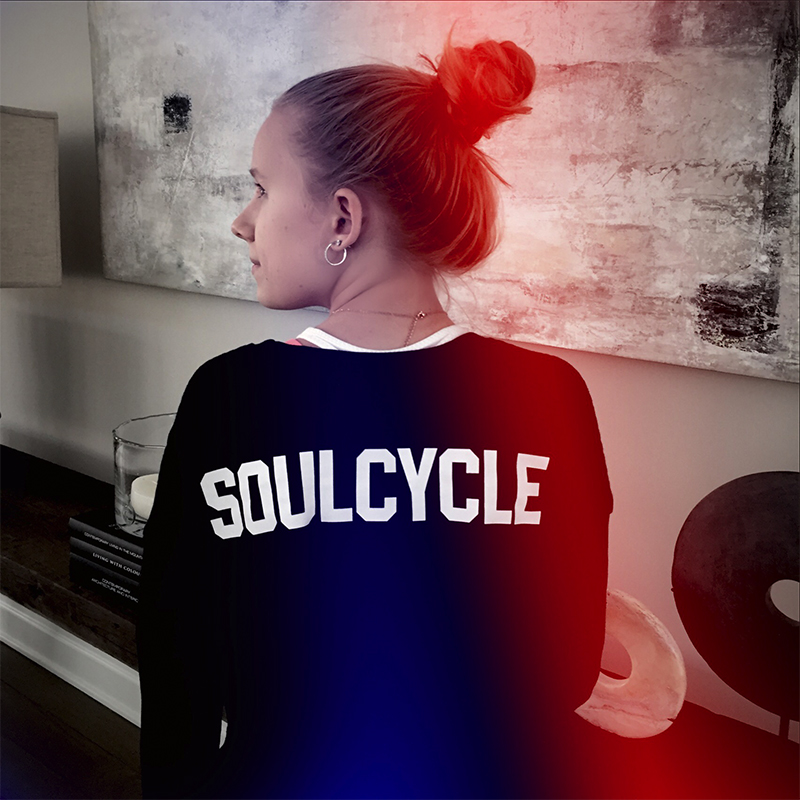 I sit elevated in a room in total darkness. As the loud music fills my ears, I concentrate on each rotation of my pedal stroke: right, left, right. I close my eyes and catch the beat of the music. Right, left, right I pedal.
After only a few minutes though, my mind begins to wander back to the thought of all the schoolwork weighing me down. Seconds later, I hear, "Don't quit before the miracle happens." These simple words clear my head of stressful thoughts. I regain my focus. The energy in the room from the surrounding people motivates me to keep up with the group. Echoing from the top of the podium, I hear, "OK, guys, let's go home! Sprint!" I close my eyes and envision the finish line. Right, left, right. Faster and faster.
I have always had anxiety. From my earliest years, I've cared about doing well and put pressure on myself to do so. This pressure doesn't come from my parents; it comes from within. I'm my harshest critic. I got through middle school anxious, yet masking it. As a freshman, however, my anxiety increased. My anxiety was born of anticipation and uncertainty. What was the schedule for the next day? Had I completed all my homework? Did I have a test? Sophomore year was the most difficult for me. All the social things adolescents go through caught up with me.
Long-term friendships fell apart. My best friend found a new friend. Being in a new relationship caused me to distance myself from my group. And my sister with whom I am so close had her own issues. I felt responsible for her. I was the intermediary with my family. I became a negative complainer, as I found it hard to see positives.
I knew there was no rational reason for the way I was feeling. I have a great life and a great family. Why was getting up and doing normal everyday activities so difficult?
Simple things like falling asleep and taking time to eat dinner made me feel extremely unsettled. At times, I felt like I couldn't even breathe. I know there is a lot of pressure for kids to do it all and do it well, especially in high school. One would think my anxiety would be about grades and academics. Ironically, my grades have been a consistent 'B.' Even with all the anxiety, I've remained a good student, diligent and engaged in the classroom. However, I was putting so much stress on myself that it finally became unhealthy. Though my family and school both stepped in and supplied support for me, it had little impact.
One day, however, my Mom suggested I try something new. And I did. My first ride at SoulCycle was challenging. My first thought was "What is going on!?" It consisted of complete chaos trying to match the beat of the music with my feet. Although my first class was very tough, the feeling of having 60 people surrounding you, all striving to do the same thing, is very motivating. The positive energy that SoulCycle gave off was something I had never felt before. And I realized that for the first time in years, my head and body were completely free from the unsettled feeling of anxiety.
The simple act of getting on a stationary bike and riding at SoulCycle now frames my day and provides me perspective. The positivity and energy from other riders have changed my outlook on life. I am certainly physically healthier; more importantly I am mentally and emotionally healthy. I recognize the need I have for balance in my life.
Tapping it back has given me the ability to now take life one day at a time. I can be in the moment and my moments are manageable. The single phrase, "Don't quit before the miracle happens," has helped me grow into the optimistic person I am today. I have become a happier person with a positive outlook on life. SoulCycle made me recognize the important things in life and not to stress the small stuff.
I've loved every SoulCycle class I've walked into. My favorite rides are with Nina, Ryan P., and Becca. They are all very different, but I connect to each of them in special ways. I usually like to ride to the current music that I hear on the radio. Some of my favorite artists to ride to are Justin Bieber, Taylor Swift and The Weeknd.
I took my first SoulCycle class my freshman year of high school. Now I'm a senior and I've been riding about three times a week since my freshman year. For one of my college application essays, I was asked, "describe a challenge you faced and how you went about facing that challenge." I knew that my biggest challenge in my 17 years of life so far has been suffering from anxiety.
When I started writing, SoulCycle immediately came to me because it has not only been my way of coping with my anxiety, but has also done so much more for me. I've also become very familiar with the SoulCycle community and one day I hope to join that community by becoming a SoulCycle instructor — it's a huge dream of mine!
Riding at SoulCycle has allowed me to channel and flush away my unwanted and irrational anxiety. For the past two years, I have been cycling to the finish line. I have been finding me. Right, left, right. Faster and faster.
Do you have a SOUL Story to share? Email blog@soul-cycle.com! Want to ride? To book a bike, grab a series HERE then book a bike!
MORE FROM SOUL