Eve's Post-SOUL Skin Saver
March 23, 2015
Sweating it out on the bike can give your complexion a workout. NYC Instructor EVE LYNN KESSNER, who rocks the podium in Union Square and — starting Thursday! — at our new Brooklyn Heights studio, shares how to make her post-SOUL skin saver…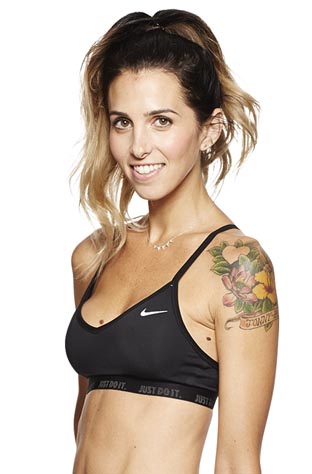 Post-sweat our skin needs toning and hydration without stripping. It took me a very long time to figure out the right routine for my face that wasn't overdrawing and didn't make me break out.
My natural skin is prone to being pretty dry, the worst in the winters. But with my SoulCycle schedule, it's difficult to keep it moisturized and clean without unsightly breakouts (not flattering under those podium lights!). Washing in the morning and evening AND after each of my two to three classes per day was overdoing it. My skin was getting patchy, or what the pros call "combination." No good! Washing only in the morning and night left me with breakouts from all the sweating I was doing. I couldn't seem to find the right set of products to meet my face's needs.
So I set out to make my own! I created this spray and I take it with me wherever I go. It's perfect post-SouCycle, on the beach to cool off, throughout the day when the weather is getting the best of your complexion.
You can use any essential oils that make you happy. I switch it up often to modify the scent to the season or my mood.
Here's how I do it:
1. Get a spray bottle (preferably glass… Ricky's NYC sells them)
2. Fill it about half-way with aloe juice (you can buy this at any health food store)
3. Fill it the rest of the way (leaving room for the oils) with witch hazel.
4. Add the following essential oils:
* 3 to 5 drops of tea tree oil (purifying and clarifying)
* 10 drops of calendula oil (calming)
* 10 drops of lavender oil (repairing)
* 15 to 20 drops of the scent you are into at that moment
For this batch I used grapefruit oil. It has a refreshing, brightening scent to me. Often I use sweet orange oil, which is said to be a happy scent. I also love rosemary, ylang ylang, lemon, and tangerine.
You can also add more tea tree and use this as a hand sanitizer! I use it as is for face and hands on both me and my kids all the time. It's safe, homemade, and totally refreshing.
Catch classes with Eve at SoulCycle Brooklyn Heights (starting Thursday 3/26!) and SoulCycle Union Square. Questions or comments? Email blog@soul-cycle.com!