Eve's Healthy Brownie Recipe
March 10, 2014
Here at Soul, we have a weakness for sweets. Candy, cookies, fro-yo… you get the idea. So when instructor and holistic health counselor EVE KESSNER told us about her protein-packed Paleo brownie recipe, we got pretty excited. And after we tasted them, we just knew we had to share the recipe. Thank you, Eve!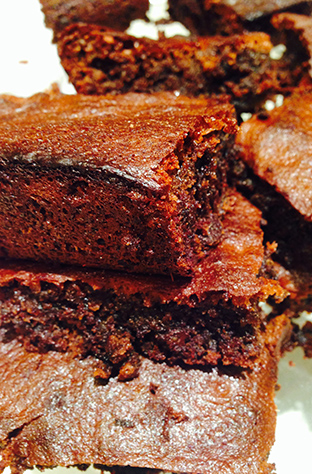 "This recipe has been a big hit both at home and on my blog, www.lovelifeandlollipops.com. It's simple and healthy (as healthy as brownies can get!) and packed with protein!," says Eve. Here's her recipe:
PALEO BROWNIES
Ingredients
1 jar of smooth almond butter (try to find organic, if you can)
2 eggs
1 cup of coconut nectar (dry or syrup)
1/4 cup of agave nectar
1 tablespoon of vanilla
1 teaspoon of sea salt
1 teaspoon of baking soda
1 cup of cacao powder
Optional add-ins: 1 cup of chopped walnuts, 1 cup of goji berries, 1 cup of dark chocolate chips
1. Preheat oven to 350 degrees.
2. Put everything into the bowl of a mixer (preferably wet ingredients first, mix, then dry ingredients… but not necessary).
3. Mix until smooth.
4. Coat a brownie pan with coconut oil. (You can also make these in individual-sized muffin tins.)
5. Pour in batter.
6. Bake for 25 to 30 minutes or until cooked through and just starting to brown at the corners.
7. Cool, cut and serve!
For a healthy, post-SoulCycle treat, cover one brownie with a dollop of chia seed pudding (quickie recipe below) and get your fill of protein and omegas!
Chia Pudding Recipe
In a bowl, mix 1 can of organic coconut milk with 1/4 cup of chia seeds, 1 teaspoon of vanilla and a dash of cinnamon. Mix it well, getting all the clumps out. Place it in the fridge for 30 minutes, then mix again. Keep it in the fridge for an additional hour or two until ready.
Check out Eve's classes at Soul Scarsdale! And for more of her recipes, check out her blog
at
http://www.lovelifeandlollipops.com. Questions or comments? Email blog@soul-cycle.com!