Elianna's Healthy Recipe
February 7, 2014
Looking for an easy, healthy dinner option? Soul instructor ELIANNA SABLE shares one of her favorites...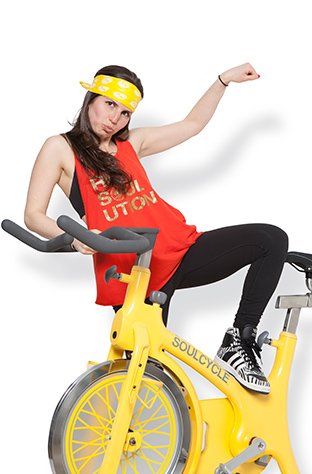 One of my favorite go-to dinners is stuffed peppers! Quick easy and freezes well! At the end of the day, I usually come home very hungry! I look forward to a good homemade meal! I want something healthy and satisfying but something that will fill up my husband, too.
Turkey Stuffed Peppers


Ingredients

1 pound of white meat ground turkey
4 green peppers (you can use any color but the green ones keep their shape the best)
1 onion
1 large can or 2 smaller cans of tomato sauce (pure tomatoes, nothing else)
2 garlic cloves
2 splashes of lemon juice
1 tablespoon of brown sugar
Directions
1. Preheat oven to 350 degrees.
2. Cut off tops of peppers, scoop out the seeds, and put them in a deep pan or baking dish.
3. In a skillet, saute onions and garlic, then add turkey. Cook until brown and add one small can or half the large can of tomato sauce. Cook three to four more minutes.

4. In a bowl, mix together the rest of the tomato sauce, lemon juice and brown sugar.
5. Divide the meat mixture into the 4 peppers and pour the tomato sauce mixture over the peppers.
6. Cover and cook in oven for an hour or until the peppers are nice and soft!
7. Serve with a baked potato or over brown rice!
(You can also double the recipe and put half in the freezer!)
Catch Elianna's class at West 77th and Union Square! Questions or comments? Email blog@soul-cycle.com!