Cat Crowe's Marathon Motivation
November 14, 2015
Instructor CAT CROWE rocked the New York City Marathon two weeks ago. Now that she's recovered from 26.2 miles, she shares her inspiration, the music that kept her motivated, and how hitting the pavement helps her tap it back…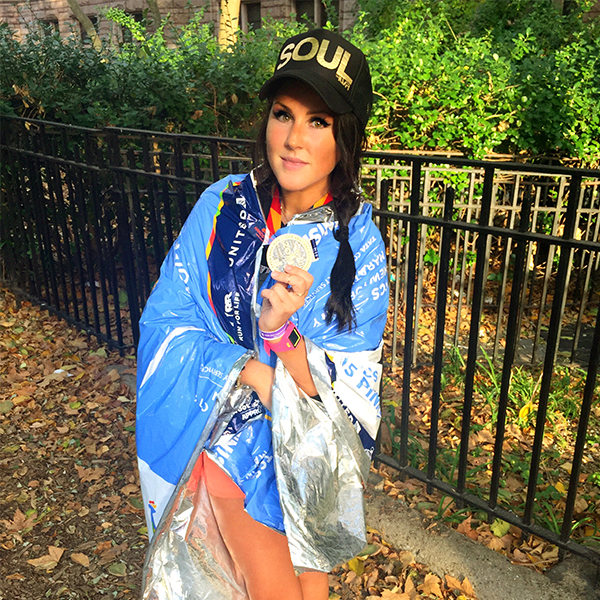 You ran the NYC Marathon two weekends ago. How was it?
It was my first time running the NYC marathon, and it was amazing. I was actually supposed to run it for the first time in 2012. I had never trained harder or been more ready for anything in my life so when Hurricane Sandy hit, it was a heart-wrenching week in more ways than one. After initially announcing the race would go on, Mayor Bloomberg determined it was best to cancel.
I'm sure that was difficult after having worked so hard.
The city was physically devastated and the runners were devastated. It was a lesson, though, that you can't control the weather or changes in the landscape — all you can control is how you respond. And it definitely made getting to finally run it this year that much more fulfilling.
Tell us about your training schedule.
I try to run as often as I can. My coworkers used to think I was crazy for always running to and from work, but if I have to commute to work and I have to get a training run in, there's no more enjoyable and time-efficient way to get both done at once. Plus working at SoulCycle means access to fully stocked, pristine and palatial bathrooms in which to shower :)
How was it preparing for this race? Were there any obstacles?
In terms of preparing for this particular race, it was a little different. After initially starting to train in the summer, with all the new studio openings in DC I ended up teaching at 5:00 PM on Sundays (i.e. race day come November 1). My class and building the time slot were really my priority, so I decided this wasn't going to be the year for it, but with even more DC studio openings, things changed around again, ultimately freeing me up on November 1.
Well that worked out well!
Yes! It had been a good month and a half since my last long run, though, but two days before the marathon I decided nothing logistically was stopping me, so I might as well realize a dream. I wasn't trained per se and I wasn't honestly sure I could pull it off, but my good friend and running buddy Marina seemed to think I could do it sans prep.
It seems she was right too!
She is also the one who first brought me to SoulCycle back in the day, so I have a lot to thank her for.
We can see from your Instagram @cat_cro that you're a big runner. How did you get into running?
It's funny how things happen! I always played sports growing up, but was hardly ever jazzed about the running part. Later during my time playing Division I lacrosse, I was good at the speed and endurance conditioning days that everyone else dreaded. I think kind of having that leg up and level of success made me come to look forward to and even enjoy those grueling workouts more and more.
So it was that, coupled with going to Boston College where the Boston marathon is such a fundamental and inspiring part of the culture. My sophomore year, I had the opportunity to run with a charity team as a BC student. Boston was the most incredible thing to witness, my friends and teammates met me at the finish, and I've just been chasing that feeling ever since.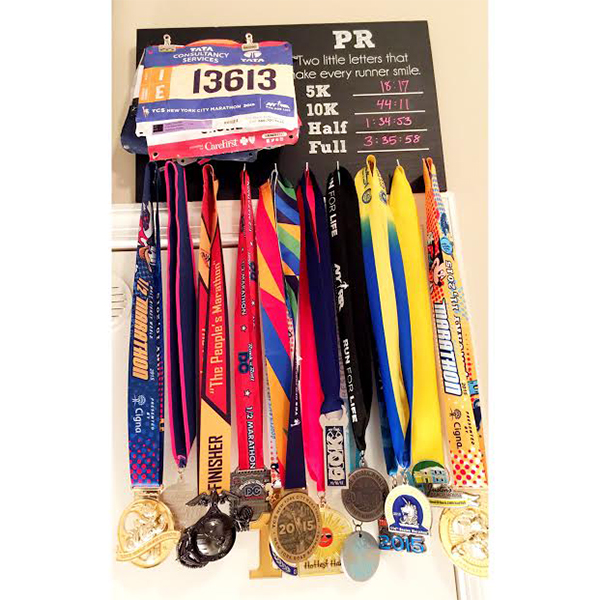 How many races have you completed?
I've run more half's than I can count, but NYC was my seventh marathon.
That's amazing! Which was been your favorite?
Goofy's Challenge in Disney World this past January was the most fun — it was a half marathon through the theme parks on Saturday followed by a full marathon through the parks the next morning with Disney characters the whole way.
The most grueling was the hilly Nike Women's Marathon in San Francisco in 2013. To me, a marathon is a great excuse to travel and an amazing way to explore a new city, but the fog that day said hard pass, and little scenery was seen.
How does running help you on the bike, and vice versa?
Beyond the fact that it's a perfect way to cross-train, the same exhilarated feeling you get running a marathon is something I've always found in class. That utter elation you feel on the bike after jumps or during runs, when the class is just going off and everyone is so in it and your heart is beating our of your chest. It's like that saying "find what makes you come alive and go do it." I never feel more alive than when I'm finding that edge in a race or on the bike. It makes you feel like you can do anything.
Does music help you when you hit the pavement?
The same way that music drives us on the bike in class, music is everything for me when I run. I've always made a new playlist for each long run I do – it gives me something to look forward to. There are lots of purists who run without headphones but for me it's all about the music. Nothing better than exploring new areas to a soundtrack that sets the mood, fires you up, carries you through.
What songs kept you motivated, both during training and throughout the race?
I can tell you exactly what albums came out when I was training for certain races! For this one it was Avicii's album, Disclosure's album, and more recently, Ellie Goulding and OneDirection, but my top five pump up songs this race were probably:
• "Split" — The Chainsmokers ft. Tiesto
• "Jungle Bae" — Jack U
• "Fourth of July" — Fall Out Boy
• "Beam Me Up Didrick (Remix)" — Cazette
• "Meltdown (feat. DMX & Priyanka Chopra)" — N.A.S.A. (I got this from my girl, DC instructor extraordinaire Sunny Mae)
Were you happy with your time?
It was definitely slower than my usual pace, but for me this one wasn't about the time.
When I first began training for it in 2012, I was adjusting to a new life in a new city. Running became something different for me around then. I sort of wrote about it in a piece for Thought Catalogue but basically New York is both tough as hell and wonderful at the same time. All my training runs were fueled by this desire to get to know the city but a kind of heartache and homesickness as well.
Getting to run that year would have meant so much to me given how badly I needed that triumph but it was so cool to close the chapter knowing all that's happened since.
Do you have any tips for people who are starting to long-distance run?
The playlist thing is honestly the biggest game changer for me. I'd say try making a brand new playlist of songs you're really excited about and don't let yourself listen until you're on the road. Also when you're just starting out, it helps to remember that speed doesn't matter at all, you're just trying to put in the miles. Whatever distance you have in mind for that day, just focus on not turning back until you're halfway out.
When you're training for a race or have particular mileage in mind, it's also great to pick a specific place, park, monument, coffee shop, just some kind of landmark that's a particular distance away and set out with that in mind. Changing up your route helps, exploring new areas helps, running at the time of day that makes you feel the most sprightly – these are all good things.
What are your favorite sneakers for running?
I always always run in Nike Lunarglide 5's (I'm wearing them right now). They are just the perfect amount of stability for me, and super lightweight. Nike are now on their Lunarglide 7's, so I have to rely on eBay to get my older edition, and actually have it set up so I get an alert every time a pair is listed in my size because I go through them quickly.
Favorite memory from this marathon?
I'd been running cautiously to not get hurt, but two miles from the finish, I cut my pace by about two minutes per mile to finish strong once we reached Central Park. A runner made a point of finding me in the finishers' area afterwards to say that right when he was giving out, he saw me take off and following my hat got him to the finish.
What a great sense of comradery!
The exchanges you have and things you see during a marathon are so uplifting and moving and inspiring, I don't know where to begin. The amputee blade runners who are just absolutely sending it, the blind runners, the runners who are assisting them, the marriage proposals, the runners when they reach where their children are cheering for them along the course.
A man in front of me was wearing a cancer survivor t-shirt that said on the back, "You are stronger than the challenge and the challenge makes you stronger." At that particular time that just really resonated with me. You see so much during a race, it can really drop you deep and also lift you up.
How did the SOUL community supported you for this marathon?
SoulCycle Georgetown's opening party was the day before so after photo booth-ing and cupcake-ing it up, I left right from there for the expo in NYC to pick up my race packet! The new studio opening team was in town, so it was a nice low-key send off :) They are an awesome group — Lauren Cecere is one of the nicest people I've met at SOUL and getting to see them is always the best.
Melanie Griffith is also someone I really look up to. Talking to her recently just kind of reminded me this is my thing and what makes me come alive and sometimes you just have to go for it.
Finally, the W92 SoulCycle staff who were working on that Sunday afternoon are actual angels. They could not have been more welcoming or wonderful — I was able to shower at the studio after the race before the drive back down to DC, which was an absolute game-changer. I miss them every day.
So the big question — when is your next race?
Next up is the Dallas Marathon on December 13!
Catch Classes with Cat
at SoulCycle
Georgetown
and
Bethesda
! Questions or comments? Email blog@soul-cycle.com! Want to ride? Grab a series
HERE
and book a bike!
MORE FROM SOUL