A Clean, Green Soul Smoothie Recipe
April 22, 2014
In honor of Earth Day, avid SoulCycle rider and chef CANDICE KUMAI shared a super-delicious recipe that's perfect before or after SoulCycle. It comes from her new book Clean Green Drinks, out today!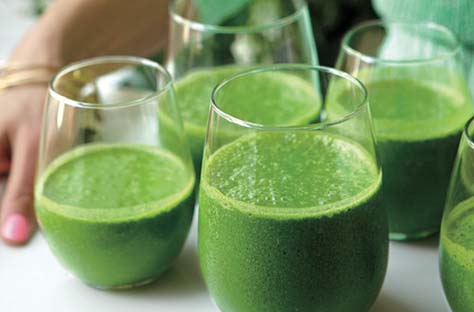 While developing and testing this recipe with my team, we all went a little crazy. Everyone kept going back for seconds, since it tastes just like a vanilla milkshake! But you're actually slurping on nutrient-rich spinach, almond butter, and coconut water. Get it, gorgeous. Beauty starts from the inside… it's just a bonus that it can taste this good. Happy Earth Day!
THE GREEN VANILLA ALMOND (Tastes Like a Vanilla Shake!)
1 cup unsweetened coconut water
2 cups babyspinach
1 frozen banana
2 tablespoons almond butter
2 teaspoons organic vanilla extract
4 tablespoons (1 scoop) protein powder
1 cup ice
Add ingredients into a blender and blend until smooth.
SERVES 2
PER SERVING: 180 CALORIES
6 grams Fat
11 grams Protein
17 grams Carbohydrates
3 grams Fiber
8 grams Sugar
380 milligrams Potassium
20 percent DV Iron
15 percent DV Vitamin E