7 Ways To Have Your Best Coachella Ever
April 11, 2016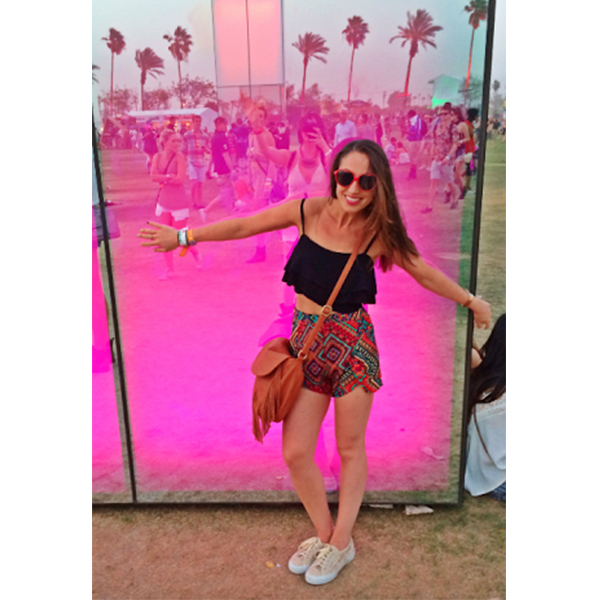 GO ONLINE
Wondering how exactly you're gong to conquer Coachella? Fear not – there's an
app for that
! Taylor and Sydney both stress that you need to be strategic when deciding which shows you're going to catch, which is where the handy app comes into play. "Using this app makes it really easy to select which shows you're planning to see, and it gives you the time and stage so you have a schedule on hand," Sydney says. "I like to make sure I check out almost every stage throughout the three days, but you definitely have to be strategic with so many stages and artists." She also recommends getting to the stages a little early before a set to locate a good spot.
OPT FOR COMFORT
Let's be honest — Coachella style may be one of the best (and most Instagram-worthy) aspects of the festival — but don't forget about comfort when choosing your outfits and dressing for the day.
So what are our instructors packing? Taylor is all about embracing the sunshine. "I'm bringing
Shades Club
sunglasses to the party. They send you 12 pairs of sunglasses for the price of one, so this year I'm rocking several variations of the Yachtmasters," he says. "It will also finally be warm enough to shred those sleeves, so I'll be wearing plenty of tanks — sun's out, guns out!"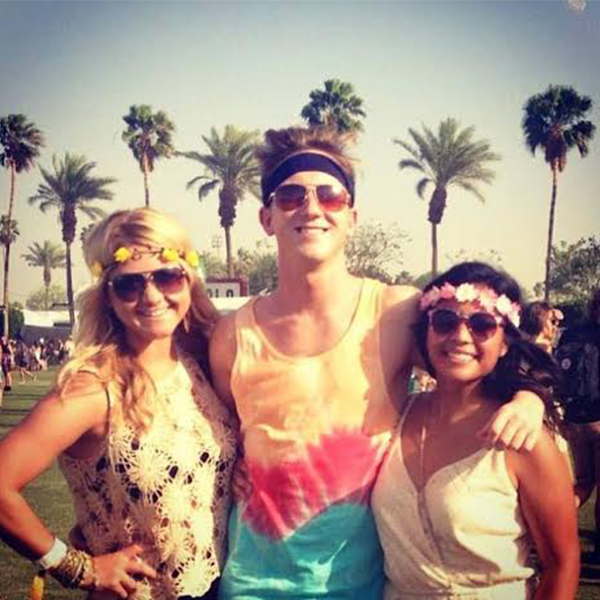 Sydney, on the other hand, is going for options galore. "I have a great cross-body leather bag that fits a sweater, sunglasses, sunscreen, bandana (for when it's windy and dusty) and more," she says. "I like to wear a hat because, first of all, it makes me feel like a desert hippie and, second of all, because it protects me from the sun a little bit. I'll usually wear a Flower Children Only halo to accessorize." And most importantly, Sydney and Taylor plan on rocking sneakers to keep them dancing all day and night.
STAY FUELED
Sure, filling up on healthy foods is important for stamina, but don't forget to indulge in the many, many restaurants that set up booths at the festival. "You can get anything from a pineapple spear to Alfred's coffee to vegan and gluten-free wraps to a New York strip steak," Taylor says. "There is something for everyone. My personal favorite is Spicy Pie, which is a pepperoni pizza with jalapeños. I would argue it's the best the sliced pizza in the world."
KEEP CLOSE
The housing options near the festival are endless — from nearby houses to fancy hotels in Palm Springs, but Sydney recommends sticking closer to Coachella. "I like to stay in a villa as close to the festival as possible. It's fun to have your own space but then have a big pool where people hang out and party during the day," she says, adding that the festival is an overall more enjoyable experience if you stick within 10 minutes or so of the Indio location.
Taylor and his friends prefer staying in hotels, though. "We get shuttled back and forth to the field, and it's easy having all the hotel amenities at our disposal," he says. "We always get the hotel ticket vacation packages and it makes life easier. There's also Uber at the festival to take your friends where you need to go."
DRINK UP
The weather is hot, hot, hot, so drinking plenty of water throughout the day is a must. "Stay hydrated. Know your limits. Get some sleep. It's a long three days," says Taylor. He also recommends bringing your own water bottle to the festival. Stations are scattered throughout the grounds that allow you to fill up.
BECOME A NIGHT OWL
The need for even more H20 isn't the only effect of the summer-like sun — the days can feel extra scorching. Wear plenty of sunblock during the day and keep cool as best you can, or try to hit up the festival later in the day. "Unless there's someone you're dying to see, it's best to go when the sun is going to set soon so you'll be cooler and happier," Sydney advises.
FIND YOUR SOUL
Spending several days surrounded by music, culture, incredibly scenery and likeminded individuals can be rejuvenating for anyone, so embrace the possibilities! "My favorite part of Coachella is the sense of community it creates. Everyone is there to partake in this amazing festival and I feel awesome being a part of something bigger than myself," says Taylor.
Sydney adds that the magical atmosphere and variety of artists leave her even more inspired when the lights dim and she heads back to the studio. While you're rocking out in the desert, don't forget to forge friendships, embrace new sounds and find motivation wherever you can.
Questions or comments? Email blog@soul-cycle.com! Want to ride? Grab a series HERE and book a bike!
MORE FROM SOUL