6 Tips to Reduce Soreness
October 22, 2015
No matter how often we tap it back, soreness can strike. What's the best way to treat the tenderness and get back on the bike? 15 instructors reveal their no-fail tips for bouncing back in a snap...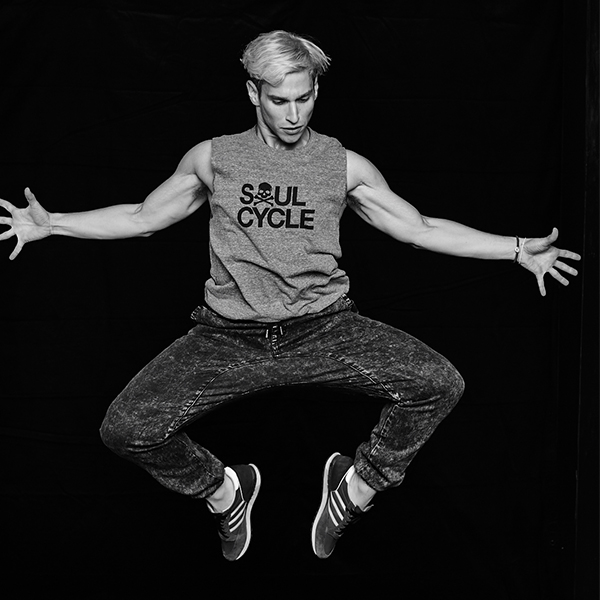 TAKE A SOAK
"If you've just a had your ass kicked and you start to feel it, then here are my go-to's: First, ice bath. I know it's not fun but your body will thank you. Ten minutes tops — don't overdo it. After you've recovered from the cold, give your body time before heating it back up. I like a steam bath or sauna. The heat will stimulate blood flow and help loosen up your muscles. A massage is also a great investment. They can be expensive, but try to think of it as a much needed tune up for your body and time to relax your mind. A well-balanced diet full of vitamins, and in this case specifically antioxidants, will help your body recover faster as well. Find time to relax and get your eight to ten hours of sleep. See you back on a bike soon!" — TODD DUNHAM
"I like to soak in a warm or hot bath with Epsom salt." -— JOHANNA TORRES
"I foam roll and take a bath with Epsom salt." — MATTHEW CAROLAN
WHY IT WORKS: Working out can cause muscles to swell, and an ice bath reduces inflammation and minimizes soreness. If ice cold isn't your thing, try some warm water and Epsom salts. Epsom salts contain magnesium, which interestingly enough is best absorbed through your skin, not your digestive system. The magnesium helps flush out lactic acid from your muscles.
KEEP MOVING
"I use foam rollers and lacrosse balls coupled with some low impact and low resistance cardio!" — KALEY SKOGLUND

WHY IT WORKS: While hitting the weight room isn't the best idea when your muscles are fatigued, keeping them moving is a great way to reduce stiffness. Be sure to stick around for the cool down at the end of class, and if you feel some tightness, try some stretches or a short, light run to ease your muscles back into a routine.
STRETCH OUT
"I take a LONG HOT bath or a do steamy HOT yoga class." — MB REGAN
"When I feel sore, that's my body crying out to be stretched more. I try to hop in a yoga class, roll my legs out, and take a nice bath with Epsom salt and baking soda." — DURRELL BROWN
WHY IT WORKS: Stretching is an essential — and often ignored — part of fitness. In addition to helping with latent lactic acid in the muscles, stretching and yoga assist in alleviating tightness and preventing muscles spasms. Be sure to stick around for the cool down at the end of class, and try a yoga class or some stretches in the morning and evening if you still notice extra soreness.
GET A MASSAGE
"When I feel super-sore, past the point of normal stretching, I know it's time for a massage. I try and go at least once a month even to stay ahead of that feeling." — BRENT LOCEY
"I take the time to foam roll my whole body when I feel sore. That and a good massage helps me." — TOMAS MIKUZIS

WHY IT WORKS: Sometimes your body just needs a little TLC, and that might be a sign it's time to get a massage. In addition to working out painful knots, massages can help regulate the
Mitochondria
in your muscles, which will make them more efficient in using oxygen, and thus, reduce soreness.
HYDRATE
"I do lots of static stretching in and out of the pool. I also drink branched-chain amino acid (BCAA) supplements that assist in muscle recovery. If I teach three or more a day I always drink some — it does the trick!" — TAYLOR SHANK
"Foam roll. Yoga. Hydrate. Rest." — JENNY GAITHER
WHY IT WORKS: Properly hydrating before, during, and after clipping in is vital. Water makes up about 75 percent of our muscle tissue, so if we don't replace that, the dehydration can lead to stiff joints, sore legs and fewer tap backs. It also promotes proper circulation, and allows for vitamins and minerals to be transported around the body more efficiently.
In addition, your muscles are fatigued and hungry after exercise, and in the human body, amino acids link together to form protein. According to a
study
in the
Journal of International Society of Sports Nutrition
, adding some BCAA supplements to your diet before and after physical exertion has been proven to reduce muscle soreness and increase performance.
GRAB A FOAM ROLLER
"ROLL OUT. Having a foam roller to roll out before class, after class, at home, anywhere you can is a huge help." — CHARLOTTE HITCH
"When my legs and back are sore, I start with a foam roll out to loosen up the muscles and massage the knots out. Immediately following the roll, I warm up with a yoga sun salutation series to connect the breath with movement. Finally, I maneuver through a stretch series, surrendering to each position for five full breathes. It takes about ten minutes." — SAM YEARSLEY
"I foam roll and stretch at home as much as possible, and go for an occasional massage." — JOYCE FRANCO
"When I feel sore I roll out my muscles on a foam roller. I will also try to take a yoga class. I love a good yin yoga class that moves slow and allows you to stretch deeper." — EMMA LOVEWELL
WHY IT WORKS: Foam rolling is a key component in preventing soreness and keeping your body in tip top shape. It's essential a self-massage, triggering "knots" in different areas of your body. Keep an eye out for Soul & Roll classes at a studio near you!
Questions or comments? Email blog@soul-cycle.com! Want to ride? Grab a series HERE and book a bike!
MORE FROM SOUL