5 Post-Soul Smoothie Recipes
March 20, 2014
Thirsty for a post-Soul smoothie? Try whipping up these five recipes from instructors HALLE MURCEK, SABINE GERDTS and SAM SCAFFIDI.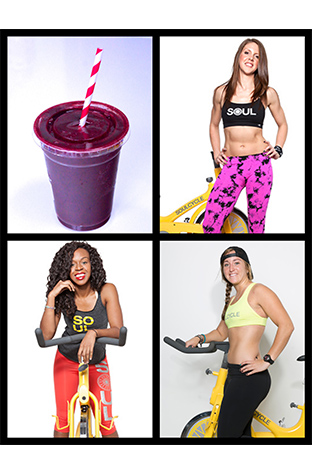 HALLE MURCEK
When I make my own smoothies, I honestly don't measure and just go by taste. Sometimes I'm a little more green and sometimes a little more savory. It's a different smoothie every time! I think that's what makes it fun. The best part about making your own is you can add or subtract ingredients and it's something new every time! These are really good post workout if you're on the go and also a good start to your morning. You can even play around with power bowls too and add granola etc to them. I'm a HUGE blueberry girl. Berries all the way and also green smoothies. Almond butter is a must. And with each you can add stevia or other sweeteners to your liking. Coconut sugar is good too. Here are three combos I love:
Super Green Smoothie
Kale
Spinach
Almond butter
Vanilla almond milk
Banana (gives it that creamy, thick consistency)
Chia seeds or whey/hemp protein
Blueberry Bliss Smoothie
Blueberries
Kale
Banana
Almond butter
Vanilla almond milk
Choice of protein powder
Jolt Smoothie
Iced coffee
Vanilla almond milk
Bananas
Choice of protein powder
Almond butter
SABINE GERDTS

After SoulCycle, I always try and drink a smoothie. Usually a smoothie with bananas and peanut butter because I'm more often than not STARVING and want something that will keep me full and replenish. Here's my recipe:
1 banana
1 tablespoon of peanut butter
1/4 cup of cacao nibs
1 teaspoon of chia seeds
1 cup of almond milk (or any nut milk)
Blend and drink!
SAM SCAFFIDI
I love smoothies before Soul, in between classes, or on the go! My current go-to smoothie is made of coconut water, kale, pineapple, and mango. I also add chia seeds, protein powder, or flax seed oil to ensure I'm getting the nutrients I need. Here's the recipe for a 16-ounce serving:
1.5 to 2 cups of coconut water
2 cups of kale
1/2 cup of frozen pineapple
1/2 cup of frozen mango
Blend and drink!
Catch Sam's classes at Soul Marin; Sabine's classes at Soul Roslyn and Soul East 63rd; and Halle's classes at Soul East 83rd. Questions or comments? Email blog@soul-cycle.com!