3 Sips That Make Your Skin Glow
April 3, 2014
Thirsty? Why not rehydrate post-SoulCycle with a complexion-perfecting drink? SoulCyclist and chef CANDICE KUMAI shares three easy recipes from her new book, Clean Green Drinks!
SoulCyclist and chef Candice Kumai
One healthy skin commandment: Eating and drinking foods rich in antioxidants and enzymes helps fight free radicals (the damaging molecules generated by everything from UV rays to air pollution) and prevents the breakdown of collagen, your skin's support structure, explains SOUL rider Candice Kumai, who regularly taps it back at Soul TriBeCa and Soul West Village. All three of her recipes here (from her new book, Clean Green Drinks) are chockablock with nutrients known for their hydrating, anti-inflammatory powers. Try whipping them up before or your next ride!
THE GREEN MONSTER
Baby Spinach, Pear, Apple smoothie
1 cup coconut water
4 cups baby spinach
3/4 Bartlett pear, cored
1/2 Fuji apple
1 teaspoon green superfood powder (such as Energy Green Superfood by Amazing Grass)
1 to 2 tablespoons of lemon juice
1 cup of ice
Add ingredients into a blender and blend until smooth
Serves 3. 90 calories, 2 grams protein, 0 grams fat, 20 grams of carbs, 5 grams of fiber, 10 grams of sugar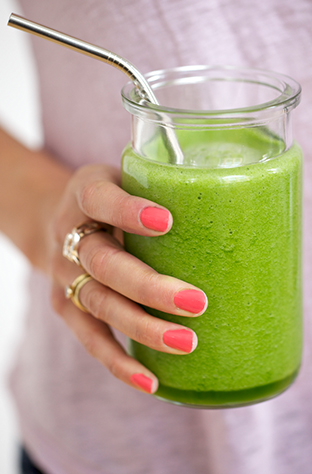 WATERMELON SKIN CLEANSER
"We all know that sweat is one of the best, natural ways to detox through our skin, why is why I like sipping on the Watermelon Skin Cleanser," says SOUL instructor Tiffany Houser. "It cleanses, adds the glow and hydrates my thirsty skin before, during and after a ride." Here's how she makes it:
1 cup coconut water
1 cucumber
2 cups watermelon
1 cup ice
Add ingredients into a blender and blend until smooth
Serves 2. 60 calories, 1 grams protein, 0 grams fat, 16 grams of carbs, 1 grams of fiber, 13 grams of sugar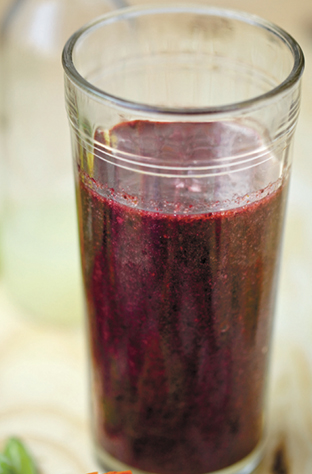 LEMON BLUEBERRY BLISS
"Sometimes after a great ride, our sweat pushes out a variety of toxins, so it's a good practice to rinse your face off with water, and to reduce any inflammation and balance your pH the Lemon Blueberry Bliss," says Houser. The recipe:
1 cup coconut water
1 cup organic baby spinach
1 Bartlett pear, halved and cored
2 cups frozen blueberries
2 tablespoons of lemon juice
1 teaspoon of lemon zest
Add ingredients into a blender and blend until smooth
Serves 4. 100 calories, 1 grams protein, 1 grams fat, 25 grams of carbs, 5 grams of fiber, 17 grams of sugar