101 ReSOULutions for 2016
December 31, 2015
Ready to jumpstart your January? As we get set to start 2016 strong, instructors share the reSOULutions and goals they're reaching for in the coming year…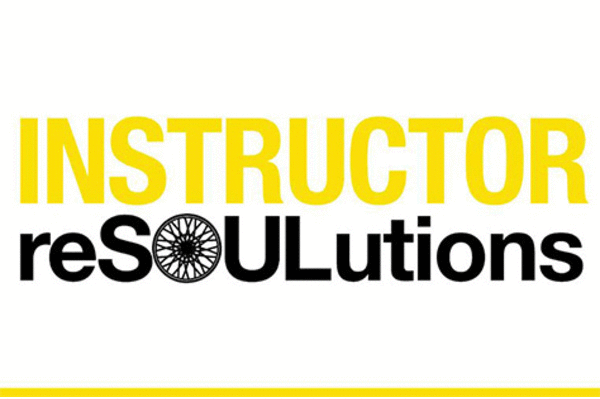 AYANA CURTIS
My New Year's ReSOULution is to be "The Example," to practice what I preach, and to not just talk the talk, but walk the walk.
PARKER RADCLIFFE
A goal that I have set for the upcoming year is to approach each moment with excitement and self-trust. I think that a lot of us already have the answers to our questions, but we're so busy planning the future or complaining about the present to actually accomplish anything.
ERIKA SHANNON
My big reSOULution for 2016 is cultivating HEALTH and JOY. I am turning 40 in 2016 so I want to feel as amazing as possible when the big day comes, and every day thereafter! My plan has three facets:
• Cleaner eating and good sleeping for my whole family!
• Decluttering on a regular basis and living content with less
• Spending quality time with my husband (with and without our daughter! We totally sucked at date night in 2015!). I can't wait for this year.
NOA SHAW
It's more of a mantra than a reSOULution but: "Stop thinking thoughts that scare you." I finished off every class in 2015 with "Love, kindness and gratitude," so this will be the end of every class in 2016.
SUE MOLNAR
I told my riders this week that my New Year's ReSOULution for 2016 is to "Bark less and wag more." That's it, in a nutshell.
EMILY TURNER
My 2016 reSOULution is to spend more time reading books than mindlessly trolling social media. Though social media is a big part of how I stay connected to all of you, I have to admit, I'm guilty of wasting precious time catching up on what the Fat Jew is up to (everything in moderation though, right?!) I already have a few on my list... Life is Good, I Am Because You Are, and re-reading Eat, Pray, Love (for like the fourth time...but I'm always open to suggestions!)
JENNY GAITHER
My New Year's reSOULution is to make time in my schedule once a week for my creative outlets, such as dancing, painting, improv and photography.
JAMES JARROTT
2015 was a lot of "new" beginnings for me, including the start of my journey as an instructor, diving - more like tripping - into the New York dating scene (please no questions from the press), moving into my OWN place (#noroommates #noproblems)... oh, and Vogue.
For 2016, I want to keep my momentum going in the sense of being open to all the opportunities I get to experience at SoulCycle, in NYC, and in life. The one experience I am most excited about is starting my journey as a stand-up comedian, which will hopefully help with the inappropriate things I seem to say during class.
And — not to sound like that "one guy" — but I want to start doing more giving back by volunteering my time and resources to some good causes that our riders support. The generosity and support of our SOUL family with organizations and charities such as Project ALS, Animal Haven, Coops Hoops and so many more is beyond inspiring. Plus, I could always use a little karma balance, right?
JACLYN MITGANG
My 2016 reSOULution is to take myself to the theatre at least once a month. I think starting with a solid and clear reSOULution will make everything else fall into place, and having more theatre in my life will do so much for me.
NINA RUTSCH
I want to incorporate more yoga weekly and practice living in the moment and MINDFULNESS. We live in a world of distraction — it's time to take a deep breath and focus on here and now!
BRENT LOCEY
My 2016 reSOULution is to build an even stronger Soul community in Chicago. Our opening here couldn't have been any better and we have so many amazing people that ride. In 2016, I'm challenging myself to make classes even more energetic and motivating so that our current rockstars are itching to bring someone new into our pack because it's a "can't miss" experience.
SAM SCAFFIDI
My New Year's reSOULution is to STAY IN MY OWN LANE. It's easy to get caught up in everyone else's stories, to compare our own successes to others', to want what someone else has, the list goes on. But the real challenge is in choosing our own path, paving our own way and staying in our own lane.
LAUREN MCHALE
Something Janet Fitzgerald recently posted really resonated with me. She said, "Don't want to hear about what you are giving up in the New Year. What are you adding?" I plan on adding more time to reflect, learn, recover and surround myself with people who inspire and motivate me to continue feeding my passions with hard work and relentless enthusiasm. If 2016 is half as amazing as 2015 was, it's gonna be lit.
MANTAS ZVINAS
One of my reSOULutions is not drinking any more cold water!
LINDSEY SIMCIK
One of my 2016 reSOULutions is more NOW. Sometimes I get stuck talking about what I want and not actually DOING it. Way too often do my nows become laters, which sometimes turn into nevers. Whether it's booking a plane ticket when I say I want to travel more or picking up the phone to call someone I've been meaning to touch base with or diving head-first into an acting class I've been talking about signing up for. I'm going to DO more and talk less.
LINDSAY BUCKLEY
I'd say I resolve to sleep more (I hope my baby is on board with this one too), do a date night with my husband at least twice a month and to visit and teach a few classes in New York! Ooh, and to meet BIEBER!
EVE KESSNER
PRODUCTIVITY! I've already gotten started on this one. A few weeks back I started my practice of meditating on my New Year's goals. I like to take time to be analytical about my year past and specific about what I want to work on in my year to come. It's somewhat of a resetting of the mind and one's intentions and an opportunity to grow forward.
I don't like the idea of starting fresh as that would take credit away from what I've already built. I think of it as a reenergizing of my positive change efforts. A relighting of my motivational fire. This year I reset early. I realized that there is no reason to wait for the new year to change my routine. Now is as good a time as any. My goal is certainly not to be busier, but to be more productive with my time. Efficiency is the key. Energetic is the aim. Smarter, not busier.
And in the last month I've added workouts, cut naps, participated in more activities with my kids, done more writing (this, here, now for example), and started reading a new book.
That's my short list… hopefully it leads to many new adventures, fresh ideas, deeper sleep, and lots of laughs.
LILY MIESMER
Drink more water!
ROSS RAMONE
To prioritize passion, and to make one brave choice every day. No matter how small that choice may seem, I'm excited to see what happens by making courage a habit. I'm also going to try to call my mom more.
CHANELLE LAGACE
My 2016 reSOULution is to add on — add on new experiences, new foods and recipes, and new workouts all while being a new mom. My goal is to focus on what is already amazing in my life, and let go of things that have a negative impact on it.
FRANZ GARCIA-CHON
I actually never make resSOULutions, but this year I coincidentally did. I really want to dedicate this year to all "the extra." The only way to get ahead of the curve and to be better is to put in the extra work when everybody else is just merely meeting the requirement. Magic happens when nobody is looking!
My first reSOULution is more creative. I've been wanting to buy huge canvases and take on painting as a hobby. Who knows, if they're good, I could sell them! Secondly, I'm trilingual but I've forgotten so much of my second and third languages. So I really want to be more proficient in both Spanish and Korean. And third, I want to do more of the "extra" workouts. I get bored so easily with just one thing. So I just need to push myself to challenge my body in lots of different ways. Consistency adds up whether we choose to believe it or not. So here's to 2016, the year of the extra!
AYA MURAMATSU
BALANCE. In all aspects of my life - personal, health, career, etc. Of course this is ongoing and changes as I grow, but this year I am taking a stand for balance in how I spend my time: more "me" time (including taking a solo vacation), and prioritizing my health (diet, exercise and recovery) as an instructor! 2016, HERE I COME!
SEAN LINEHAN
I've got the phrase "a rolling stone gathers no moss" in my head for 2016. My reSOULution is to push myself to keep growing, keep evolving and keep changing.
MARK FORKOS
My New Year's ReSOULution for 2016 is to spend more time with friends and family. There is no better feeling than being surrounded by the people in your life that build you up and support your endeavors. I also tell myself every year that I will practice more yoga... we'll see if 2016 is the year!
JILLIAN DAVIS
My New Year's ReSOULution is to do the things I want to do today rather than wait until tomorrow. So I guess, don't procrastinate.
COLE WILLIAMS
My reSOULution is to slow down, savor the moments a little longer and to take more photos!
LINDY FLOWERS
My reSOULution is to practice yoga more each week. It's a great complement to SoulCycle and keeps me flexible enough to keep running races! I'm also running the Berlin Marathon in September 2016 and hope to PR. I'm not sure if it's a reSOULution, but definitely something I'm working toward!
RACHEL LOEBS
My New Year's ReSOULution is to plan my wedding! It's in September and I have been slacking! January 1st, it's on!
ANTHONY MCCLAIN
To smile more at strangers. Like all things, change begins with small steps... and it's about time the world changes.
RYAN PIGNATIELLO
My friend Jeff Schiffman once told me that he makes three resolutions each year: a small, a medium and a large one. I loved the idea so much that it's how I approach each new year! Here's what I'm planning for my 2016 reSOULution:
• Small (something that you can do easily starting today): Reading for 20 minutes before my head hits the pillow to wind down
• Medium (something that might take a little more effort to develop into your routine): Adding more cross training into my schedule with weightlifting, megaformer work, and even dance classes!
• Large (the BIG one; something you'll have to really commit to in order to complete): 2016 is the year of Ryan's first marathon!
MK HURLBUTT
Show up. Show up for myself. Show up for the people I care about. Show up for what's going on in the world around me. Not just going through the motions but really showing up. Apathy ain't cute and I'm over it. It's time to show up.
MONIQUE BERARDUCCI
My reSOULution is to have HOPE, FAITH and BELIEF in my goals to love, trust and know my own worth in 2016.
NICKY BOCCUZZI
My reSOULution for 2016 is to read more during my free time. I used to read a lot while attending college. Not only did I feel it made me a sharp thinker, but also an all-around happier person. It feels good to take a step away from social media and disconnect for a while. I miss reading and look forward to digging in to some new books this year!
CHRIS PIPKIN
Before I answer the question I have to share my 2015 resolution. My friends and I decided to do 25 push-ups a day and every Sunday we added five more to our daily push-ups. Making the last week 280 push-ups a day which I am super F-word happy to be completing. I've always compared New Year's resolutions to the song 99 bottles of beer on the wall. Many start it, but never finish it. The fact that I've completed this past year's resolution proves we can do anything we want if we put the effort in. That being said my 2016 reSOULution will be to read a minimum of one page a day from my book of choice. It may not sound like much but I want to continue to set daily task and remain consistent.
GUNNER
2016 will be a year of doing more and not thinking about the "less." Smile more. Travel more. Go out with friends more. Stretch more. Sleep more. Kiss more. Hug more. Cuddle more. Bring on the love and happiness, new year! <3
ELLE CASCINO
My reSOULution is short and sweet: TO LOVE MYSELF first and foremost over anything or anyone else.
WAYNE PHILLIPS
In 2016, my reSOULution is to continue to build a healthy community with amazing people!
CASEY HIRSCH
Here are the top two of my BIGGER, SCARIER goals:
• I will purchase my plane ticket to Kenya for on a mission trip with the African Yoga Project.
• I will teach 12 rides, once per month, to raise money and support local nonprofit organizations/charities. These rides will have and host both people that support it and people who are directly being influenced by this ride.
ROARKE WALKER
One of my resolutions for 2016 is to be more present every day and detaching from my phone. I'm going to try to block off certain times for social media and also want to give myself plenty of time in the morning without my phone to be unplugged and get myself grounded for the day before diving in.
STRING
My reSOULution is to never stop learning because I know that right now my life and this journey I'm on is to never stop teaching.
LISA BOCCUZZI
My 2016 reSOULution is to do more yoga and get back into dance!
SABINE GERDTS
But my reSOULution for 2016 is to grow my brand. I've grown so much as an instructor this year. And I've met so many people who have inspired me, and who have felt inspired by me. The next step in my career is to inspire even more people to become their truest, most powerful selves. I want to connect to more people through social media and in real life. Teach bootcamp classes, online trainings, health seminars, you name it! If not now, then when?
SAL SABELLA
To first, just BE. Relax in that for a bit, then focus on being better. =)
ALLIE FELL
My reSOULution for 2016 is to travel more. I've had the privilege of living in some of the greatest cities over the last couple years and it's just made me want to see even more of the world!
TIRRELL CHERRY
My reSOULution is to put more time toward taking care of my body. I push the limits daily and want to reward it with more massage, stretching and tons of sleep!
CHARLOTTE HITCH
In 2015 I was blessed with the opportunity to travel to some pretty remarkable places; I was inspired by the different cultures I came across. That being said my 2016 reSOULution is to keep traveling and take advantage of all the amazing places that surround us all!
SARA SILK
MORE YOGA!! Every week I tell myself I'm going to go to yoga and I never do, which is why I'm challenging myself and my Boston riders to get to yoga twice a week for the month of January! Last month, Jeff R. and his riders took #JeffsChallenge to take class with every Boston instructor. This month is the #GotSilk challenge to get our butts to yoga twice a week because cross training is so important and yoga is a great complement to what we do at SOUL. #BostonInstructorMonthlyChallenge continues!
AUSTIN COPE
My reSOULution for 2016 is going to be LESS TALK > MORE ACTION! I'm really trying to go into this new year with a fresh focus on getting some items and goals crossed off my bucket list. Months ago I found this book called My Bucket List on Instagram and immediately ordered several copies for myself and some family members. After the initial excitement of starting to fill it out, it ended up being put on my bookshelf and not touched or put to use. So my plan for 2016 is to stop all the talk, making lists and coming up with ideas of things to do and places to see, and actually get out there and start DOING! Take action and start crossing off some items in this book :)
LAURA CRAGO
New Year's is always such an exciting time, for all of us. It's a victory for making it through the holidays. A time to start fresh. I am looking at my New Year's reSOULution is simply being the best version of myself EVERY DAY!
I plan to change the way I eat, drastically. Change the way I manage, and spend, my money and continue to save. I will complete my to-do list promptly, and will immediately write "thank yous," respond to text and voicemail messages (which I am horrible at). I will take time for myself while balancing time with bf, family and girlfriends. I will continue to learn riders' names and USE them (we all love to hear our names shouted out in class). I will consistently practice yoga, meditation, and read more. I plan to smile, trust, and believe more each day, and anything else that comes up throughout the year.
Don't limit yourself to one reSOULution — you are stronger, braver and more capable than just that. Whatever it is you want, go for it! Happy New Year!
DAVID ZINT
My reSOULution is to spend more time with those who lift me up and not bring me down, those who bring out my best not my stress. I also want to consistently mediate, add more yoga and add more laughter, have less phone conversations and more face-to-face conversations. And finally, to take the time to pause each day and say thank you.
MADELEINE STARKEY
My 2016 reSOULution is to trust my instincts more readily. 2015 taught me that my gut is very intuitive, so 2016 will be a year in which I trust those moments when my body tells me certain people or situations aren't serving me and should be cut out of my life. Cheers to faith in our ability to know exactly what we need!
ANTHONY FRANJOINE
My reSOULution? Braver than 2015; unattached to end results!
OLIVIA WARD
My 2016 ReSOULution is to invest as much on my "insides" as I do on my "outsides." I want to read more and take time for the important moments. I've learned over the years that when the inside and outside are in balance everything else falls right into place.
GARRETT SCHLOSSER
I have been really bad about doing other workouts outside of SoulCycle this year, so one of my reSOULutions is to do some sort of non-SoulCycle workout at least twice a week. I am also starting grad school this January at Georgetown, so one of my reSOULutions is to make all As this semester, and the next, and the next... well, you get the idea.
STEVIE SANTANGELO
This is totally ironic because I'm known for specifically NOT making reSOULutions. I look at the typical resolution in the same light I do a self imposed juice cleanse at the end of every holiday. They are quick and harsh actions that offer no sustainability or feeling of accomplishment unless by accomplish you mean deprive and withhold love from yourself. Every NYE there is a hit list of "THINGS I'M GOING TO TOTALLY DO" and by Hampton season, it's lost somewhere in the West Village (because honestly, who hasn't gotten lost there. Who designs roads like that anyway?… okay, bad joke). One of the best working definitions of Resolution is "the act of finding the answer. To solve."
The SoulCycle culture inspires me to say (because we Get. Sh*t. Done.) that my reSOULution for 2016 is to resolve daily all that would get in my way and congest my life; things both externally and internally that block my light, occupy space and impact my emotional, physical and spiritual freedoms.
I resolve to fix things when they break, to have "that talk" now, not later, to make improvements and changes in a humane and timely manner. No "deferred payments" on positive actions. We raise glasses not expectations. So if "staying in" is the new "going out" and making dinner for each other is better than hitting a restaurant, then let's have the reSOULution be a lifestyle not an event. Cheers to living the solution.
Questions or comments? Email blog@soul-cycle.com! Want to ride? Grab a series HERE and book a bike!
MORE FROM SOUL