100 Rides And a Healthier Me: CHARLES MARTIN'S SOUL Story
March 25, 2016
In early December of 2014, my father passed away. He was 81. It wasn't a complete shock considering his age, but you are never fully prepared for that phone call. The business of a funeral and everything that putting someone to rest involves keeps you distracted, but only for a while. Losing a parent made me realize that I, too, was getting older. Christmas came and I filed all those heavy emotions away.

A few months later, my 8-year-old son was admitted to two different pediatric ICUs (PICUs). He spent 33 continuous days in the hospital. What originally seemed to be just a normal bout of the flu turned out to be a scary, rare (1 in 250,000 chance of acquiring) infection that caused his body to go into septic shock. His organs began to shut down. A lot had to be done very quickly.
After we arrived at our second PICU in as many weeks at Children's Hospital LA, we got the "talk" -- the conversation about him possibly not making it through. I was actually relieved that my father wasn't around to endure this. The stress would have been a lot for him.
In the midst of my son's health crisis, I was commuting more than 50 miles to Orange County from my home near Pasadena to participate in 34 weeks of intense agency training for my new job as an Insurance agent. Despite the hectic schedule, my wife and I managed to support our child as he recovered. For the most part, we lived at his bedside as she and I checked in with work and the training center as best I could. Our bosses, friends and family were incredibly supportive during this time. The amazing doctors and support team at three hospitals saved my son's life.
A few weeks ago, we celebrated our one-year exit from the PICU by taking our son to visit the floor where he lived at CHLA — he brought the whole floor lunch as a way to say thank you for the great care they took of him. We learned that hospital staff members, for the most part, rarely encounter their patients post-discharge. It was so wonderful to see how our son and his healthy recovery made so many people happy.
Once our boy was home, I realized that opening day for the insurance agency was fast approaching. I decided that I needed to get back into shape. I had run four marathons over 10 years, but I became disinterested in the whole race prep cycle and quite frankly, didn't have the time. I needed something new. I am very much the energizer bunny, but old age kept winking at me in the mirror.
That's when I read an article about SoulCycle's founders in
Inc Magazine
in June and really connected with their story and philosophies on running a business. The idea of a luxury workout that smelled nice (Yes! That matters!) and a complete and compact workout in 45 minutes appealed to me. I thought their principles around excellent customer service aligned with the way I would soon run my own business.
Later that same day, I saw a tweet from actress Kaley Cuoco in which she was bragging about her SoulCycle-made body. It was a picture of her by a pool showing off her amazing abs. I believe the universe sends you the important messages in many different ways. To me, this was a sign I needed to check out SoulCycle.
I mulled it over and decided that I needed a partner in crime. I woke my wife up that Sunday and said "we're going to SoulCycle and you can't say no!" I figured the chances of her actually joining me were 50-50, but she agreed to come along.
We had no clue what we were about to get into. Our first ride was with
Chris
and like many instructors have said since, "it's the hardest ride." It wasn't Chris's fault; there are just so many moving parts. The rush in the dark to get everything adjusted and situated didn't go that well. I thought I'd never go back. Luckily Jenny, the manager at the time, emailed to check in on our first day and I told her I was a bit harried and hadn't decided what to do next. She urged me to try again. I showed up later that week for a rooster (7 AM ride) and one of the PDNA greats, Erin, took her time to make sure everything was perfectly adjusted. I rode with Danielle that morning and the rest is history!
I just passed my 100th ride and drove almost two hours in traffic last week to get into Akin's last LA class in Brentwood. What a very cool ride that was! I am still learning how to ride better. SoulCycle is a great place to continually work on your form and focus.
I was never overweight, but I have lost 14 pounds since July – mostly my "daddy gut." I proudly call SoulCycle my Church. I love the people in my class and I love my favorite instructors: Chris,
Lisa M.
and
Ciara
. The managers and support staff are awesome too. There are only a few "oldsters" like me in the studio (I turned 50 last August) on a regular basis, but I hope more will follow. I now ride in two 6 AM classes on weekdays and then on Sundays with my wife. My agency colleagues thank me for sanding down the anxiety before I arrive at work.
There is an awesome lady in her 70s named Martha who rides with us roosters and she and I have bonded. Her dedication inspires me. We all ride together and support each other, no matter what kind of day we're having. There are a few more regulars I worry about if I don't see them at class. It truly is a supportive and loving community. When I notice a newbie coming in, I always walk over and say, "just enjoy the music and RIDE!"
Chris really summed up the whole experience during a recent class. He said that when we tap into our physical selves, it helps us connect with our mental and spiritual side. I could not have said it better, Chris!
Thank you, SoulCycle!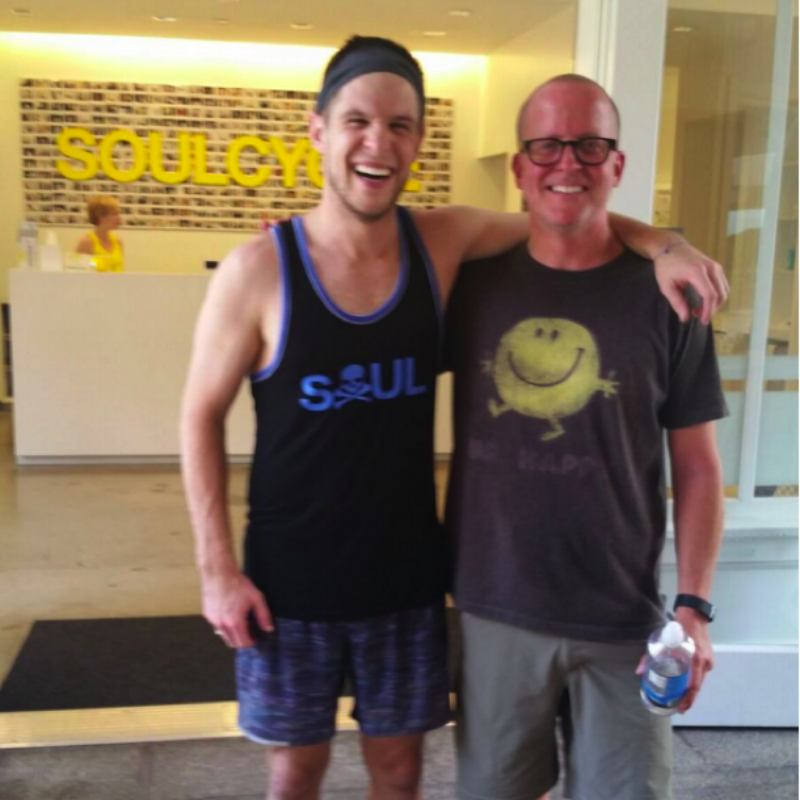 Do you have a Soul Story to share? Email blog@soul-cycle.com! Want to ride at SOUL? Grab a series
HERE
then book a bike!
MORE FROM SOUL: