Why You Should Take a Friendmoon
August 30, 2016
OUL Instructor CHARLEE ATKINS and rockstar MERIDITH MILLER know a thing or two about friendship. When they're not tapping it back together, they're writing for their blog, Le Sweat, and traveling the world. They sat down with SOUL to talk about their favorite way to travel: the Friendmoon.

The Friendmoon, Explained
WHAT: A non-romantic trip taken with a friend. It includes, but is not limited to: use of a passport, scooters, making foreign friends, currency exchange, language barriers, new cuisines, difficulty with Wi-Fi and spontaneous adventures.
WHO: Two friends. Any friends. Key factor: Someone you are not romantic with.
WHERE: ANYWHERE you've never been before. Sounds exotic, right? It is.
WHY: We're going to elaborate on this one a bit more… but first:
The Origins of the Friendmoon
Meridith is an avid SoulCycle rider. She enjoys the cardio party that is SOUL so much so that she rides almost daily, and predominantly in her home studio of
TriBeCa
with
Charlee
.
After two years of riding together, we bonded over peanut butter and travel. (True story: Meridith bought Charlee a jar of peanut butter as a birthday gift). The following year, we went on an adventure to Thailand, where we realized we should continue our travels to other "romantic" destinations in a non-romantic manner. Thus, the friendmoon was born.
Our thought process as two singles at the time was, if we're willing to celebrate our marriages and babies with travel on so-called 'honeymoons' and 'babymoons', then why don't we also celebrate our friendships through travel on a so-called "friendmoon?' The answer was obvious: We should... and we did.
Here are four reasons you should take a friendmoon, right now:
1. Ditch the Dating Norm
Picture yourself traveling to some of the world's most romantic destinations. Did you picture yourself on an exotic beach or touring a European city next to "Mr." or "Mrs. Right"?
We tend to exclude dream destinations when planning travel with friends, stuck on the idea that one day, we'll go with a romantic partner. But that means we can be missing out on some of the world's most beautiful and experience-rich locations. Why not just go while you're single, too? I.e. now.
Waiting for someone you don't know yet to show up before you start going where you want to go in life is crazy. Stop swiping right looking for Mr. Right and do you right now.
2. Love Without The Stress
Friendships can be the best way to practice love without actually being in love, and traveling can heighten that experience between friends. Whether you go to a typical "[insert]moon" destination or not, traveling with anyone requires trust and vulnerability. Combine this with the shared experience you have while traveling, and it creates a very special bond. We should embrace these relationships through friendships, and traveling helps create that.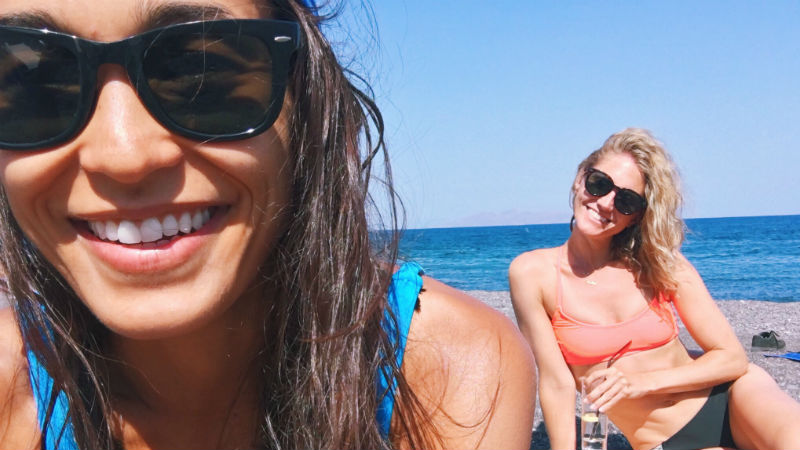 3. Workout Buddies
Staying active and le sweaty while traveling is a challenge, but it's not impossible when you have a workout buddy at your side (shameless plug: we run an online publication titled
Le Sweat
that features great content, including how to be successful in fitness while traveling). Since SOUL isn't international (yet!), we had to find other ways to stay le sweaty while on the road. Our biggest tip? Adapt to your surroundings and always opt for moving on foot.
This vacation adaption, as we've called it, includes turning cities into your urban gym, running along the coast line or getting in a few push-ups on the sand just to make ya feel like you did something active. These activities also provide for some pretty great social media opportunities. Just sayin'.
4. Live in the Now
Last but not least, why not? Take the pressure off of going on vacation with "Mr. Right." Take the pressure off of picking the perfect place. Be present with who's in your life right now and stop planning for what "could be" down the road. If you want to go somewhere or experience something now, then get all of the excess stuff out of your head and just go! You've got nothing to lose and only an amazing experience with your friend to gain. #friendmoon.
A version of this post previously appeared on Le Sweat.
Photography by
Charlee Atkins and Meridith Miller