The Story Behind Jaclyn Mitgang's Tatoos
June 15, 2016
attoos can tell powerful stories about your past, your present and the future you hope to achieve. Chicago instructor JACLYN MITGANG opens up about what inspired hers — and how each one reminds her to lead her life with strength and love…
When did you get your first tattoo and what is it?

I got my first tattoo when I was 23. It says "Ladybug Love" in script on my hip. Ladybug Love means "love that is with you no matter where you are or what happens." I came up that idea when I was 15 and finally got it when my grandfather passed away.
How many do you have now?
I currently have 28.
Can you name them all? Stories behind them?
Absolutely. Each and every single one has story behind it. Some might be more meaningful than others, but all of them represent a certain moment in my life. I remember exactly where I was, what I was feeling, and what was going on in my life for every single one.
Do you have a favorite?
It changes all the time — but my current favorite is the butterfly on my arm. It represents a lyric from Elton John's song Someone Saved My Life. "Sweet freedom whispered in my ear you're a butterfly and butterflies are free to fly…" was the inspiration. I got it the week before I moved to Chicago. I have an Elton John theme ride coming up tomorrow at 4:30 PM in Old Town that I am so excited about, so my heart is kind of in that place right now. His music was a huge part of my upbringing. A lot of my tattoos are music related actually. I've got "Lullabies go on and on" (Billy Joel), "I am a River" (Foo Fighters), "I'll follow the sun" (The Beatles), "La Vie en Rose" (Edith Piaf) ….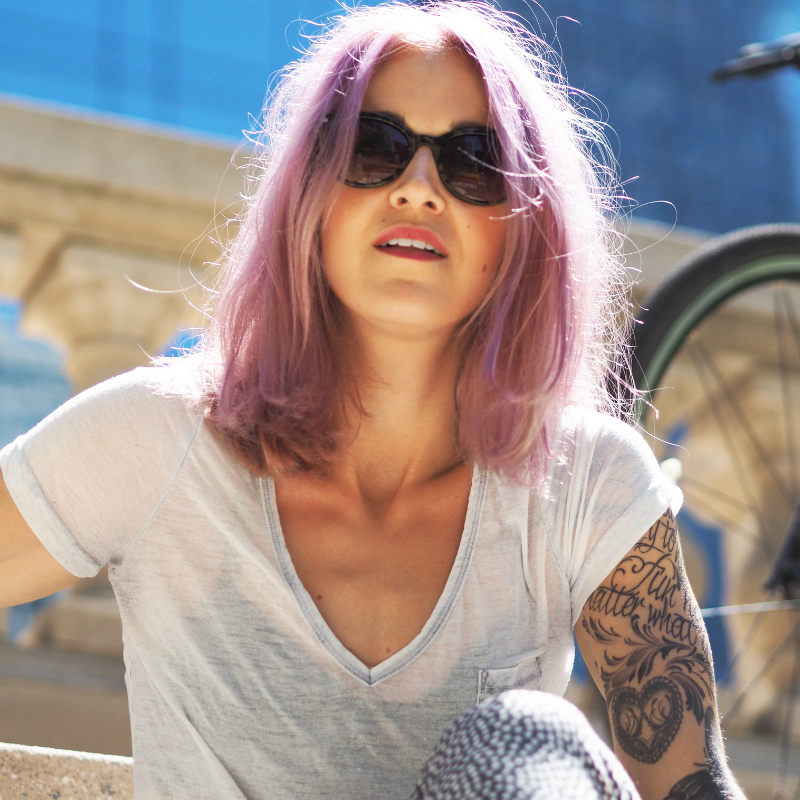 And we have to ask: Which one hurt the most?
It never gets easier — but some parts hurt less than others. Everyone is scared of getting one on the ribs — but that was my second tattoo. It's a portrait of Lucille Ball. It wasn't that bad because it's shaded very delicately and I don't find shading that painful. Line work is bad — and if If I had to choose, I'd say the worst parts of the body are right by the elbow and right by the ankle.
You've mentioned that you used to hide them. Why?
I grew up in the theatre and it was kind of put into my head that it was forbidden in the business. I'm also the only person in my family who has them - so it was a big deal. And although I think we live in a world that is more accepting of them now, there is still a stigma. Some of the looks or questions I get about them are very entertaining to say the least.
What made you decide to share them with the world?
The first "hard to cover" tattoo I got was the heart on my bicep. I got it a few weeks before I auditioned for Soul. That was one of the most magical and life-changing times of my life. I had no idea if I was going to be accepted into the instructor program or not, but there was a fire in me that felt like it had been waiting all along to be lit.
How so?
I love theatre. I love the fact my background comes from performing — but auditioning for SoulCycle was a different kind of audition. I got to be myself. The role I had to fill was that of MYSELF. That was the coolest thing about it. Performing has always been my outlet. Music is my outlet. But with SoulCycle, it's a job that combines my passions and I get to be myself while I do it. It can be the scariest and most vulnerable part about the job, but that's what helps it feel so rewarding.
What's the significance of the heart?
The heart is a replica of a silver box my grandparents gave me. They owned a silver shop on Lexington back in the 50s and gave each other silver hearts every year on Valentine's Day. When I got it on my arm I decided to put it in the place that faced forward. It reminds me lead my life with love and it was the first step of truly allowing myself to be exactly how I wanted to be — tattoos and all.
Tell about this tattoo...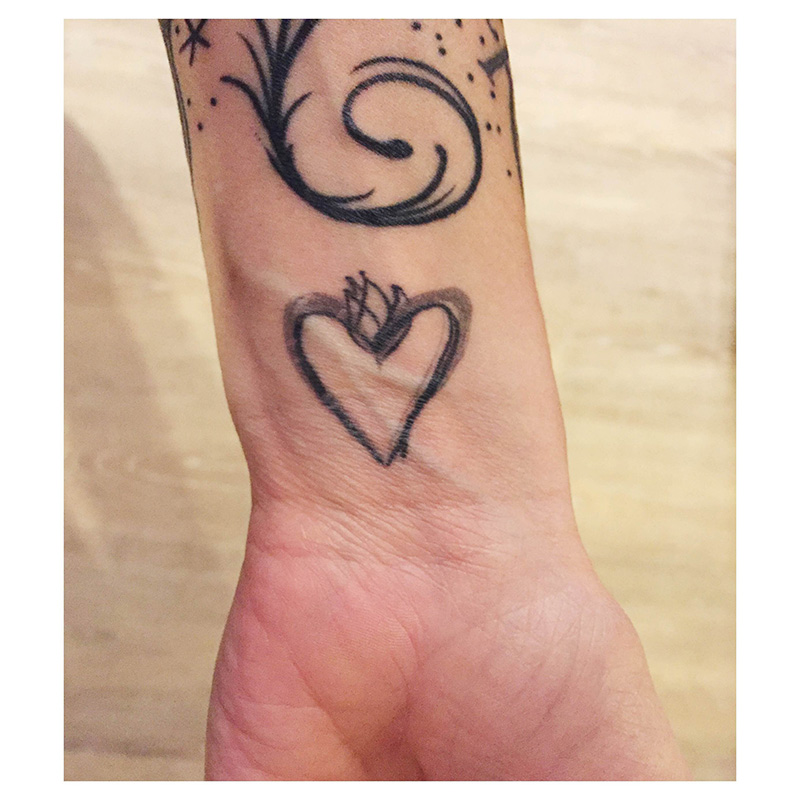 Instructor Noa Shaw and I have two matching tattoos. We got the sacred heart before I moved to Chicago. Then we got matching sparrows when I went back to New York to visit. Noa was my first Instructor but has become one of my dearest friends and biggest support systems. Whenever I have a moment of doubt, I can think of many lessons I've learned either in his class or from conversations we've had, and snap out of it.
And what about this one? What does "Nothing is Random" mean to you?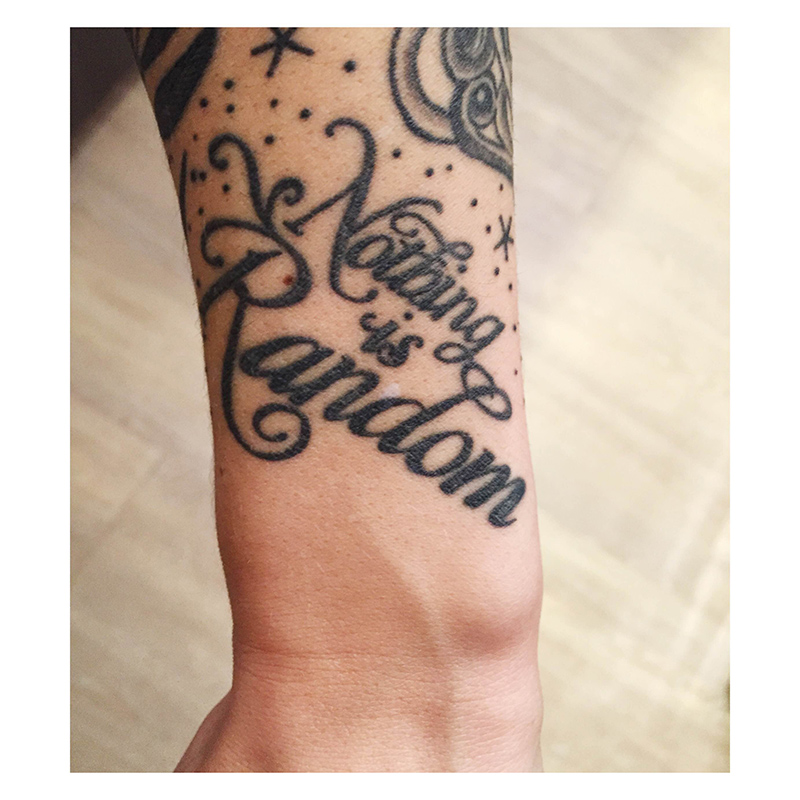 A few years ago, I watched a young waitress make YouTube videos of herself singing. Her music was something I connected to straight away. The first time I ever heard about SoulCycle was when she tweeted about it. I tried a class three weeks later, and three years later — here we are! Oh yeah, and that YouTube singer? She's no longer a waitress. She's 4x Platinum Recording Artist, Christina Perri. She has the tattoo "Nothing is Random." I truly believe I found her music a long, long time ago, to start the journey of where I am now. I got "Nothing is Random" on my wrist when I got accepted into the Instructor Program. My gut knew there was more to the reason why I found her music and now I understand why.
Are you planning to get more?
I want to complete my left arm. As of now my right arm only has a John Lennon doodle and a Muse lyric that reads "our love is madness." I want to keep that arm just like that. I think once my left arm is finished I will just get a few here and there… but as life keeps happening, so will the tattoos.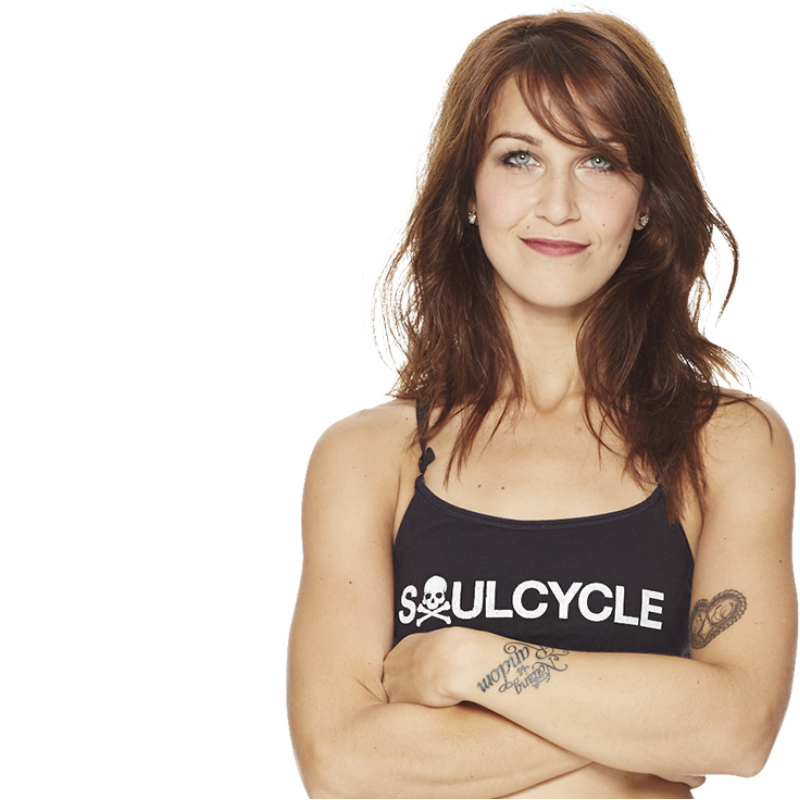 Advice for someone considering getting one?
People obviously get them for different reasons — but in my personal experience, I adore them all. They are like little keepsakes of your life. A little scrapbook to remind you where you've been — I think anyone who wants one should get one. Also, if you tell me you want one, there's a good chance we'll end up in a tattoo shop 30 minutes later. I have a few friends who can attest to this.
Catch classes with JACLYN at SOULCYCLE OLD TOWN and SOULCYCLE SOUTHPORT!
Questions or comments? Email SOULlife@soul-cycle.com! Want to ride? To book a bike, grab a series HERE then book a bike!