SOUL ink: Ian McAndrew
September 16, 2016
AN MCANDREW shares how his tattoos have taught him lessons about perfectionism, acceptance and self-love…

I find tattoos to be incredible. They're artwork on your body created by you and a tattoo artist. While sitting for hours getting needles dragged across your skin, you are bonding with that artist, someone who cares just as much about these pieces as you do. My girl is Kristi Walls and she's in NYC at
Bang Bang Tattoos
.
Art can be defined in a million different ways, but the truth is it's really just expression. The way an instructor teaches their class is art. The way the rider rides the bike is art. The way the studio runs the check-ins and day-to-day, to me, is art! And art is one of the most inspiring things in this world. I believe if we can find art in our every day life, then we will continue to be inspired on our journey.
Here are some of my favorite tattoos that convey my personal journey.
1. Musical Notes
Location: Left forearm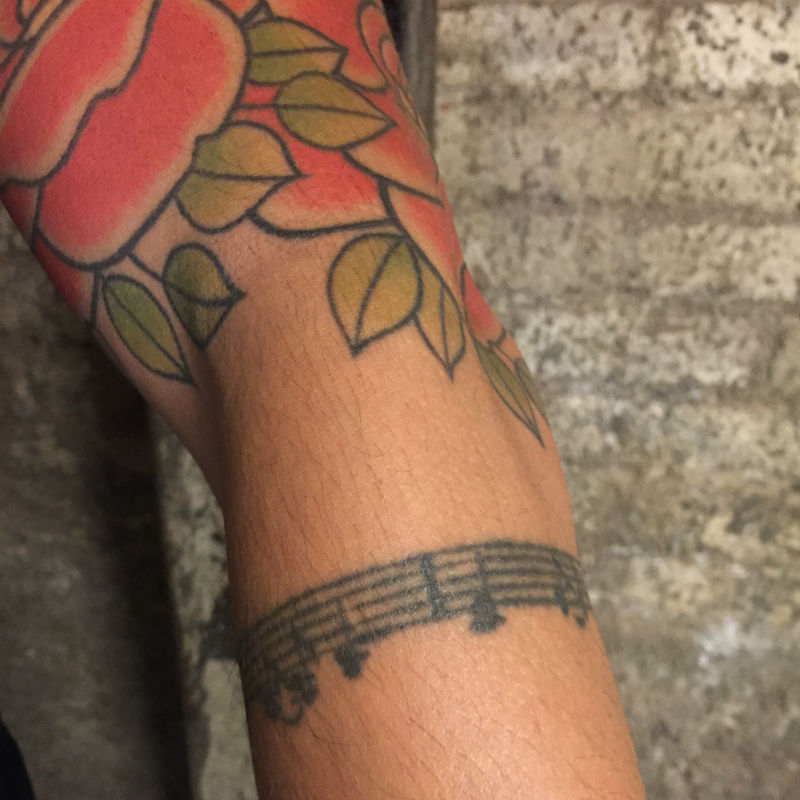 The song is "Keep Breathing" by Ingrid Michaelson. The lyrics to this part are, "All I can do is keep breathing," and it was my first tattoo. I got it when I was 18 at this dumpy little place in Greenwich Village in New York City. I was deciding at that point if continuing a life of pursuing acting and music was still for me, and this was my way of keeping music with me at all times, no matter what my ultimate decision was. Nobody was going to force my decision or make it for me; I could only breathe and figure out where life was gonna take me.

When the tattoo artist drew it, he missed two things, so it's musically incorrect. I originally wanted to fix it, but decided to leave it incorrect. I'm a HUGE perfectionist and it's my reminder that even though something isn't perfect, it still has meaning and beauty.
2. Cobra coiled around an anchor with two roses at its base
Location: Left upper arm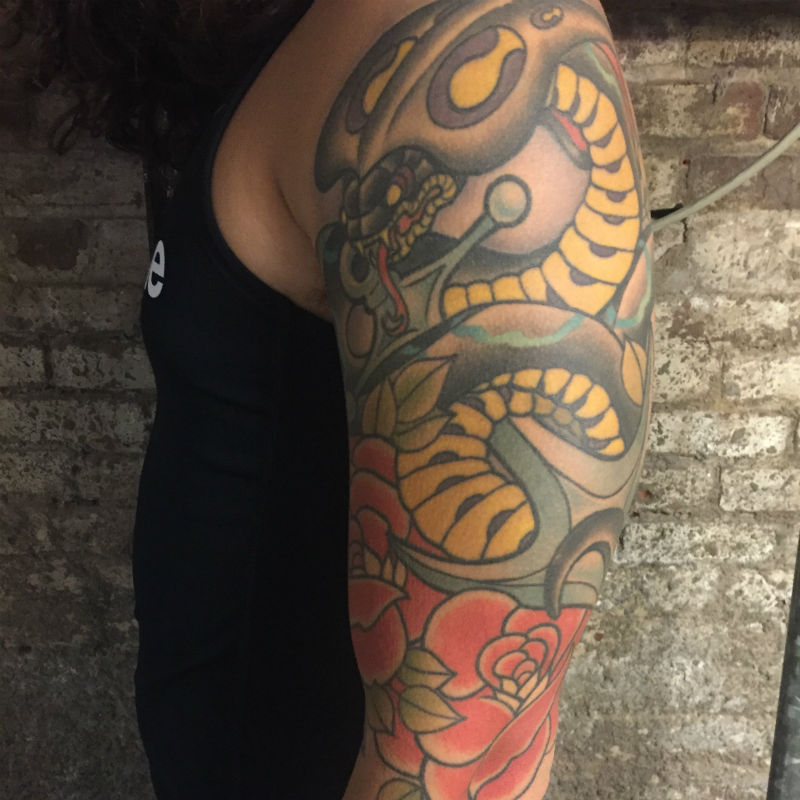 The cobra or snake tattoo is a symbol of constant rebirth. Snakes constantly shed their skin and I've always been a firm believer that in order to find change in your life, you need to be in the constant pursuit of change.

The snake represents that for me. An anchor can have numerous meanings but for me, it's a symbol of gay pride. I was bullied a LOT growing up, but I developed a thick skin. The anchor holds the ship in place no matter what current or wind is trying to move it. The same can be said of strong gay people. No matter who has told us what they believe we should be, we don't budge. We know who we are, stand firm in who we are and refuse to apologize, no matter what hate or action is brought our way.
The roses, to me, are my symbol of independence. When I was 19 I was a server in a restaurant and was dating this guy who was 27 and owned a fine jewelry store up in Connecticut. He was very wealthy and flaunted it all the time. He used to buy me all of these incredible gifts that any 19-year-old server would be enamored by... but the truth is all I ever wanted was for someone to buy me flowers when I saw them. Red roses, to be exact, because they're my favorite. And he never did. The roses were my symbol of "what you don't give to me, I'll get for myself." I don't think we should sit around waiting for someone to hand us the things we believe we deserve or the life we want. I wanted the roses, so I got myself the damn roses.
3. Peacock Feather
Location: Right forearm
It's a symbol of courage and authenticity. Peacocks show their feathers when they feel threatened or need to fend off a predator. I fell in love with the idea of showing every part of who you are to scare away the things that you don't want around you. I really find it fascinating that they their beauty shows when they want a threat to leave them alone and I do my best to live authentically.

4. être, adorer, vivre (to be, to love, to live)
Location: Inner right bicep
These are three simple verbs that hit on what we so often miss. We forget to be who we are because the world tells us to be somebody else. We forget to love because we become clouded by negativity and judgment. We forget to live because we have allowed fear to be too strong. I wanted them on my bicep to remind me that when we decide to BE authentically, LOVE whole-heartedly and LIVE fully, we are our strongest.

5. Sampaguita flower
Location: Right shoulder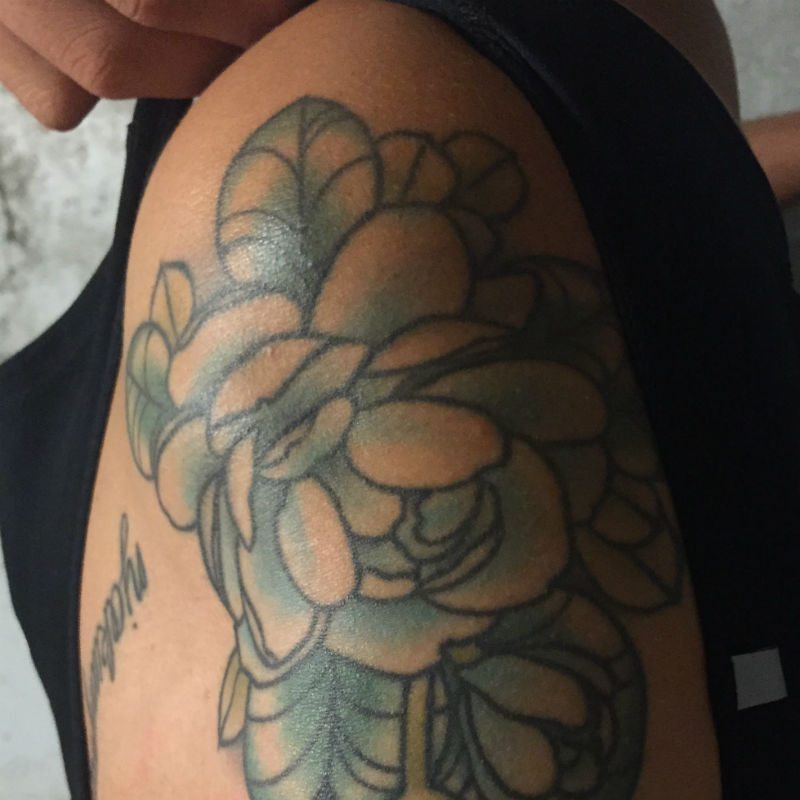 I'm half Filipino and it's the National Flower of the Philippines.
6. North Star/Compass
Location: Right calf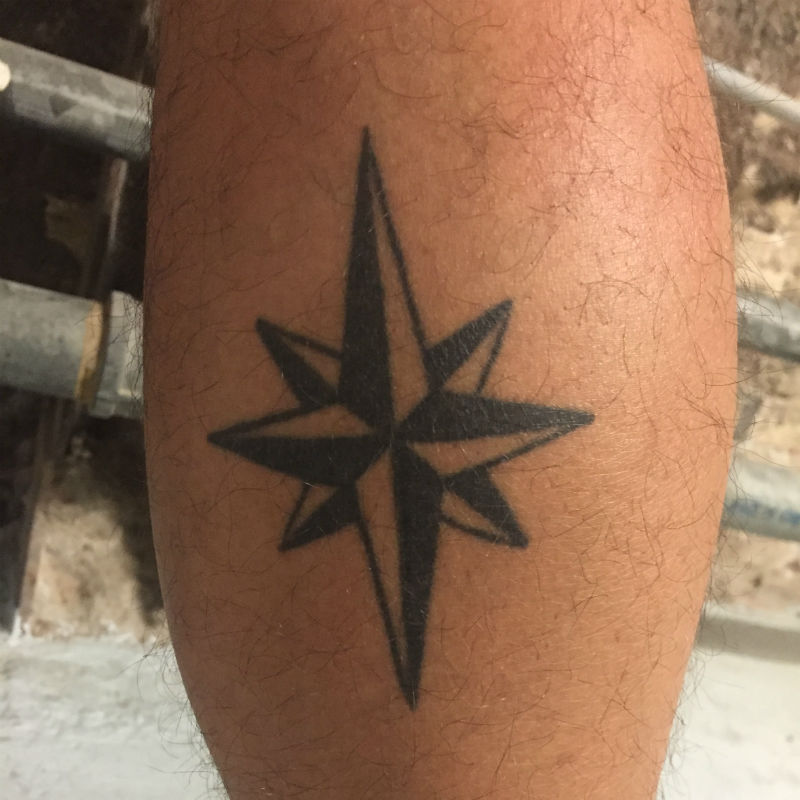 I managed a restaurant in NYC at the time I got this one. I was 20 and working 70-hour weeks for $40K a year and I was absolutely miserable. One of the biggest things was that I never saw my family during this job and they were just out on Long Island. I used this as my reminder to "guide me home." No matter what you are doing or how busy you are, family and home is the most important thing in this world.
7. Njakuangula, meaning "I will be victorious" in Luganda
Location: Right collarbone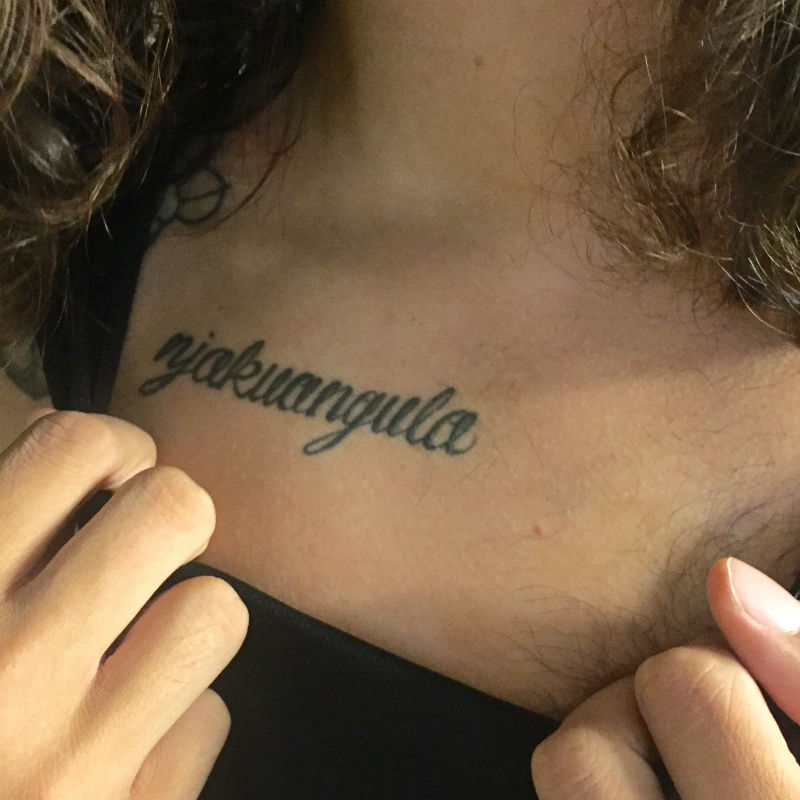 This one has a bunch of meanings. My friends joke around with me because when I'm wearing a tank that covers just the beginning of it, it looks kind of like "Arugula" and I work in fitness, so it's a bit funny…
My friend Matt Gould wrote this song for his musical, "Witness Uganda." When I heard it, it was under a different title and written for a South African girl affected by Apartheid. He wrote the song based off of this poem that a young girl had written on how she was affected by Apartheid. Her father was killed and her mother was raped and living with AIDS before she died, but the girl wrote a poem with the title "I will rise." I used it as my reminder that life can throw you so many different things at once and things can get REALLY bad. But no matter what, you have to go into it thinking, "I will rise above and I will be victorious."
At SoulCycle. we push through things that are PHYSICALLY difficult, and we are stronger because of it. What if we did that in our regular lives, too? What if we push through things that are emotionally or spiritually or mentally difficult, and we're stronger because of it?
Side note: I got this tattoo when visiting SF to see if I wanted to move here and Allie Fell and Lauren Bruker got tattoos as well. The guy that did mine had one arm and his nickname was Dr. Claw. And he's a tattoo artist. Talk about rising above given the circumstances, right? Seemed like fate.
8. Equal Sign
Location: Left ring finger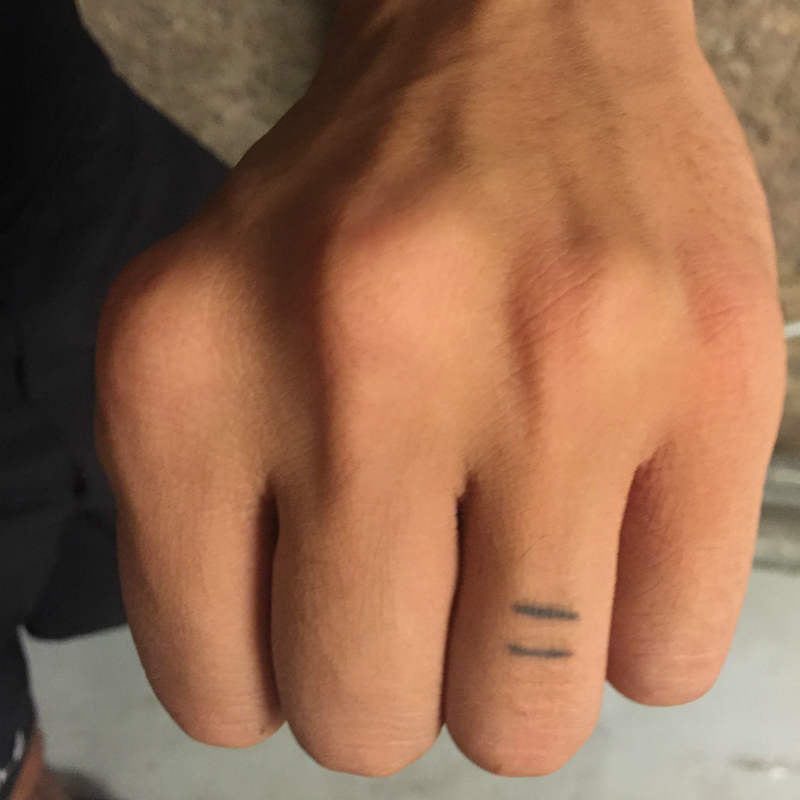 This one may be a bit more obvious. All of my tattoos are in places that can be hidden if wearing a suit. This was out of respect for my mother, because she HATES tattoos. She tells me mine are beautiful, which is nice, but I know they just aren't for her. So out of respect I hide them when I see her if I can. This tattoo is my symbol for marriage equality and is the only one visible if I'm wearing a suit. I worked hard volunteering for Marriage Equality in NYC when the fight was over there. I wanted a symbol for it, obviously. The idea behind it is that it will one day be covered when I can get married. Now I can... so it's just a matter of finding the right person!
Do you have a SOUL Story to share? Email SOULlife@soul-cycle.com! Want to ride at SOUL? Grab a series HERE then book a bike!