Rider Report: Gail Simmons
September 26, 2016
hen she's not on camera judging Top Chef, GAIL SIMMONS can be found tapping it back and prepping for her new Food Network show, Star Plates, where celebrities cook alongside their favorite chefs. Before it premieres September 27th, we caught up with this busy SOUL mom about her greatest indulgence, her beauty routine, the post-ride snack she loves and more…
Favorite song to ride to?
At this very moment, Chance The Rapper's "All Night." Or classic MJ, "Man in the Mirror."
Favorite post-ride snack?
If class is in the morning, an iced coffee and a cup of chia pudding. I make it with my 2 1/2 -year-old daughter, Dahlia. We add almond milk, a banana and cinnamon and top it with fresh mango, coconut flakes and a little maple syrup! If class is in the evening, I am usually headed home for dinner, preferably with a glass of wine to congratulate myself.
I knew I loved SOUL when…
...I felt like I couldn't pedal for another second, but somehow still wanted to go back the very next day.
What did you eat for dinner last night?
I am in the middle of recipe testing for my first cookbook (to be published in the fall of 2017), so dinner consisted of little bits of leftovers from yesterday's work: spaghettini with burst cherry tomatoes and fresh ricotta; grilled corn salad with feta and dill; raw shaved zucchini with harissa and mint; a few bites of roast chicken from the day before and some smoky roasted eggplant. Plus a peach. I try to eat them as much possible these days as soon they will be gone. And desperately missed.
Name three things you'd take with you to a deserted island.
Spotify, beef jerky and tequila… oh, and a knife. Laguiole, this beautiful French brand known for its steak knives and cutlery, makes awesome pocket versions with stunning wood handles. I know, that's four things. But too bad.
My happy place is…
At home, eating a meal on my back patio with friends and family, watching my daughter splash in her tiny kiddie pool (we call it her infinity pool). Or with my family anywhere, really, preferably Negril, Jamaica; Gloucester, Massachusetts or Aspen, Colorado.
Hairstyle you rock while riding?
Pony, with a headband for the front layers that never stay back!
First thing you did when you woke up this morning?
My daughter is our alarm clock. I heard her calling me and went to her room for some early morning playtime. Lately, she's been really into hide-and-seek, but never finishes counting to 10, so I am usually found pretty easily.
Last app you used on your phone?
Dark Skies. I am obsessed with tracking the weather and it's the most accurate, I find!
If you could ride next to anyone, who would it be?
Besides Queen Bey? Misty Copeland on one side, David Beckham on the other.
LA or NY?
NYC. Downtown Brooklyn is my local spot. But I'm in LA several times a year and I always try to sneak in a ride, especially if there's a
Roarke
class. He was my first instructor in NYC years ago and I still miss him.
Crops or leggings?
Crops!
Pizza or pasta?
BOTH! But not usually at the same time.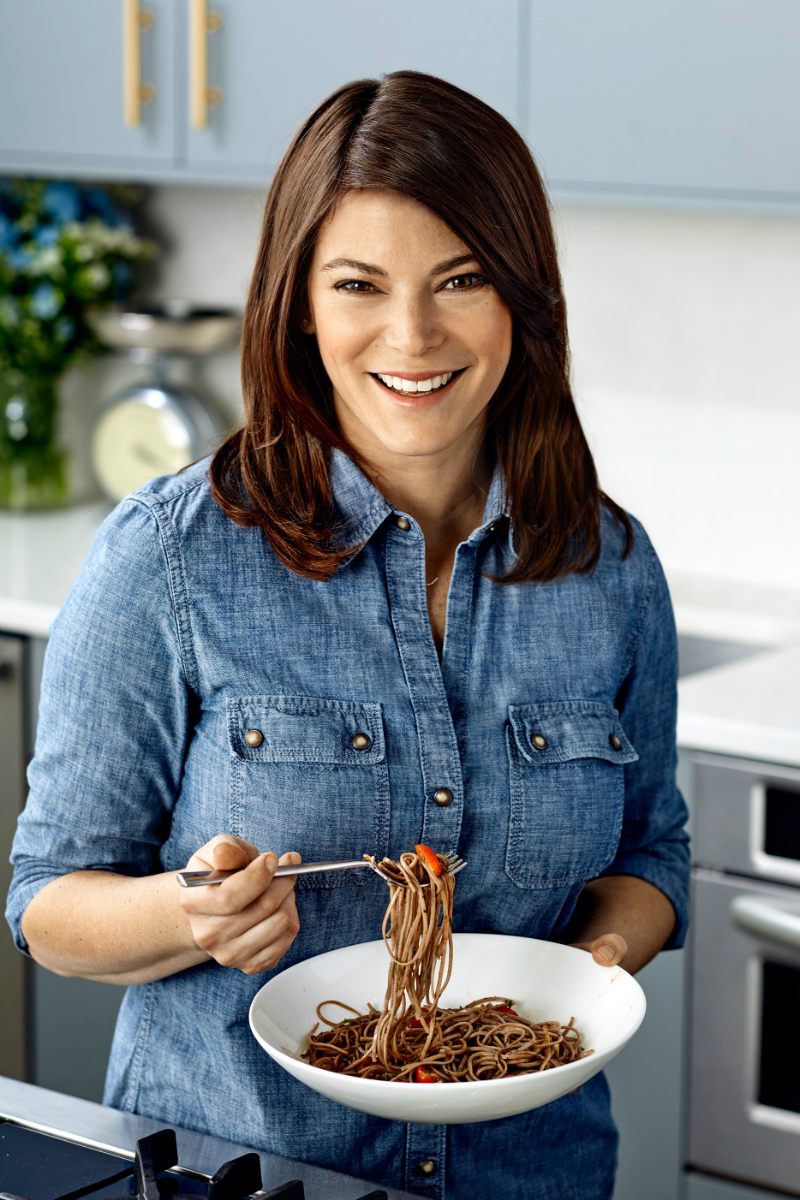 Greatest indulgence?
Paintbox Manicures. Linen sheets. Lots of uni (i.e., sea urchin). Rose champagne.
Beauty secret?
Sunscreen is a MUST. I use MDSolarSciences Mineral Creme Sunscreen SPF 30 or 50. I wash my face with the simplest drug store face wash from Canada (where I'm from): Marcelle Gentle Foaming Wash. It's the best! I stockpile it whenever I go home, along with their travel-size makeup remover wipes. I also love Glam Glow Revitalize Eye Mud Treatment. My family calls it "eye poop." It's awesome!
What about for makeup?
I wear Cle de Peau concealer and Benefit's Dallas Box o' Powder Blush. I like Clinique Chubby Sticks for lips, eyes and cheeks and Fresh Tinted Sugar Lip Treatments with SPF. I need to be fast in the morning and have this application down to a swift three-and-a-half minutes.
Sweet or salty?
BOTH! But again, not usually at the same time. I generally don't like my sour dill pickles or potato chips anywhere near my chocolate or my coconut cake.
Instagram or Snapchat?
Insta. I think I may be too old for Snapchat, but I'm trying…
You can't leave home without....?
My phone. My contact lenses. My Vans.
First ride memory?
Sitting WAY in the back and not being able to get out of my clipped-in shoes!
Catch the premiere of Gail's new show, Star Plates, on The Food Network on Tuesday, September 27th at 11/10 c. To learn more about Gail, visit GailSimmons.com.