Read an Exclusive Excerpt from Stacey G.'s New Book "Two Turns From Zero"
January 30, 2017
fter leading the SOUL pack for more than 10 years, Senior Master Instructor Stacey Griffith has racked up many impressive titles: expert motivator, fitness virtuoso, epic entertainer, super-coach, self-empowerment guru... and, now, book author. Her new book, Two Turns From Zero (Harper Collins), leads readers on a journey to take their health and fitness to new levels while boosting their emotional and spiritual wellbeing in all aspects of life. (Click HERE to pre-order it now!) Check out our exclusive excerpt from the introduction below, then read the whole inspiring book when it comes out on March 7th.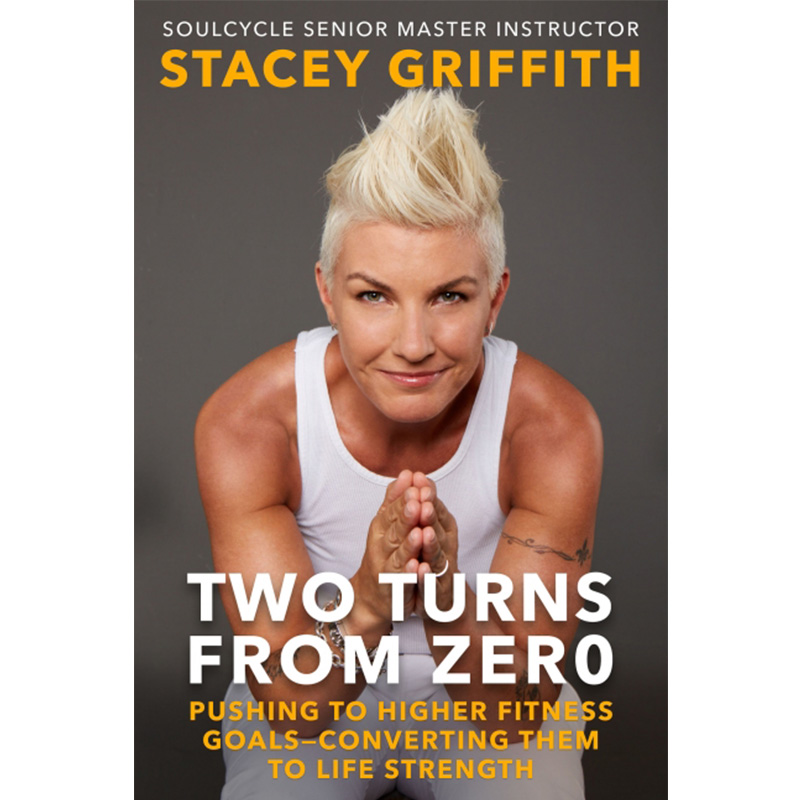 In my life today, I lead a posse of students who are dripping with sweat and filled with adrenaline after each class. And as a result, they are happier, more relaxed human beings than they ever have been before. Yes, they are physically stronger because I push them to get results they never thought they would achieve. But while they were on that journey to getting there, I helped them see an emotional strength in themselves that they didn't know was possible. What they discover is a side of themselves they never knew.

By getting in the best shape of their lives, they merge the joy of physical movement with personal goals and fulfillment. They discover that they possess a potent power to speeding up their journey toward their goals and dreams.
Two Turns from Zero is here to teach you how to harness that power, at home, in your own time. This book is your private coach, and with it in your hands, you will embark on your own personal journey of transformation. You can do this on your own. You find what I call your Ultimate Center. We all strive to live inside this centered place—where we are strong and laser-focused. In this Ultimate Center, we achieve the balance of core emotional strength we all need to face whatever crap life throws our way. Being there keeps us stable, sturdy, happy, healthy, and fulfilled, even in the face of unexpected heartache or problems.
I'm also going to introduce you to one of my favorite sayings. It's something I call AOA—Adult-Onset Athleticism. I love it because it means you can become an athlete at any age, and being an athlete doesn't mean you have to be involved in team sports.
I have been starting my classes with "Two Turns From Zero" since I began teaching indoor cycling in 1996. It stuck, and it resonates. It's a metaphor for my life. I want you to use it to help you discover what you need. I want you to figure out what movement turns you on so you'll stick to it. When you find it, it will keep you motivated for life.
By the time you finish reading this book, you'll be using my coaching strategies to figure out who's really calling the shots in your life. I'll ruin the suspense: It will be you!
Following the steps I've laid out in this book will give you the confidence to say, proudly, that you're the one to get your life flowing. You are the one who gets you through every challenge you face. It's about believing in all your talents and abilities. It's about becoming emotionally strong and resilient—that is what allows you to get into the best shape of your life.
All you need is the right coach. I'm here jumping off the pages with my fist in the air, cheering you on—with fresh ideas and methods that work. Let me entertain you!
In 2006, I met Julie Rice and Elizabeth Cutler, and they told me they wanted to create a yoga-based spiritual journey on the bike—what became SoulCycle—and we just clicked. They saw how I taught—a unique method based on my instincts, my previous teaching experience as a fitness instructor, and my cardio-party attitude. We gave riders the freedom to dance on the bike. Our movement, passion, and formula had never been used before, and SoulCycle quickly expanded from one ground-floor-lobby studio that had a rickshaw in the front so people could find it to the most popular indoor cycling chain in the world, with thirty studios in New York City, almost twenty in Los Angeles, and many more to come.
When the SoulCycle craze hit, everyone tried to understand its secret sauce. Why were hardworking New Yorkers hovering over their computers every Monday at noon, vying to secure a bike in a class with their favorite instructor? It was due to the entire experience they had in our classes. It wasn't just a hard-core workout for their muscles. Riders left feeling uplifted and transformed in every possible way.
They may have come to class wanting a firmer butt—and they got it!—but they soon learned that firmer resolutions needed to change as well. Students come to class with all the challenges and stresses of their lives. I see my students pedaling hard and feeling the joy that comes from exerting their bodies and pushing themselves further. But most important, they tell me how they are able to translate this feeling into making real changes in dealing with their lives.
That's why this book is about change—which happens when you build mental and physical muscles. It's also about finding the magic connection between intention and action. About training your emotions and your purpose. About clearing out the mental negativity and getting out of your own way. I have called on my own painful journey of personal transformation to create a unique method for personal empowerment, combining newfound physical strength, mental resolve, and joyful intention.
This method will teach you how to channel your inner athlete as I've learned to channel mine. I want you to embrace and love the body you were born into as I have learned to love mine, even though I abused it with my addictions. I want to help you find your purpose, then embrace it so you can follow your self-proclaimed path in the most inspirational and joyful manner possible. I want you to have all the love you deserve and to give back the love you feel in return.
One of my favorite sayings is "You are stronger than you were yesterday, but no way are you as strong as you'll be tomorrow." Another one is "Now, let's crush it." So, let's crush it!
Copyright © 2017 by Stacey Griffith. Used by permission.