Rider Report: Lucy Hale
August 7, 2017
fter wrapping Pretty Little Liars earlier this year, award-winning actress LUCY HALE has major plans for what's next: multiple upcoming feature films and a starring turn in the CW's new series Life Sentence, which is filming now in Vancouver. When she's not in front of the camera, Lucy's tapping it back at SOUL. Catch up with the star and rider, ahead.



Tell us about your first ride
It was with
EDWARD
— I was completely dreading it because spinning was a fear of mine. I had never made it through a class. My first experience left me unbelievably exhausted, but at the same time, I felt strong and satisfied. I knew I had found a new hobby.
How did you find SoulCycle?
Through a trainer and friend of mine named Bryna Carracino. She mentioned SOUL to me multiple times before I agreed to tag along.
What's your favorite song to ride to?
David played
"Proud Mary"
during class a few times. Not only is it like the fastest song ever, but it's also Tina, so I naturally love it.
Tap back or push up?
Most definitely tap back :)
Climb or sprint?
Oh, this is tough. They each have their benefits and affect me differently, but I would have to say a good sprint makes me feel like a badass.
Rooster or owl?
Rooster. Always.
Coffee or matcha?
COFFEE. All day, everyday.
What hairstyle do you rock while riding?
I have a super short bob so all I can rock is a top knot on the top of my head. Inspiration:
Pebbles
.
If you could ride next to anyone, who would it be?
You see people all the time in class and I had always heard of the Beckhams being there. One day I got to ride next to them and that was pretty sweet. What a gorgeous couple. Other than that, maybe Kelly Ripa. I love her.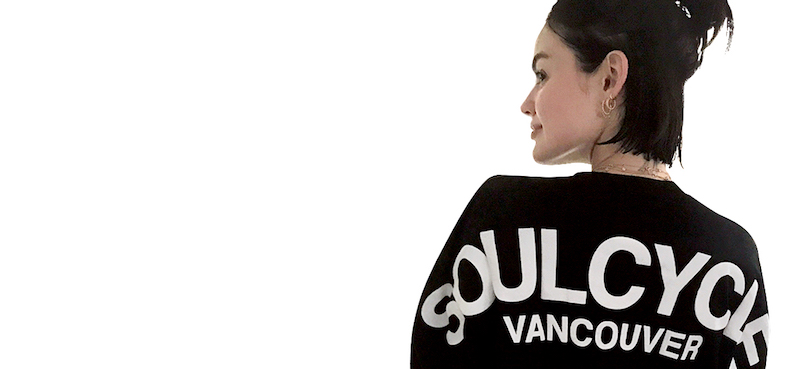 What's your favorite post-ride snack?
Smoothie from Earthbar. Radiant skin with vanilla protein and maca.
LA or NY?
Oooooh, both such great cities, but I gotta rep LA.
What's your current TV obsession?
True crime documentaries.
Athlete. Legend. Warrior. Renegade. Rockstar. Which one are you?
Human who is working toward being her best self!
My happy place is…
Other than SoulCycle... Sephora. Or on my couch with my dog.
What's your motivation?
I'm surrounded by family and friends that inspire me creatively, emotionally, physically and spiritually. They lift me up to be my best and have supported me throughout all phases of life. That's definitely my motivation, to want to be my best so I can be there for them in return.
First thing you did this morning?
Kiss my sweet pup.
What's your favorite fashion trend?
I love anything '70s or retro-inspired.
Upcoming project you're most excited about?
My new series,
Life Sentence
! Premieres in January on the CW.
Ready to ride? Click HERE to grab a series.