Our Vegas Studio Exclusive: SoulCycle x Colossal Art Installation
December 17, 2018
For our all-new Vegas studio at the Wynn Plaza, we created a truly one-of-a-kind studio experience, complete with a visual installation that you can't miss.
For this space we partnered with the art curators at Colossal to commission an original mural by Brendan Monroe that you won't find anywhere else! Inspired by adventures, explorations, and special landscapes, this abstract piece—Canyons—is the true centerpiece of the studio.
Learn more about what inspired the piece in our interview with Monroe here. Then, book your bikes—along with travel plans!—to see our new Vegas studio in person!
(We know you'll want to.)
Can you describe the visual design?
My work involves a lot of abstract shapes and movement. The piece for SoulCycle is inspired by hikes I've taken in nature and a description of a place in my visual language of lines and shape. It is custom to SoulCycle.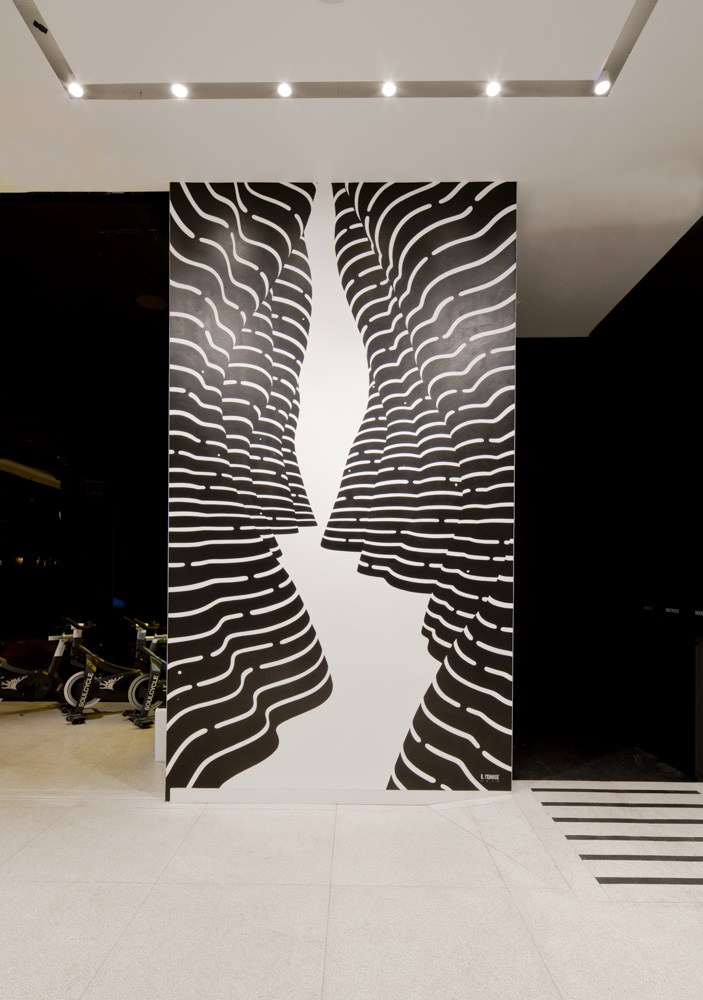 What inspired the concept for the mural?
I wanted the mural to remind people of adventures that can be taken in nature. But I also want to give the idea that they could enter this place, this space, for a different exploration into a fictional landscape. On a more abstract level the shapes could be interpreted like a curtain being pulled back. I just like that that the image provides a pathway.
Are there any Vegas or Nevada landscape-inspired elements?
Yes. I recently hiked a slot canyon in the California desert and it was a really memorable experience. Around every rock bend there is a something unexpected and beautiful. These places exist hidden in many deserts and there is one near Las Vegas called Anniversary Narrows. I've never been, but would love to visit in the future.
Did the mural's placement impact the design, given it's one of the first things that riders will see and experience?
The most difficult thing for me to get right on this drawing was the perspective. The viewer should be able to stand close, far, left or right and still feel like the cliff shapes are dimensional. This is a big part of why I love using the stark black and white to make images, it's always a challenge to create shape and then there is always a reward if it's successful.
For more info on the Vegas studio, head here! To book your bikes, head here. To learn more about Colossal, head here.