Hallie Wilson's Music Festival Survival Guide
July 28, 2016
hicago instructor and corals + cognacs blogger HALLIE WILSON shares her tips and tricks for surviving Lollapalooza (or any music festival) in style…
Why, you ask? Because I'm wearing a romper instead of my standard uniform of SoulCycle-branded spandex.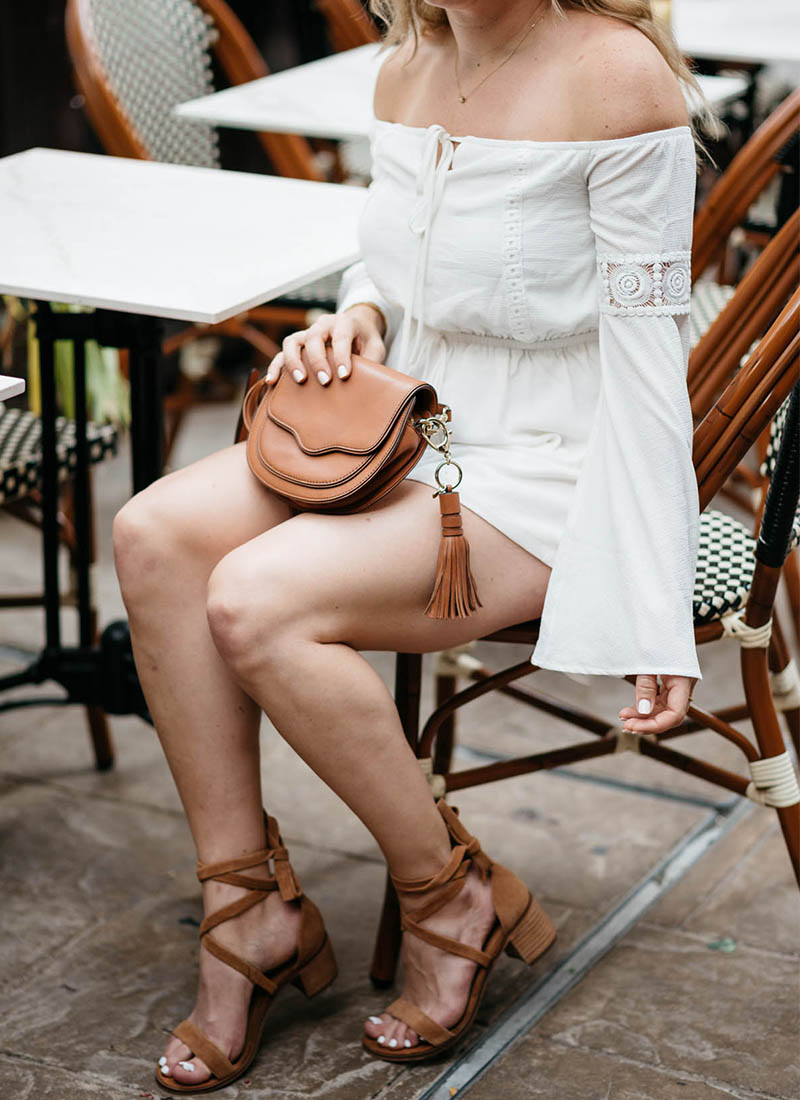 I try to steer clear of wearing rompers because they make life complicated if you have a small bladder (hey, just being honest), but I couldn't pass up the opportunity to rock
this white one-piece
to my favorite music festival of the year….
Lollapalooza!
I'm a huge summer festival junkie, and Chicago is home to some of the best in the biz.
Whether you're local and heading to Lolla this weekend or you're looking ahead to Coachella in the desert next season, here's a few of my tried-and-true tips to successfully navigate the music festival scene – from your clothing choice to your handbag essentials.
Hallie's Music Festival Checklist
• Pack a back-up phone charger,
like one of these mophies
, so you can keep that Snapchat game going strong all festival long!
• Sunglasses, my friends. And SPF. These almost go without saying.
• If you decide to wear shorts instead of a no-fuss dress (pockets FTW), make sure they don't ride up. Like, seriously. Denim cut-offs are cute, but they don't qualify as underwear. And with that...
• Mind your clothing proportions. If you're doing short shorts, that's cool. But save that super-chic SoulCycle crop top for another day (wherein, I dunno, you wear some overalls).
• Limit yourself to one trend -- whether it's tribal, fringe, boho, crochet… Whatever. There is such a thing as too much of a good thing, and piling on the trendy threads is a really common faux paus at music festivals. (Or anywhere, really.)
• A great gladiator sandal is always on-trend for warm-weather festival season. Opt for a very modest heel or flat pair, though – the style I'm wearing (
Steve Madden 'Rizzaa' sandals
) is super comfortable.
• Get a sweat in ahead-of-time at one of
Chicago's three SoulCycle studios
so you can fully enjoy yourself all weekend. (Southport has a sun-drenched patio, just sayin'.)
• At the end of the day, in my opinion, it's all about your ability to dance. If you can raise your arms, jump up and down and let your festival freak flag fly, just go with it.
Questions or comments? Email SOULlife@soul-cycle.com! Want to ride? Grab a series HERE and book a bike!